If we had to list out of all our guilty pleasures, zooming in on celebrity engagement rings is certainly at the top. 
From big fat diamonds too stones with sentimental back stories, we're suckers for all sorts of sparklers. And when they're elevated with a gorgeous nude nail polish? We go weak at the knees.
We know we're not the only ones who appreciate a well-iced manicure, either. Search volumes for certain celebrity engagement rings are sky-high, featuring everyone from royals to Hollywood's finest. 
So if you're searching for design inspiration or like us enjoy a good sticky beak, you've come to the right place. 
The most popular celebrity engagement rings
Meghan Markle & Prince Harry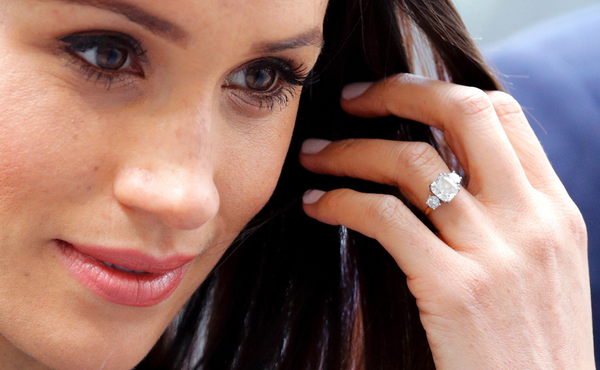 With a whopping 859,000 searches, Meghan Markle's engagement ring tops the popularity list. The three-stone sparkler features a cushion cut diamond in the centre, which hails from Botswana (a place of significance for the couple). It's hugged by two round cut diamonds from Princess Diana's personal collection, paying tribute to the love and legacy of Prince Harry's late mother.
Emily Ratajkowski & Sebastian Bear-McClard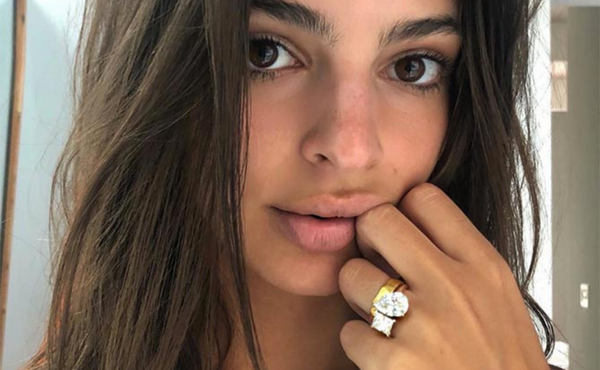 Can't decide between a princess cut or a pear-shaped diamond? Just be like Emily Ratajkowski and design an engagement ring with both. Money's no object right?! Choose the princess cut and the pear-shaped diamond, and put them together!
Kate Middleton & Prince William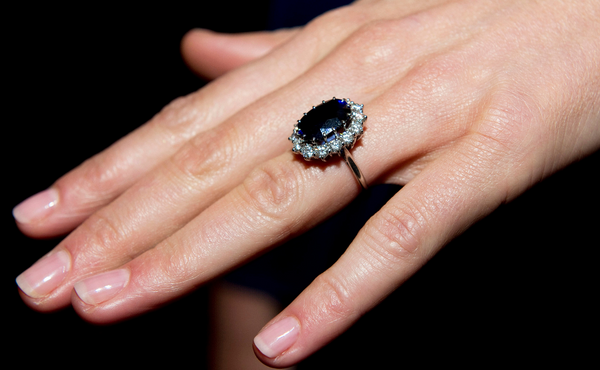 It's been several years since Kate Middleton and Prince William's engagement, but the stunning 12-carat oval sapphire engagement ring that marked the occasion remains a phenomenon. Surrounded by a whopping 14 diamonds, the iconic ring that once belonged to Prince William's late mother, Princess Diana, has a fascinating history that dates back a couple of centuries.
Ariana Grande & Dalton Gomez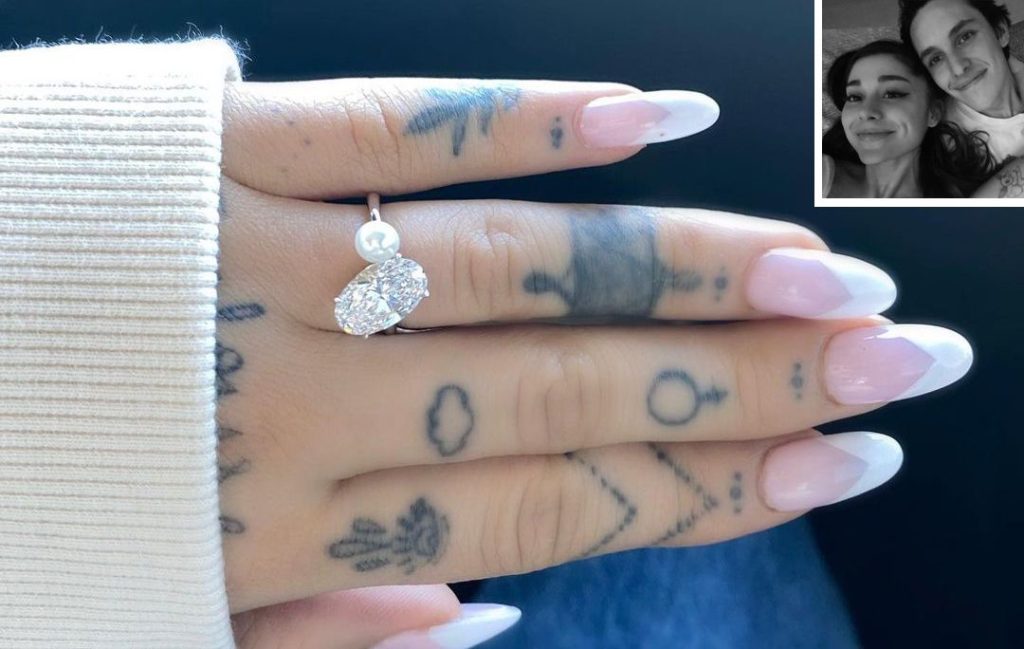 Ariana Grande's engagement ring sure is unique and beautiful. The oval diamond rests on an angle against a pearl.
In 2014, following the death of her grandfather, Grande shared that her beloved Nonna, her grandmother Marjorie, had made the singer a ring from her late husband's tie pin. "Nonna had a ring made for me w/ the pearl from grandpa's tie pin- Ariana Grande
Kim Kardashian & Kanye West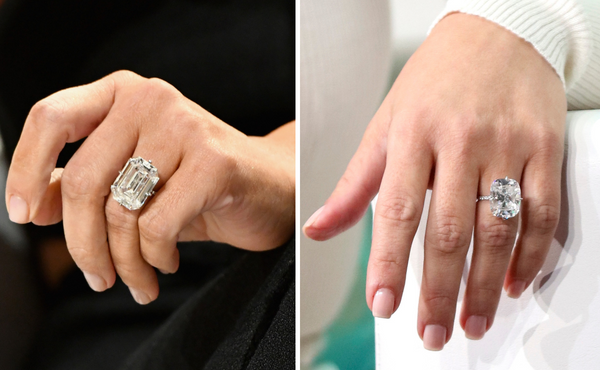 We're not sure whether people were more fond of the first or second engagement ring Kanye gave Kim, but whichever way, they were both huge. We say *were* because the second was considered the trigger for Kim's robbery in 2016 and hasn't been seen since.
Hailey Baldwin & Justin Bieber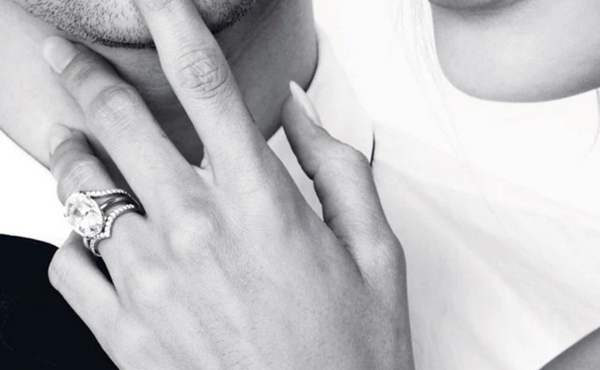 The now Mrs Bieber also wears a solitaire oval cut diamond. Classic, colourless and absolutely massive.
Blake Lively & Ryan Reynolds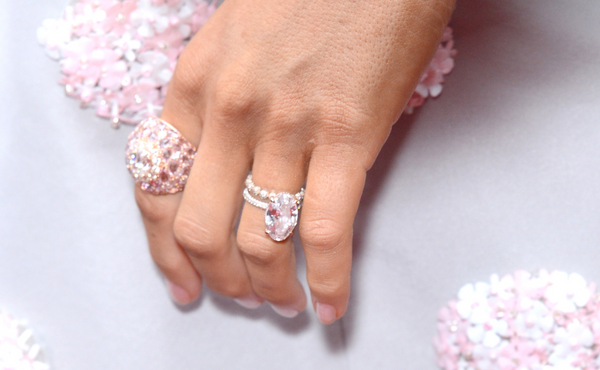 We've definitely Googled Blake Lively's engagement ring before, so we guess we're one of the 227,400 searches. There's no doubt about it, the large oval and blush pink diamond is breathtaking.
Jennifer Lopez & Alex Rodriguez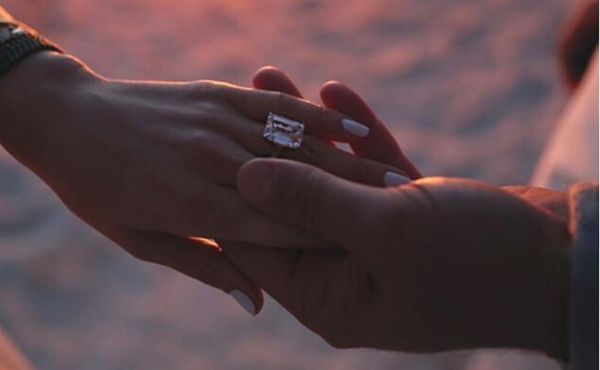 We're sure the numbers for her new ring have been climbing ever since Ben Affleck got his knee dirty (again) but for now, JLo's engagement ring from Alex Rodriguez sits closer to the top.
Gwen Stefani & Blake Shelton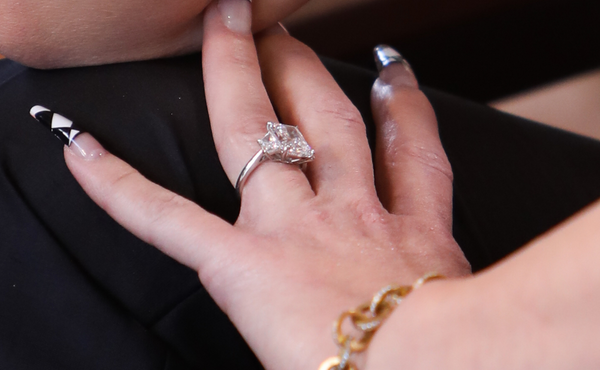 After meeting as judges on The Voice, Blake Shelton proposed to Gwen Stefani with a radiant cut diamond, also featuring two trapezoid accent diamonds. Three evidently isn't a crowd when it comes to engagement rings it seems.
Paris Hilton & Carter Reum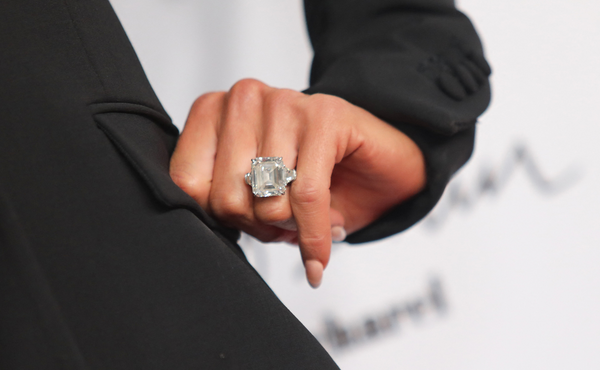 Paris' sizeable three-stone engagement ring scraped into the top 10 with 131, 070 Google searches. It features an emerald cut in the centre, cradled by two trapezoid accent diamonds.
These Five Trends Are Predicted To Dominate The Engagement Ring World In 2023
With an endless parade of celebrities getting engaged this year, there's no denying that wedding fever is officially upon us. But, before major discussions around the dress, cake and venue can take place, it all starts with one very important question (or more notably, one very important ring). 
Last year was dominated by magnificent colours and combined cuts (we're thinking of Megan Fox's breathtaking emerald and diamond Toi et Moi design which featured both), but with a new year on the horizon, we're already thinking about the new trends that might have us in a chokehold. 
Below, The Five Trends Expected To Dominate The World Of Engagement Rings In 2023. 
Signature Cuts 
Solitaires are making a comeback – while oval and emerald cut stones have been rising in popularity, I've seen a lot of couples opting for the classic round (solitaire) cut as it's so timeless! 
Our pick for the diamond shape to watch is the marquise cut. Marquise diamonds are typically a long and shallow cut which means you get a much larger looking diamond compared to an equally priced round diamond. Their striking shape means they're perfectly suited to the newer design trends that are gaining momentum
Eternity Bands 
We've also seen clients opting for the eternity style diamond band instead of the traditional solitaire style, as an engagement ring. And diamond wedding bands that feature fancy cut diamonds, like pears or ovals are the most requested and we see this continuing into 2023.
We're seeing more customers purchase diamond eternity bands as their engagement ring. It's a more modern choice, but there's something timeless about it at the same. Eternity bands can also be stacked with any other piece, bringing the perfect amount of sparkle to any stack.
Unique Settings And Shapes 
We can picture some emerging trends gaining even more momentum in 2023: east to west settings, for example, are proving increasingly popular for very good reason! They make for a playful but still endlessly elegant solitaire – we find that there is currently a real demand for pieces that are full of character but have an air of timelessness to them, investment pieces that will become chic future heirlooms. Asymmetrical pieces and toi-et-moi rings are also becoming a firm favourite. I'd recommend these sorts of designs if you are looking for something a bit more daring: they are great canvases for combining different types of gemstones, shapes, and colours, as well as for incorporation graphic bands and settings. They can range from the more subtle to really bold statement pieces.
Interest in the super popular French inspired Toi et Moi design shows no sign of abating – it is such a romantic style symbolising two people coming together as one which is such a beautiful story. 
Sustainable Stones 
The one trend that is coming through stronger and stronger (although it definitely shouldn't be a trend but a way of life!) is sustainability. Couples are becoming more aware of the environmental crisis and therefore are looking to invest in an engagement ring that will both stand the test of time but also minimise its impact on the environment. We are seeing huge demand for lab grown and antique diamonds, which are by far the most eco-friendly options, and also much more affordable than a newly mined diamond.
Ethical and environmental considerations are remaining a deciding factor for many. Knowing what impact your purchase has had on climate change and the global community is paramount for many of our customers. Choosing a carbon neutral jeweller to make your engagement ring and knowing that the materials and gemstones used are ethically sourced is a source of pride for all our designers, staff and especially our clients
Personalised Messages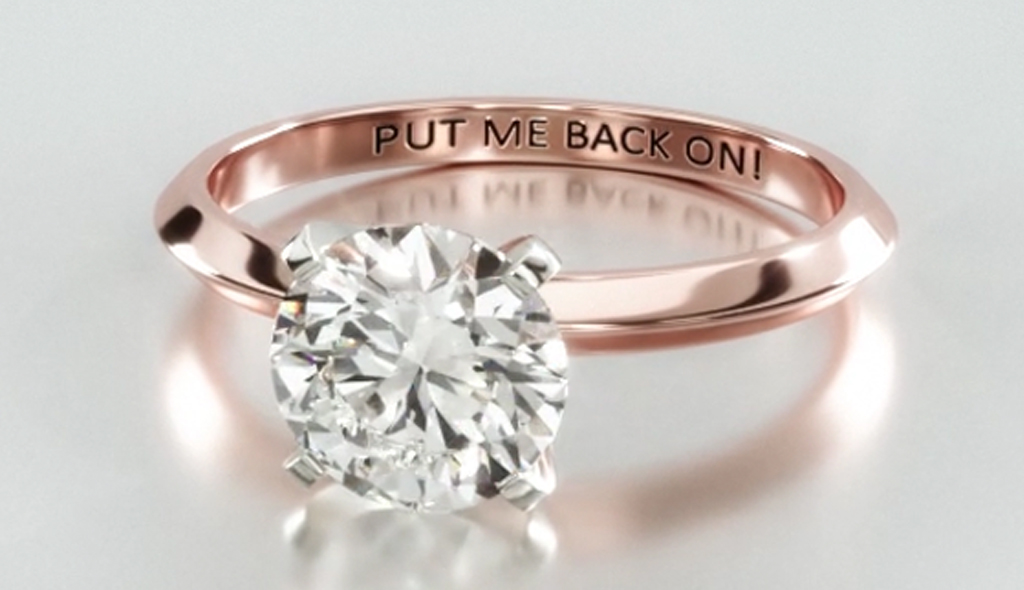 Personalisation will continue to be a trend for engagement rings, whether it is a non-traditional piece, like a Toi et Moi Band, that better suits the wearer's unique personality or is engraved with your unique message.
One of the best ways to build sentimentality into an engagement ring is through metal work. Carved, engraved, or sculpted gold can add beautiful and subtle details into otherwise simple ring where hidden messages and symbols can be worked into the design. These symbols can be in the setting but most commonly on the outside or inside of the band. Messages in engagement rings was popular in Victorian and Neo-Classical eras where romantic symbols were blended into the ring as hidden communications of love and devotion.
Acrostic jewellery has also begun to resurface where the first letter of each stone will spell out a word, for example Diamond, Emerald, Amethyst, Ruby, Emerald, Sapphire, Topaz spell 'Dearest'. Acrostic jewellery is believed to have been created by Jean-Baptiste Mellerio who was one of Marie Antionette's favourite jewellery designers.
You can always make your dream engagement ring from scratch with Daniel Anania, he's an expert.
Share your photos with us on our Instagram, Facebook, and TikTok!