It's easy to admire everything about celebrity couples—their red carpet appearances, relationships, wedding dresses, and, of course, engagement rings. And when it comes to bridal bling, no one does it better than Hollywood's engaged A-listers.
We can describe every detail of Kourtney Kardashian's 12-carat engagement ring from Travis Barker, and we still swoon over Ariana Grande ring, white gold with a pearl and a diamond engagement ring from Dalton Gomez. And although we'll always love Heidi Klum 10 carat, emerald-cut stunner there's a whole new crop of celebrity engagement rings that are igniting serious diamond envy.
Set your facial expression to "stunned," because we guarantee these fabulous celebrity engagement rings will leave you speechless—not to mention inspire your new favourite cut.
1. Kourtney Kardashian & Travis Barker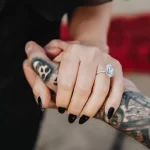 Surrounded by a heart-shaped display of red roses and candles set against the Pacific Ocean, Travis Barker got down on one knee on October 17, 2021 in Montecito, California. The romantic proposal was complete with an elongated oval-shaped solitaire diamond ring on a pavé band matched. Kourtney's wedding band has diamonds all around it to match her engagement ring. The massive ring is estimated to cost anywhere from $500,000 to $1 million, and it's about 15 carats.
The sophistication of the design with the perfect stone set on a delicate band is a signature of Lorraine's Schwartz glorious engagement rings. Lorraine is known for her great looking oval shape diamond engagement rings. Blake Lively has one from the jewellery designer.
Lorraine Schwartz is also a very good friend of the Kardashian family. As I said she was responsible for Kim's first ring from Kanye. While Lorraine didn't appear on social media today covering the engagement ring.
2.
Megan Fox & Machine Gun Kelly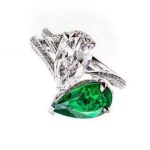 The term 'toi et moi', which translates to 'you and me' in French, describes a particular ring with two gemstones set side-by-side on a looped band. These represent the joining of two lovers as one, which is apparently what attracted the singer to the style. Machine Gun Kelly has described on an Instagram post that the "Love is Pain" engagement ring that he's given to Megan Fox has a band of thorns on the inside
Stephen Webster has designed the engagement ring for Megan Fox with Machine Gun Kelly. Designed as two rings, one emerald and one diamond, thorns draw together symbolising that love is pain.
A princess-cut diamond nestled against a pear-shaped stone. Ariana Grande, too, wears a 'toi et moi ring', with an oval-cut diamond set next to a single white pearl (which fans believe was repurposed from her late grandfather's tie pin.
The toi et moi rings actually have a romantic history that stretches back for hundreds of years. In 1796, Bonaparte proposed to Joséphine de Beauharnais with a 'toi et moi ring'. A symbol of his passionate love for her, which made the style famous. It sold for almost a million US dollars at an auction in 2013. Jackie Kennedy also received a 'toi et moi ring' from her then-fiancée John F Kennedy in 1953, which came from Van Cleef & Arpels. She revamped it a few years later, replacing a polite row of baguette-cut diamonds with fancier marquise-shaped gems, and adding round brilliant-cut diamonds around the central emerald and diamond stones. You can always customise your ring and Anania Family jewellers will help you through the process.
Although tradition dictates that the central stones of a 'toi et moi ring' are usually of similar size,. Jewellers are now opting to play with stones of contrasting sizes, cuts and colours, which gives the design a fresher appeal.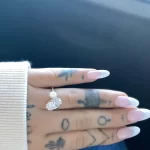 3. Ariana Grande & Dalton Gomez
After almost one year of dating, Ariana Grande and Dalton Gomez decided they wanted to spend an eternity together on December 20, 2021. The Positions singer sealed her fate with a Toi et Moi ring, which combines an oval-shaped diamond with a single pearl. The two gems are set on a thin white gold band that's estimated at 5 to 7 carats.
Ariana Grande, wears a 'toi et moi ring', with an oval-cut diamond set next to a single white pearl (which fans believe was repurposed from her late grandfather's tie pin).
Dalton Gomez designed Ari's band with the help of jeweller Jack Solow of Solow & Co Jewellers and came up with a "tasteful" platinum and diamond band. It's a beautiful, tasteful platinum and diamond pavé band. He was very, very specific about what he wanted," the jeweller said at the time of their engagement.
Dalton Gomez had very strong feelings about how he wanted this to look, a contemporary kind of way. It was his idea to do the diamond on an angle and Dalton said to the jeweller we had to incorporate a pearl into the finished piece because it is very sentimentally special, the element of a pearl is very, very sentimentally special to Ariana. He wanted to include that in the ring.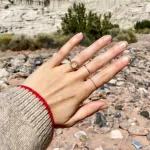 4. Lily Collins & Charlie McDowell
Lily Collins "favourite new accessory" is her one-of-a-kind engagement ring.
The film director Charlie McDowell proposed to actress Lily Collins in September 2020. McDowell popped the question in the New Mexico desert with a unique bezel-set rose-cut diamond ring made by Irene Neuwirth.
The ring has a bezel setting, which means it is fully affixed to the band. This is quite unusual for an engagement ring, but it means it is much more secure than a prong setting. So there's no chance of Lily's diamond becoming loose, which is a good job as this unique ring would also come with a spectacular price tag.
This looks like a very pretty rose-cut diamond and at a guess probably weighs between 2 or 3 carats. This style of diamond always appears larger because it is cut flatter than traditional, modern diamonds. It's lovely 'light pink' colour and is exceptionally rare.
The rose-cut diamond is more than 500 years old and was popular in the Georgian and Victorian eras [and now they] have made their triumphant comeback in the last five years

5. Katy Perry & Orlando Bloom
Valentine's Day 2019, Orlando Bloom popped the question to Katy Perry with a unique flower-shaped ring in a room filled with their family, friends, and heart-shaped balloons.
Katy Perry's engagement ring fuses modern design with an iconic vintage-inspired silhouette that's been part of jewellery history since the 1700s.
Organic motifs such as daisies and clovers were very popular during the Victorian era. Several public figures and celebrities have reclaimed this style in modern times. Most notably Lady Diana, whose sapphire and diamond engagement ring is now worn by Kate Middleton.
The ring appears to be made with a high-quality yellow gold (either 18K or 22K) and features a halo of eight natural white diamonds surrounding an oval ruby. We imagine this ruby to be one of the highest quality [stones], possibly even the most sought-after hue of pigeon blood, which is recognised by its vibrant red colour with a purple hint.
Rubies are not for everyone. They're often chosen by bold, passionate and artistic people who embrace colour in their everyday lives. A ruby's fiery red colour is believed to represent passion and confidence, qualities that are definitely associated with Katy Perry. She's someone who's brave enough to wear red and express herself in daring ways. This ring is a total match for her vibe.
Rubies are exceptionally rare precious gemstones. High-quality rubies are considerably harder to find than diamonds, especially in larger sizes.
When determining a ruby's rarity, it all comes down to colour. The rarest has a vibrant red hue, hints of purple, and the right balance of darkness and light within the stone. Rubies are also a 'nine' on the Moh's hardness scale – only one step behind diamonds. This makes them a durable choice for those seeking a diamond alternative for their engagement ring, but who don't want to sacrifice integrity.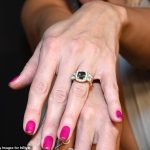 6. Heidi Klum & Tom Kaulitz
Heidi Klum got an extra special early Christmas gift from fiancé Tom Kaulitz when he proposed to her over breakfast in bed on Christmas Eve 2018. The musician presented the supermodel with what appears to be a three-to-five-carat, emerald-cut teal sapphire in a halo setting, surrounded on either side by smaller cushion-cut diamonds. It is in the middle, which is extremely rare and retails for a similar price as a diamond. Dazzling colour and lustrous beauty make sapphires a gorgeous choice for an engagement ring
The distinct design of this ring aligns perfectly with Heidi's individual sense of style and penchant for making a statement,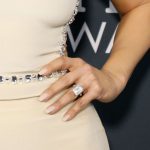 7. Priyanka Chopra Jonas & Nick Jonas
Priyanka Chopra announced her engagement to Nick Jonas in 2018. And while the couple may have celebrated their wedding multiple times in vastly different ceremonies and receptions all over the world as 2018 wound to a close, one thing that remained constant was the sparkler on Chopra's left hand. Nick Jonas reportedly shut down an entire Tiffany & Co. store to pick out the ring,.
The rock is a sizeable cushion-cut diamond on a silver band, which Chopra wore on her left ring finger. Jonas had reportedly closed down a whole Tiffany & Co. store just to choose the right engagement ring. From the looks of the piece, it seems the shutdown was totally worth it.
If you need help picking out the perfect engagement ring, one of the engagement ring experts at Anania Jewellers would be happy to assist you. Stop into our store or call (02) 9299 4251