Customised rings certainly look and feel priceless but the good news is they don't have to be an unattainable luxury.
When you work with the right business, you'd be surprised at the value you can get for your budget.
After decades of being a trusted jeweller in Sydney, one of the things that inspired us to put more love into our craftsmanship is when couples place extra efforts into making their engagement or wedding ring details personal and meaningful.

Choosing a ring design can be influenced by many things including your hobbies, interests, preferences and love story. It is representative of your unique relationship, thus, having it customised can make it extra special and sentimental.
Anania Family Jewellers produce not only stunning custom jewellery but also strives to give the best value for your money.
Whether you are looking for a fully-customised ring design or just want to add a little personal story to your jewellery, we make high-quality pieces for every specification and budget.
When designing a custom ring, there are a handful of ways to get the most bling for your buck and we are here to help you. If you are looking for practical ways to create the unique engagement or wedding ring of your dreams, consider our suggestions below.
Try alternatives to the round brilliant cut
A diamond's sparkle is one of its defining features, but not all diamonds sparkle the same. The round brilliant diamond cut, for instance, delivers the most sparkle of all cuts—making it the shape many brides typically want to choose. They are designed and engineered to have 58 facets, allowing optimal reflection and brilliance.
However, its beauty and popularity come with a price, costing approximately 25% more than all other fancy diamond cuts.
In addition, the cutting process of this diamond shape wastes the highest amount of rough stone, around 60% on average. Hence, suppliers often make up for these discarded materials by increasing the finished price per carat.

Skip the popular shapes
Generally, you can cut costs by avoiding popular shapes. Popularity and demand often drive up the prices of diamonds so you can save more merely by skipping popular shapes at the moment.
Round shape bears the most premium pricing at all sizes since they are always in demand. Recently, ovals are also rocking the most sought-after diamond shape lists, in part because of celebrities slaying them like Kourtney Kardashian, Ariana Grande, and Blake Lively.
While it is still all about budget and preference, if you are open to other shapes, expect to pay slightly less.
Opt for something without other diamonds in the band or halo
With the right centre stone, engagement rings with diamonds in the band or a halo can look exceptionally stunning and eye-catching. This ring setting features small diamonds set in the shank of the ring, creating the appearance of continuous sparkle and drawing extra attention to the centre diamond. It gives the illusion that the entire ring is made of diamonds.
Tiny holes are drilled into the band of the ring to place the small diamonds, typically with a carat weight in the 0.01-carat range or lighter. It's labour-intensive and therefore more costly.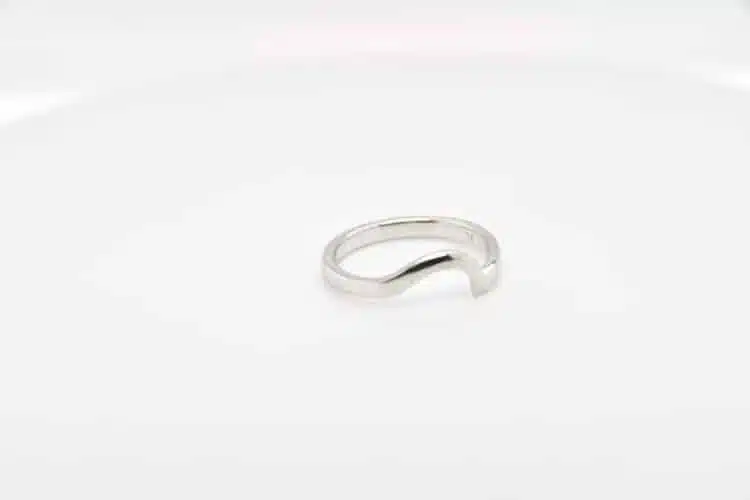 Platinum or white gold?
Platinum is a luxe choice for engagement rings but the longevity of its wear makes it worth the cost. It's got a naturally white colour and cool lustre accentuates the brilliance of diamonds beautifully, making it a popular choice for engagement and wedding bands.
White gold over the long-term will need replacing every few years, so worth considering that for the same price, there will be fewer future maintenance costs.
Learn more about Platinum vs White Gold here.
Consider a diamond alternative gemstone
Many diamond alternatives offer the beauty of diamonds for a fraction of their price (depending on type and rarity)
If you decide to go for a non-diamond centre stone, we highly recommend Sapphires or tourmalines. The variety of colours can really make a ring pop, but they are also the second hardest mineral behind diamonds and do get longevity. If you do get sick of a colour you can always swap it.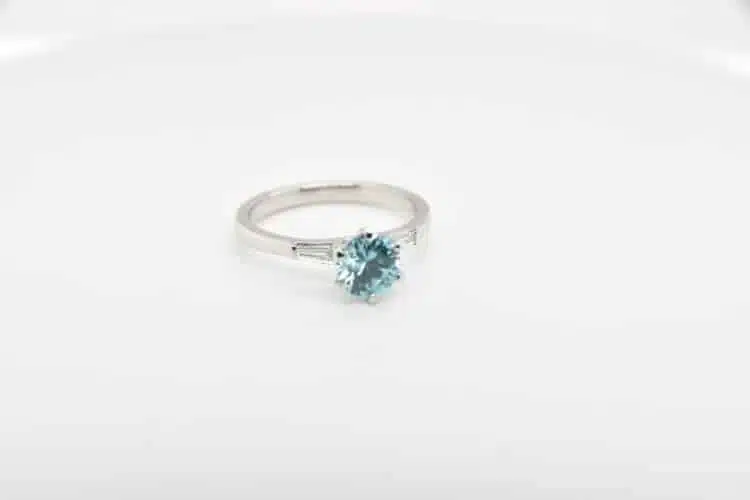 Read more about Gemstones and Birthstones
Avoid three-stone rings
A three-stone ring makes a strong statement. More importantly, it allows you to customise your ring with more design options. You can make the centre stone larger and flank it with different gemstones or you can also have all three stones in the same colour and size.
It's a piece of flashy jewellery that will guarantee to turn heads and stand out on your finger. However, adding side stones can also increase the price dramatically with additional larger side stones, rather than smaller diamonds in the band.
Good polish is good enough
In most cases, a good polish is already good enough and most people can't tell the difference between a diamond with "good" versus the more expensive "excellent" polish.
Polish is one of the factors that affect a diamond's grade, graded as Excellent, Very Good, Good, Fair, and Poor. While it is not advisable to settle for a Poor grade, any polishing defects are not already visible to the naked eye with a Good grade.
Go for the G colour
Choosing the right diamond colour can be tricky but it is one of the several decisions you need to make in customising your ring. It is also one factor that can affect the cost of your ring piece.
Diamonds come in a range of colours from D (colourless) to Z (visibly coloured). Colourless diamonds are commonly the most expensive, valuable and rare.
To maximise your budget, go for G-colour diamonds. They have the highest colour grade in the "nearly colourless" range of the GIA's diamond colour scale. This means they're your best bet in nailing a nearly colourless diamond for a lower price tag than in the colourless range.
A G-colour diamond side by side with an F-colour diamond will almost look identical to the naked eye but can cost 10% to 25% less than the latter.
Buy shy of the carat
Carat has a big effect on pricing. Select a carat weight slightly under a full or half-carat mark as there's a large price increase per carat when you hit these marks.
For example, a 1.90-carat weight diamond has an almost imperceptible visible difference compared to a 2.00 carat but will cost considerably lower. You can save as much as 25% by going under-size or choosing a diamond that weighs just under the cut-off weight.
Si2 clarity
Most people don't realise the most expensive element of a diamond is clarity. In some cultures, clarity is of high importance, as fewer inclusions will bring more luck to the couple.
What is clarity? Clarity is the internal natural inclusions in a diamond or gemstone. The best analogy we use is do you know your blood type? Do you know your partner's blood type? Is blood type an important consideration when finding a partner? The similarity between blood type and clarity is that until you look at it under a microscope, you can't determine either. Just like a person's blood type doesn't affect their personality or how they look, neither does clarity in a diamond gemstone.
Most Jewellers when purchasing for themselves will opt for a Si2 clarity if they can't see an inclusion without 10 x magnification, no one else with. The clarity in the Si1-Si2 range can save a lot of money
Try on minimalistic design
In many cases, less is more. If you like a simple, dainty and classic engagement ring without eliminating all the elements of the traditional style, you can always design it by paring back excessive embellishments.
Consider a thinner metal and a smaller stone. Less metal means less cost and the thinner the engagement ring, the more comfortable it is for daily wear.
To make your custom ring more special, you can also have your name or anniversary engraved inside the band. It's the ultimate way to personalise an already unique piece of jewellery for a budget-friendly price.
Alternatively, if you are looking to remodel, repair or tweak a long-treasured item, our years of knowledge and experience in jewellery restoration can guarantee you that your finery is in the best possible hands.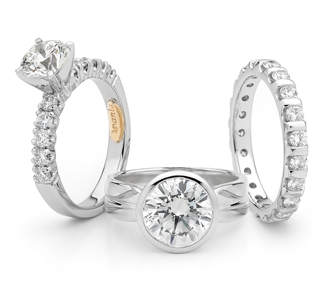 Contact us today for all your engagement or wedding ring customisation needs.