Below is a handy breakdown of the different months of the year and the gemstone associated with them, it is often a help as a starting point to put together some ideas.
Month Birthstones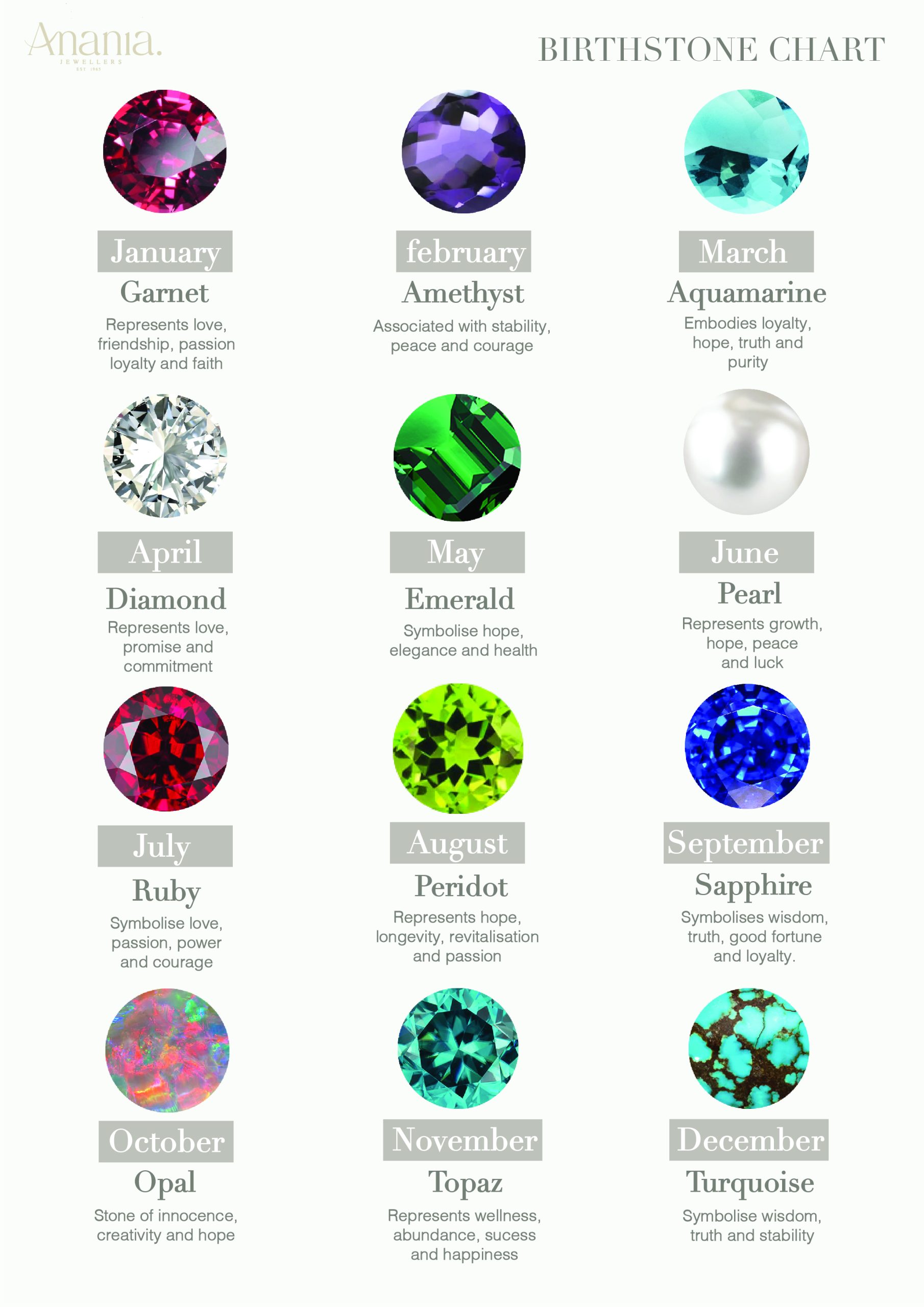 January- Garnet
Represents love, friendship, passion, loyalty and faith
February- Amethyst
Associated with stability, peace and courage
March- Aquamarine
Embodies loyalty, hope, truth and purity
April- Diamond
Represents love, promise and commitment
May- Emerald
Symbolise hope, elegance and health
June- Pearl
Represents growth, hope, peace and luck
July- Ruby
Symbolise love, passion, power and courage
August- Peridot
Represents hope, longevity, revitalisation and passion
September- Sapphire
Symbolises wisdom, truth, good fortune and loyalty
October- Opal
Stone of innocence, creativity and hope
November- Topaz
Represents wellness abundance, success and happiness
December- Turquoise
Symbolise wisdom, truth and stability
Anniversary Gemstones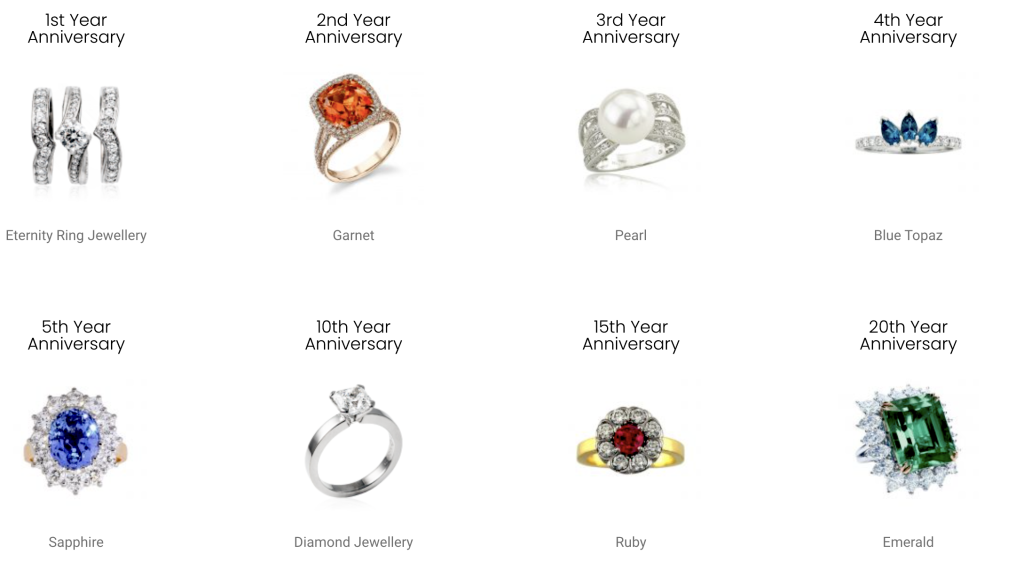 5 years – Sapphire
Symbolise love and fidelity, sapphires are one of the hardest gemstones, with a rating of 9 on the Mohs scale of mineral hardness. This perhaps makes them all the better for celebrating your 45th wedding anniversary — sapphire jewellery represents an enduring love and commitment.
10 years – Diamond
Diamond appears once more to honor three decades together. Consider celebrating the occasion by upgrading your wedding band with a brilliant diamond eternity ring.

20 years – Emerald
The rare geological circumstances needed to form them, emeralds are the perfect gemstone for marking 35-year anniversaries. Emeralds are particularly unique given their vibrant green hue, which creates something of a glowing effect. These distinctive gemstones make for luxurious pieces of jewellery.

30 years – Pearl
At thirty-three years, elegant and luminescent pearls are the gift of tradition. Pearls are said to symbolise wisdom gained through experience — much like the relationship lessons learned in your first few years of marriage.
40 years – Ruby
Rubies have been associated with love and passion, making them especially appropriate for a couple's 40th milestone anniversary. The finest rubies are a deep red, although pink hues are also highly prized.

50 years – Gold
Shining and resplendent, it seems only right to commemorate a couple's 50th year together with gold. The metal represents the preciousness of marriage and because of its association with wealth and fortune, acts as an auspicious symbol for the years to come.

60 years – Diamond
The world's most popular gemstone. There's perhaps no better way to commemorate the occasion than with a diamond solitaire pendant. Diamonds outshine other round brilliants of the same carat weight. They are mounted in airy platinum settings that let in maximum light to amplify their sparkle.