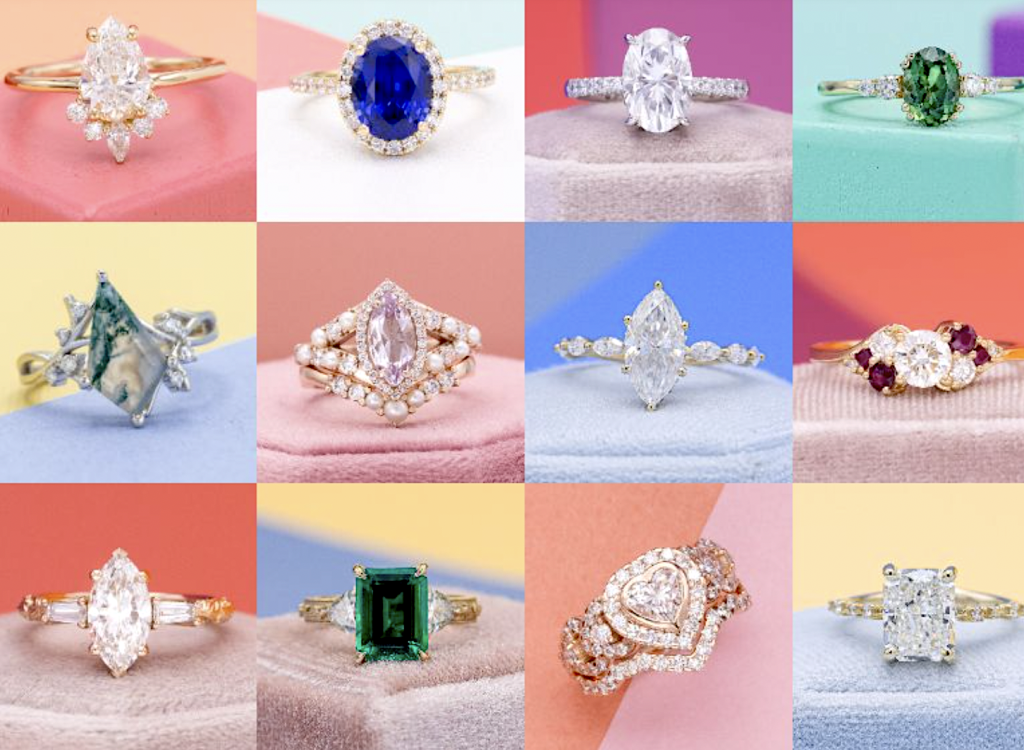 Shopping for an engagement ring is a lot like shopping for a wedding dress: You have to try on a lot of different options to figure out what you like. As you play with different styles, gemstones, and settings, you may find yourself loving specific elements of certain rings, but unable to find one that ticks all the boxes. For those with a unique vision, a custom engagement ring gives you the ability to design the ring of your dreams from start to finish.
How to Create a Custom Engagement Ring
Before you even consult with a jewellery designer, you need to see what's out there in terms of ring styles and materials. Not only is this important in helping you understand and define your style, but this can also help cut back on the rounds of designs you'll do with a jewellery designer, which can start adding up quickly. 
Once you have a bit of an idea of what you want—maybe you have tried a few styles on, gone to a handful of jewellery stores, seen different designs and know the direction you want, know your budget range—then it's a good time to start talking to designers and jeweller's and visiting Anania Family Jewellers they will help you right away.
Once you've committed to a designer—then the real fun begins. They'll present a few design sketches that align with your style and preferences. Some designers will even mock up the ring in a 3D CAD rendering, which gives you a better picture of what the ring will look like once it's completed. At Anania Family Jewellers we sketch them up beautiful and in 3D. Once you've approved the design, the designer hits the ground running: finding the stone, designing the setting, and making the ring.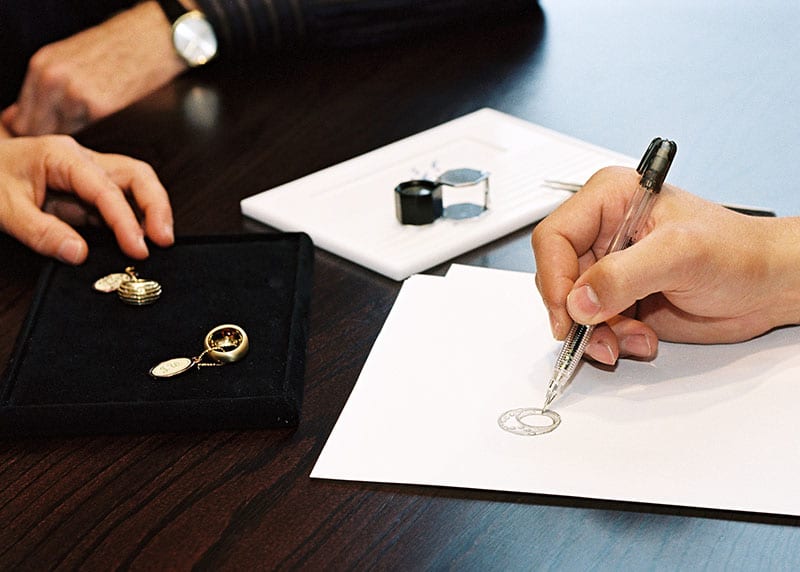 Custom Engagement Ring Cost
As with anything custom, the cost varies by the designer and materials you choose. At Anania we can work with your budget to source high-quality gemstones that are within your price range.
With factors included— the size of the stone, the metal, lab-grown or natural, along with the details and materials that can be repurposed from heirlooms. That is what you need to think about. We've worked with a wide range of budgets and are transparent with the pricing of materials, etc. with our customers. On average, couples spend somewhere between $10,000 to $12,000. But you don't need to spend that much, it's all about the thought that counts the most.
What to Look for in a Jeweller
The best custom engagement ring is one that both you and the jewellery designer are satisfied with. The jeweller you choose should help inspire your custom design, so you should seek out someone whose designs you're already a fan of. Once you know you like their style, do your due diligence.
By nature, a custom ring is something that hasn't been made, so expect some back and forth as you hone in on what the final product should look like. You want to work with someone who you can have that open dialogue with and who has the expertise to make your vision happen. 
At Anania we have a jewellers that has over 60 years + experience and Daniel is the owner of Anania, they will both be able to help you created the perfect engagement ring. From there, ask for reviews, a portfolio of their previous work, and what their process looks like. You want to be sure you're on the same page with expectations, values when it comes to sourcing materials, and ultimately, that you like their designs. We have a page to show you what Daniel's process is and it would really help couples do their research and know what type of questions they will be answering.
Make sure you feel really comfortable and trust the person you end up working with because you want this to be a really joyful, easy experience.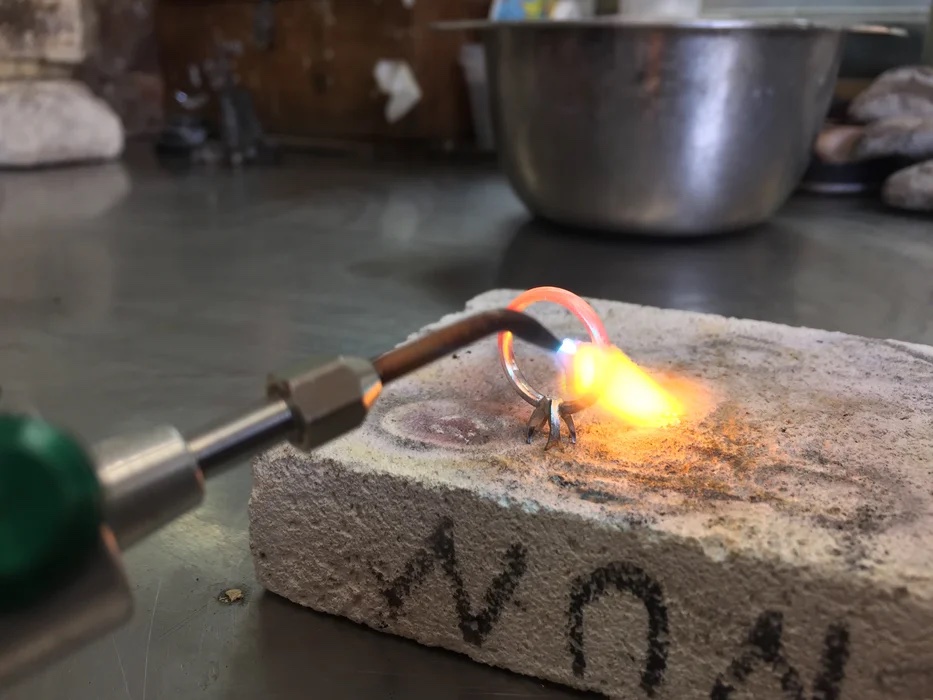 Know what you want
Before your initial consultation, you should have an idea of what you're looking for. Your designer's job isn't to convince you to go custom but to make your custom ring dreams come true. Come in with ideas and your designer can help bring them to life. 
Choose Your Precious Metal 
One of the best things about creating a custom engagement ring is being able to choose the exact materials you want. For example, for your precious metal, you can go with a traditional metal, like yellow gold, white gold, or platinum. Or, you can pick something a bit more unique, like rose gold, titanium, palladium, or mixed metal design. Before you head into your custom design appointment, consider all your precious metal options and see if there are any you're particularly drawn to. 
Choose Your Center Stone and Side Stones
While white diamonds are the most traditional gemstone for an engagement ring, you have so many gemstone options you can choose from when you go custom. You could opt for a coloured diamond, like a blue, pink, or yellow diamond. You could select a precious gemstone, like a blue sapphire, a ruby, or an emerald. Or, you can choose a semi-precious gemstone, like an aquamarine, an amethyst, or a citrine. Then, you can also choose to select many different types of gemstones or diamonds to create a highly detailed and unique look. When you create a custom-made engagement ring, the sky's the limit! 
With so many centre diamond and gemstone options, we recommend that you familiarise yourself with their different types, styles, colours, and shapes while you search for inspiration for your ring. If you know you want a white diamond ring, focus your time on looking at the different diamond shapes and understanding the 4Cs (diamond colour, cut, clarity, and carat). If you think you want something a bit less traditional than a white diamond, spend some time learning about all your coloured diamond and gemstone options.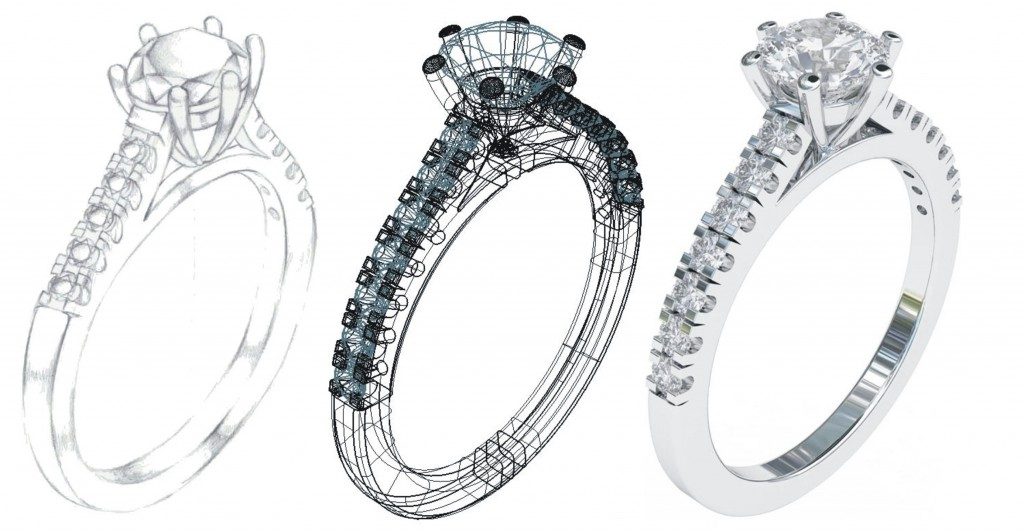 Enjoy the Process
Our last tip is simple but very important: remember to relax and enjoy the custom creation process. Creating your own engagement ring can sometimes be overwhelming, since there are so many options to choose from.
Please call us on (02) 9299 4251 or visit our store in the heart of the CBD