Are you trying to figure out how to make this ring perfect for her? Three words: Make It Personal.
An engagement ring is all about your personal love story. But if you want to really do it your way, a unique design can mean the difference between saying "yes" and actually never wanting to take your ring off. Whether you want to go all-out custom or just put your own little spin on a classic, designing a unique engagement ring can be easier than you think. Plus, you don't have to worry about anyone else having the same ring!
Doing this will hands down be the way to take her breath away.
Here's a quick run-down of things to consider when dreaming up your perfect engagement ring:
                                  1. Diamond Encrusted Band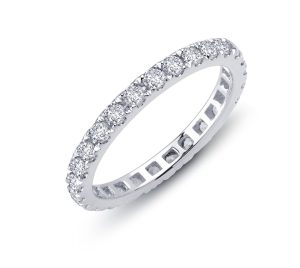 If you want to enhance the sparkle of your engagement ring while complimenting the centre stone. Sweet and eye-catching, accent diamonds and gemstones add a brilliant touch of sparkle to any engagement ring, but you aren't limited to embellishing the outside of the band. You
can add precious stones to the shoulder of the band or for something truly different, add a hidden element with a fine trace of diamonds or coloured gemstones around the inside of the band.
2. Twisted Band Design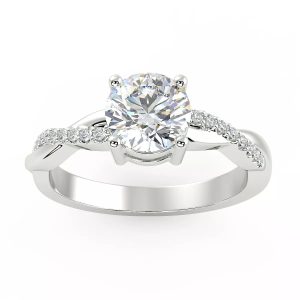 Like the banyan fig tree, you get two slender branches that have grown towards each other, a twisted band engagement ring is beautifully delicate and elegant, adding intricacy and sophistication to your engagement ring. A diamond twist engagement ring is feminine and classic, the flowing movement drawing the eye to the centre stone.
If you want to add a further touch of colour and sparkle to your twisted band engagement ring by pairing two differently toned precious metals, such as rose gold and white gold, or smaller diamonds dotted along bright white or yellow gold. What better way to represent the entwining of two different lives that have come together to create something beautiful?
'Shake up your side stones'
Even if your heart is set on a round centre diamond, incorporating unique side stones into your ring setting can give it a whole new look. Perhaps a three-stone or halo setting is the way forward? Or maybe some sapphires if you're looking for a little colour?
Try on many different sizes or explore the clean look of a baguette! There are also epaulettes, trapezoids, half-moons, and pears… the list goes on!
3. Diamond Ring Claws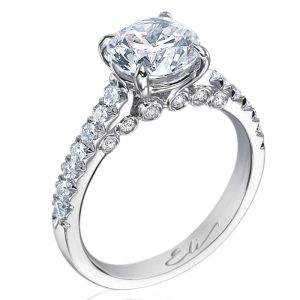 Never underestimate the power of the setting. Amplifying the setting of your engagement ring claws is a playful, opulent way to make your engagement ring truly unique while adding an intricate touch of fine detail.
Including smaller diamonds in the basket of your diamond engagement ring adds an ethereal-like quality to the setting and claws, while elevating the centre stone. The addition of diamonds to the basket increases the amount of dancing light (the light moves with your movement), complementing and elevating the natural beauty of your centre stone.
4. Hidden Diamond Halo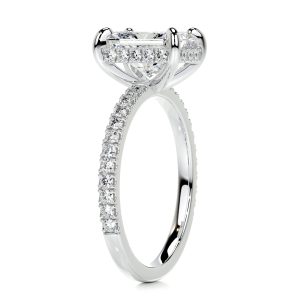 Highly desirable, and very popular, a round hidden halo engagement ring is straight out of a fairy tale. This swoon-worthy, unique setting style positions the centre diamond or gemstone beautifully high on the finger.
This style is not wholly visible from the top, but rather, brings in more light to the sides of the setting, making the star of the show – your diamond, appear larger and more brilliant. This setting adds a dreamy, detailed uniqueness to the otherwise classical solitaire setting.
  5. Diamond Bridge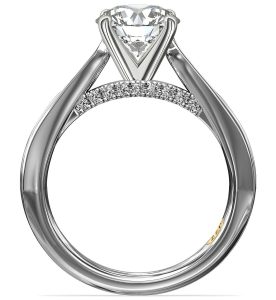 The diamond bridge setting is elegant and unique which will give you an elevated look to your finger. There are many places to add extra diamonds or gemstones to customise your engagement ring, but none are so unusual or unique. As diamonds embedded pieces lay flush
with the surface at the bridge of your ring. Why not personalise your engagement ring with an intimate series of smaller stones, or a single stone, at the base of your centre stone?
Make this design element even more personal by using family diamonds or gemstones, bringing a touch of family history into your unfolding love story.
6. Coloured Accent Stones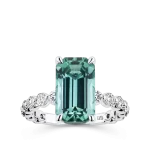 While diamonds and engagement rings have been attached at the hip for, oh, seemingly forever…that's actually not the case. In fact, that famed "A diamond is forever" phrase didn't even make its appearance until the mid-20th century. Clearly, though, the idea that it's not really an engagement ring without a diamond is deeply ingrained. One of the easiest ways to break with tradition? Is to add colour.
The state of coloured stones enables you to enjoy the best of both worlds – a classically brilliant diamond engagement ring, with the uniqueness of coloured accent stones. Sapphire and diamond engagement rings have seen increasing popularity over the last couple of years, and accent stones are a beautiful way to get in on this trend without sacrificing your desire for a central diamond, or show-stopping sapphire.
Sapphires are beautifully versatile, and while many people assume sapphires are simply a shade of blue, this complex, decadent precious gemstone can be found in a vast array of hues, from royal blue and sea green to canary yellow, electric fuchsia, and soft pink.
Sapphire engagement rings are exciting, romantic, and bold, while sapphire accent stones provide a wild dance of colour when paired with a glittering diamond centre stone. Beautiful combination.
Colourful gemstones can also save you a pretty penny, as they typically cost significantly less than their diamond counterparts. From the classic sapphire, ruby, and emerald to the currently-trending morganite or pearl. Gemstones can be significantly softer than diamonds and some are not suitable for daily wear. if you're considering a gemstone engagement ring, make sure to do a bit of research about proper care.
 7. Hidden Birthstone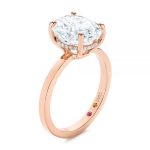 Hidden birthstone engagement rings are a monumentally personal and intimate way to customise your engagement ring. Select the birthstone of your birthday, or, your partner (or both!). Include this passionately discreet element in a hammer set/flush setting inside the band. Beautiful and sweet hidden meaning for the two of you.
Or adding family heirloom
Your love story is one that builds upon the tapestry of love stories that came before you. What better way to celebrate a legacy of love than to give heirloom pieces a new life in your engagement ring? Creating a new piece that celebrates your blossoming love story, and the love stories that have already been told.
  8. Personal Engraving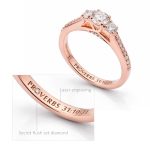 In the British Museum in London is an antique gold ring from the 1700s, inscribed with the sweet message, 'Many are the stars I see, but in my eye, no star like thee'. Heartfelt messages stand the test of time and they can really customise your ring and make it truly special. Make your engagement ring truly personal with an engraved band inscribed with the date you and your spouse-to-be met, your wedding date, or a personal message with meaning special to the two of you or find true romance with a hand-engraved engagement ring.
9. Textured Engraving
Want to explore more unique ring engraving ideas?

 
Textured engraving will create an engagement ring like no other. Textured engagement rings work with the surface of your ring—that means choosing correctly what type of band you will be using.  Using precise techniques to create a variety of grains and effects to give your engagement ring a vintage or modern feel.
10. How Do I Customise My Engagement Ring?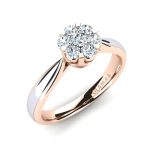 Anania Family Jewellers works with talented craftsmen and women to create opulent showstoppers, timeless, sophisticated classics, and sleek modern designs. We will work with you to design your perfect engagement ring, offering guidance to select high-quality diamonds, and glittering sapphires (or a combination of the two). Help you decide on your precious metals – choose between robust platinum or crisp white gold, our blushing rose, and warm honey gold. Whether your inspiration is the result of a carefully curated image search or simply your imagination, our talented designers can bring it to life.
After producing a rendered version of your engagement ring, tailored to the specific dimensions of your selected diamonds and gemstones, our jewellers will handcraft your piece, creating a precious family heirloom, uniquely yours. View our collection of custom-made love stories, crafted from precious stones and materials.
If you need help picking out the perfect wedding ring, one of the wedding ring experts at Anania Jewellers would be happy to assist you. Stop into our store or call (02) 9299 4251