Dating, weddings, and marriages look different than they did a decade ago. As our concepts of relationships evolve, the beauty and promise of engagement rings grow less gendered. Over the past few years, engagement rings for men have been gaining in popularity.
Why not? They offer the perfect opportunity to show off shared devotion and individual personality. From Brooklyn Beckham with his diamond-encrusted ring to Ed Sheeran with his simple silver brand, many famous fellows have adopted this trend.
Depending on the men who wear them, rings connote rock and roll swagger or regal sophistication . An engagement offers the perfect excuse to add a special bauble to the collection. 
History Of Engagement Rings
Women's and men's engagement rings are generally a type of wedding jewellery worn on the left ring finger that can indicate the wearer is engaged to be married. Traditionally, an engagement ring can represent the formal acceptance of a marriage proposal. Often, female and male engagement rings are replaced with a separate ring on the wedding day. Other times, the engagement rings can be kept and combined with wedding bands instead. But where did that tradition come from? And what do engagement rings signify now?
Historically, the use of wedding rings is believed to have begun with the Egyptians. The circular bands are thought to have represented eternity. Wearing a round band on a finger on the left hand usually symbolised a commitment to being together forever. This could also be a physical representation that a person was in a relationship and not available to other suitors. Although, traditionally, engagement rings were worn by women, many men today wear a male engagement ring.
In other countries, like Sweden and Chile, men have been wearing engagement rings for a while.
Though the first record of modern engagement rings occurred in 1477, most people did not adopt the custom until the mid-1900s, and it wasn't until this time that diamonds and precious metals were commonly featured on engagement rings.
In 1947, a diamond mining company called De Beers popularised the phase, "a diamond is forever," contributing to the trend of buying expensive diamond engagement rings, and the jewellery industry has continued this advertising.
Someone preparing to make a proposal may spend a significant sum of money to buy an engagement ring for their partner.
Though many modern couples continue to choose diamond rings to signify their commitment, it is becoming increasingly popular to choose less expensive engagement jewellery or to not wear engagement rings at all.
Who Wears Engagement Rings Today?
Many of today's couples choose to wear engagement rings to signify their love and mutual commitment, regardless of each partner's sex or gender. Women and men wear engagement rings. Whether a person chooses to wear an engagement ring can be a matter of personal preference or a decision made jointly by the couple. Both, one, or neither of the partners may wear engagement rings.
You can even change up where you wear it, as some women and men wear their rings on their right ring finger instead of their left. The same is true for same sex couples.
You each decide whether you want your own engagement rings or if you want none at all.
The Decision Not To Wear A Ring
Some people may not like the feeling of wearing a ring on their finger, or a ring may need to be taken off frequently for work or recreational activities. For example, a person who does manual labor may find wearing an engagement or wedding ring difficult. In addition, some may feel that they do not need to wear a ring on their ring finger to show their commitment to their partner.
What hand does a man wear an engagement ring on?
This question, again, has no right answer. You can wear an engagement ring on any finger, on either hand. However, there are traditions as to which hand to wear it on, depending on where you live.
Do Men Wear Engagement Rings? do-men-wear-engagement-rings
It's tradition to wear engagement and wedding rings on your left hand in the United States, the United Kingdom, Australia, Canada, New Zealand, France, Italy, Sweden, Finland, the Czech Republic, Switzerland, Croatia, South Africa, Romania, and the majority of Asian countries.
However, it is traditional to wear them on your right hand in Austria, Norway, Denmark, Spain, Russia, Portugal, Poland, Bulgaria, Greece, and several other European and South American countries.
Do guys buy their own engagement rings?
If a man has proposed to his partner and they've said yes, and the man also wants to wear an engagement ring, then there's still the tricky question of who buys it.
Traditionally, the man will buy his partner their engagement ring ahead of the proposal. Sometimes, the partner will choose their ring after the proposal. In both of these scenarios, that still leaves the man questioning whether he will have to pay for his own ring, or if the partner is expected to pay.
Unfortunately, this is another question that doesn't have a straightforward answer and is something the couple will need to discuss between themselves. It will come down to the financials of the couple, and it shouldn't be expected that the gesture is reciprocated. A couple planning to spend the rest of their lives together should hopefully be able to work this out!
Diamonds Are Forever
Diamonds are, of course, the hardest material found in nature. Thousands of years before their scientific properties were cataloged, the stones captured the human imagination because of their lustrous allure. Those two qualities combined to create an obvious and enduring metaphor for love.
These six engagement rings for men offer beauty and bling. The silver settings keep the stones looking understated and elegant.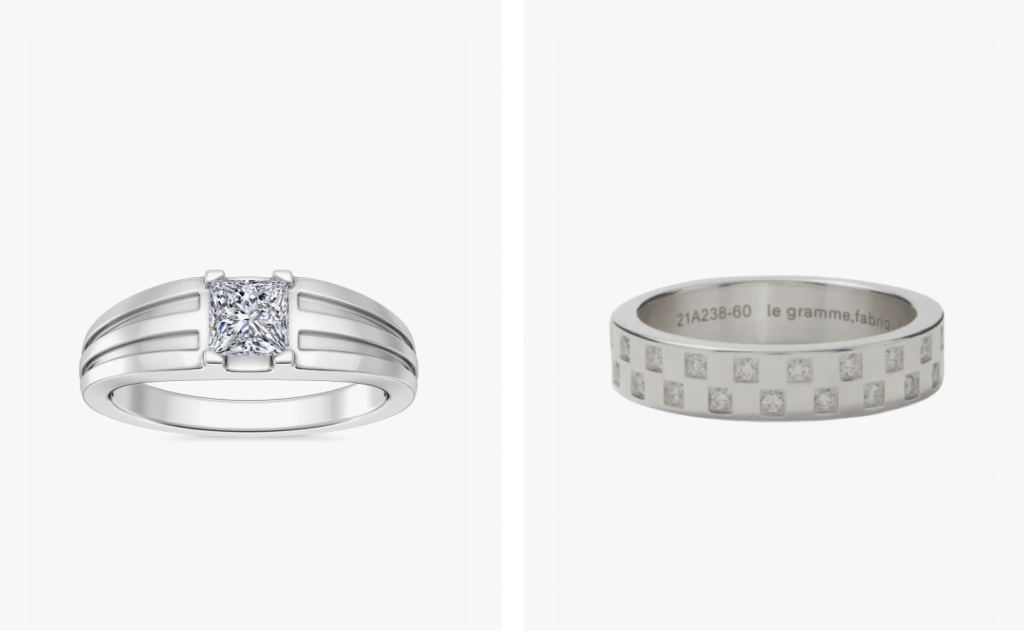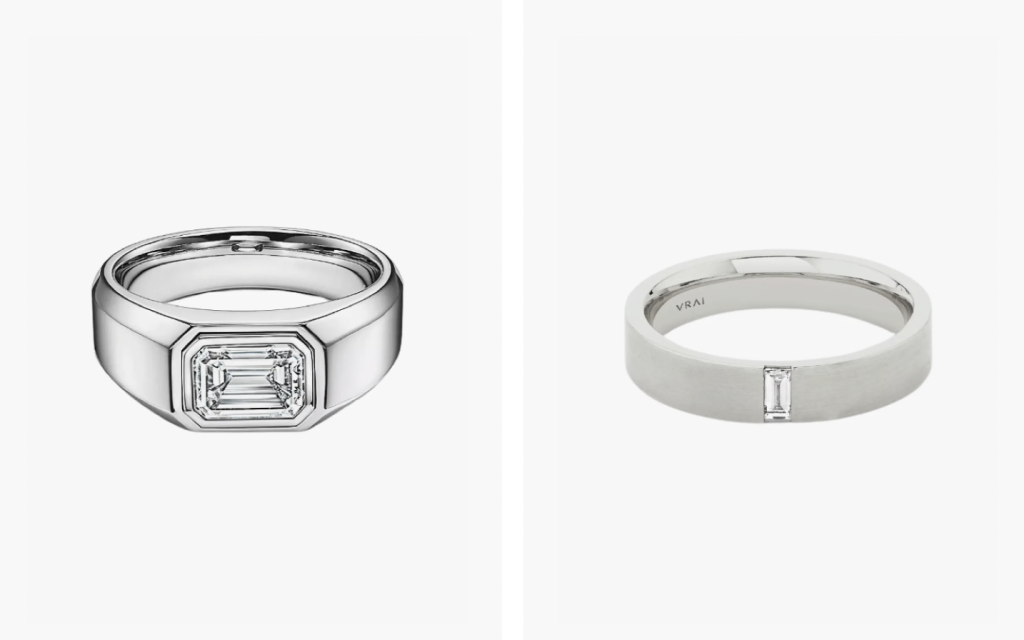 A Golden Touch
From ancient crowns to modern timepieces, gold never goes out of style. Through shape and stones, these six rings offer a twist on the classic wedding band. Valuable and elegant, gold is an ideal choice for the traditional man looking to embrace a new tradition.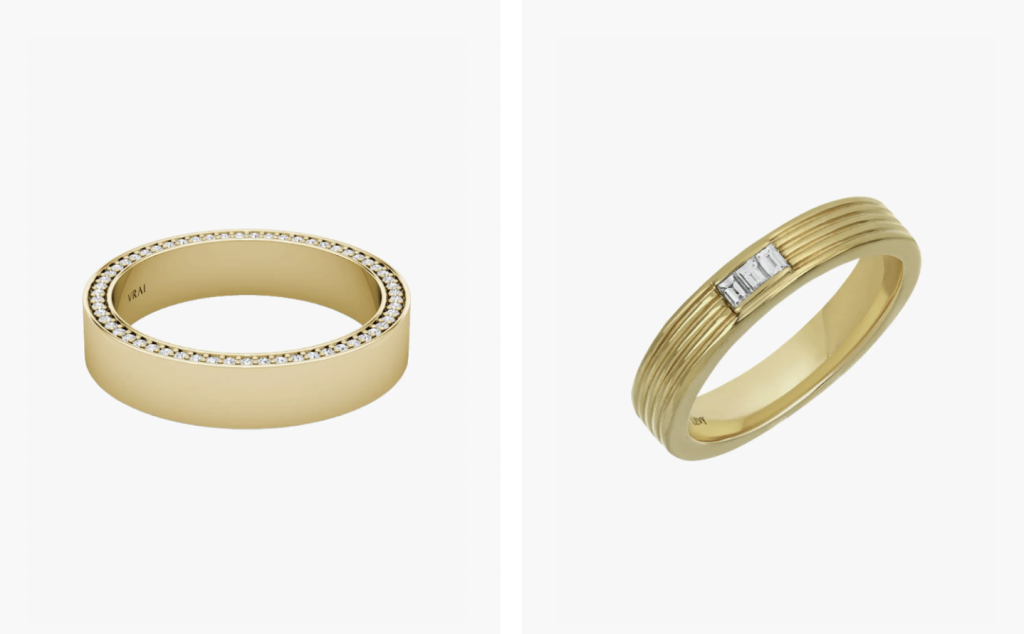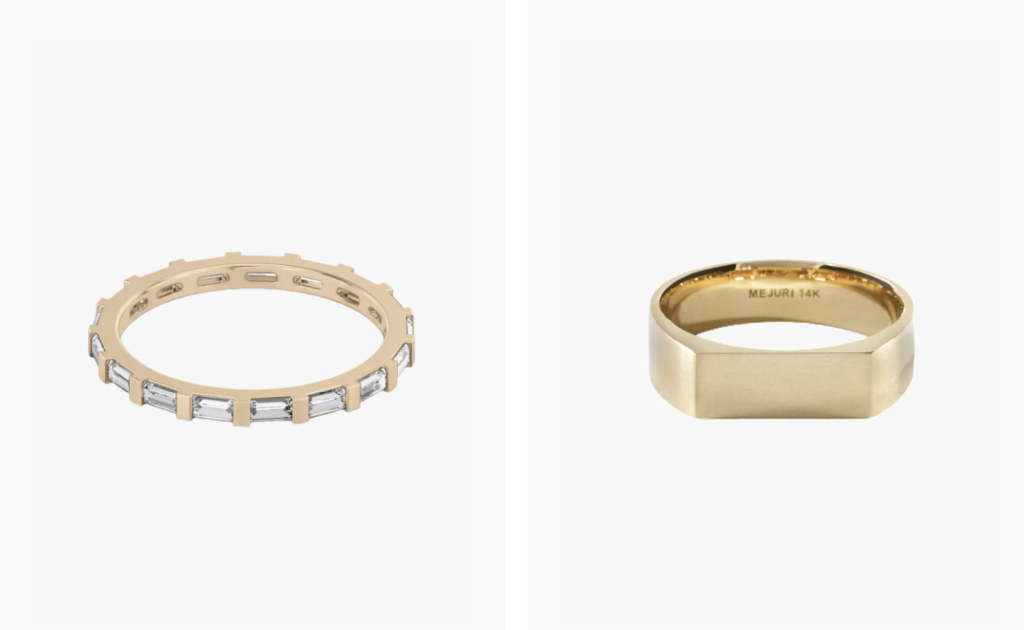 Modern Metals
For the gentleman attracted to minimalism, these masculine designs are the way to go. Made of white gold, steel, and silver, the rings signify good taste and an architectural sensibility.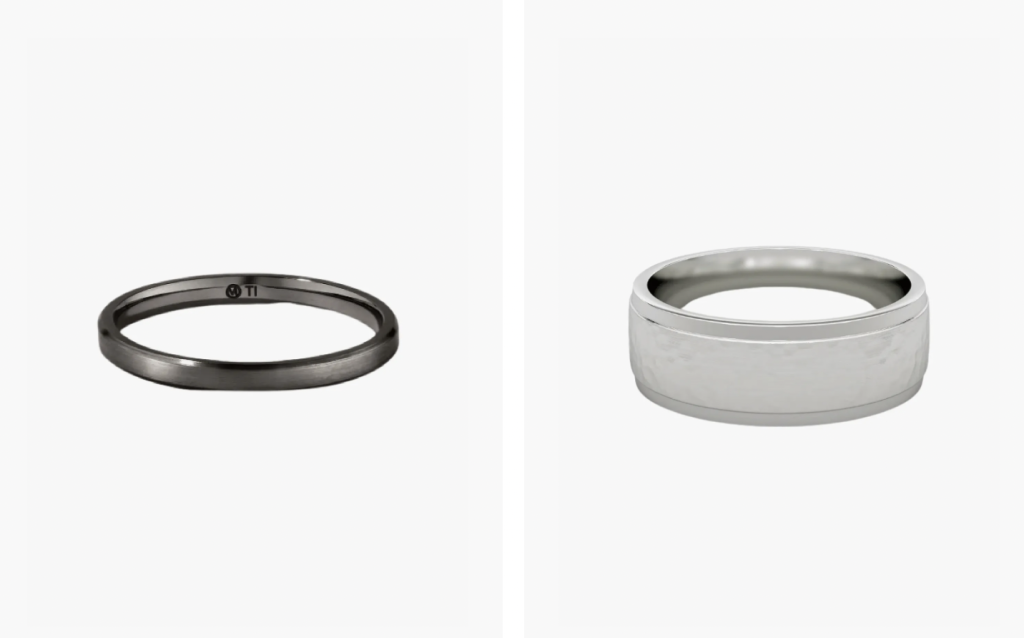 Statement Rings
Life is short. Why not embrace colour? For the man who favours the bold,  these six options lend a bit more personality to the hand. Dashes of sapphire, ruby, or lapis make these rings as unique as the love they represent.
How to Find the Perfect Engagement Ring for Your Partner
Now that you understand the basic fundamentals of engagement rings for men, you may be curious as to how you can find one that works best for your partner. So, following the continued advice of our experts, here are the best tips to follow in order to find the perfect piece you'll love forever.
Get Personal
One aspect that sets an engagement ring apart from a wedding band is personality, so this accessory is the place to get creative and incorporate meaning. When doing your research, Google what [certain elements] stand for. Find out what your partner likes or loves. It's all about knowing your partner on a deeper personal level.
Know Your Metals
Consider your partner's lifestyle when selecting a metal. If you work with your hands, you'll want to consider a ring that is durable and resistant to scratches and corrosion; look for engagement rings crafted from tungsten or cobalt. If you're more concerned about a ring that will hold generational value and can be passed on in your family, a gold or silver engagement ring is the right choice for you.
Add Some Sparkle
Why should women have all the fun? There are many ways to incorporate diamonds in men's engagement rings that cater to a variety of styles and aesthetics. It's about time we gave men a chance to sparkle too. For men who like more diamonds on their rings, there are also rings with a single center diamond and smaller side diamonds on the shank that do well.