The captivating world of Gemstones, each with its own characteristics and meaning. Gemstones are generally classed as either precious (Diamond, Emerald, Sapphire, Ruby) or semi-precious.
Below is a list of precious and well known semi-precious
Precious
Emerald – The month of May gemstone, with a hardness of 8 and a shade of green for everyone. One of the most famous Emerald pieces was Richard Burton's gift to Elizabeth Taylor after they fell in love on the set of Cleopatra.
Sapphire – The month of September gemstone, with a hardness of 8 and colours including Blue, White, Yellow, Green, Pink, Purple and Orange. Best known of the Sapphires is the Lady Diana Sapphire Engagement ring (now worn by Kate Middleton)
Ruby – The month of July gemstone, with a hardness of 9 and the cousin of Sapphire. Anyone familiar with the movie Pretty Woman starring Julia Roberts and Richard Gere, the necklace she wears (that he pranks her and closes the lid as she goes to touch it) to dinner is Ruby and diamond.
Semi-Precious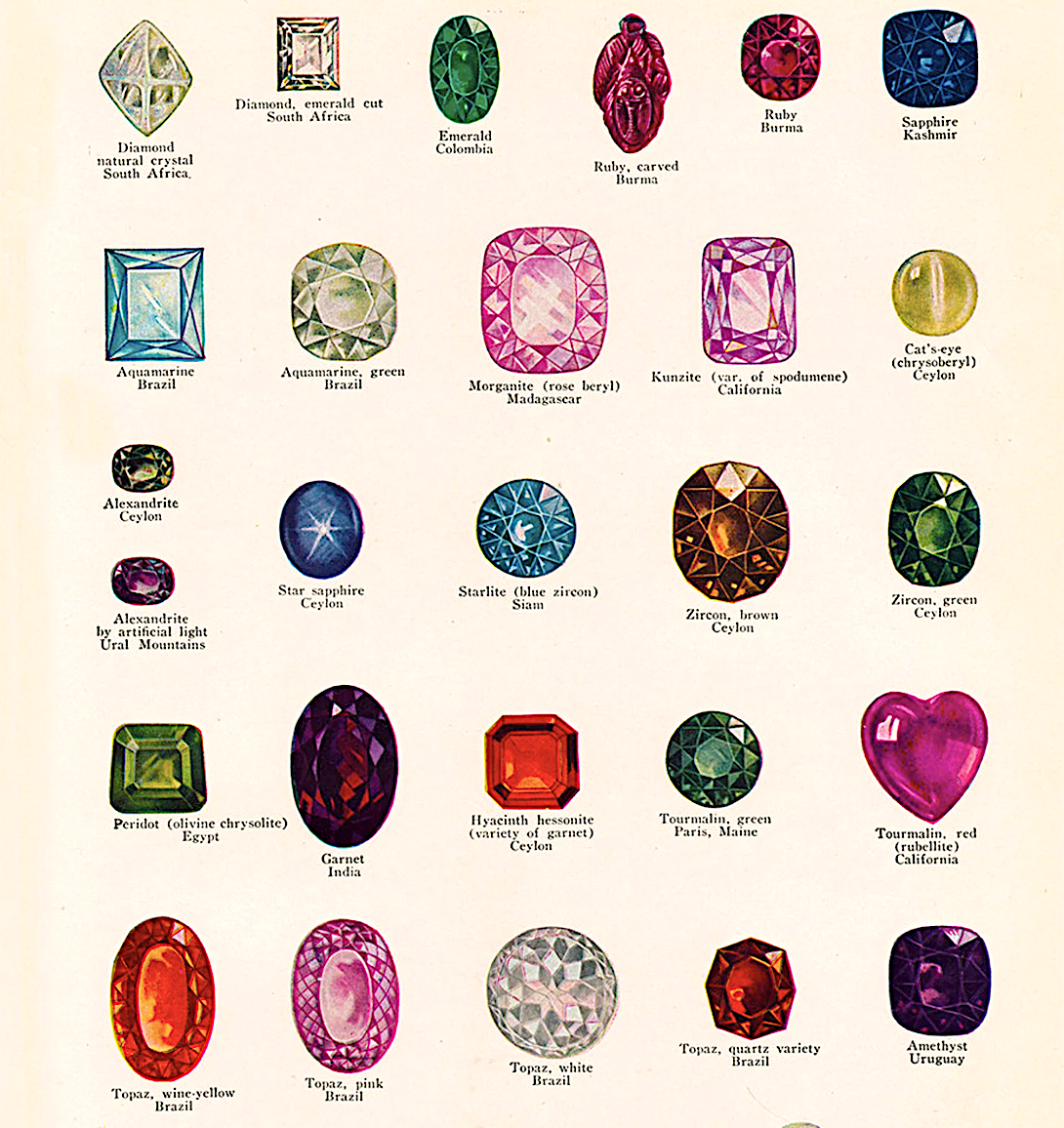 Alexandrite – The June gemstone (alongside Pearl) and a hardness of 8.5. Alexandrite is incredibly rare and expensive and will change colour from green to red by altering light passing through it
Amethyst – The February gemstone (and 6th and 17th anniversary) with a hardness of 7. Always purple from light to deep and dark
Aquamarine – The March gemstone, with a hardness of 7.5 to 8. Always a soft sea blue. Aquamarine is a cousin of Emerald.
Citrine – The November gemstone (along with Topaz) and the 13th anniversary, with a hardness of 7. A distinct yellow to orange and orangy red colour.
Garnet – The January gemstone (and the 2nd anniversary) with a hardness of 6.5. Garnets are known traditionally as a maroon red (slightly more purple than Ruby), but come in greens, oranges, and even blue
Morganite – Cousin to Emerald and Aquamarine, with a hardness of 7.5. Morganites are pastel, pink/purplish pink/orangy pink.
Opal – The gemstone for October (with Tourmaline) with a hardness of 6. Opals are the only gemstone to have multiple colours. They are the national gemstone of Australia and contain 20% water.
Pearl – The gemstone for June (alongside Alexandrite) and celebrating the 3rd and 30th anniversaries and a hardness of 2.5. There are four major cultured pearl types. Akoya (white/cream) is cultured and grown in saltwater. South Sea are saltwater cultured in Australia, Indonesia and the Philippines which is white to silver or gold. Tahitian, are cultured and black to grey, with green, purple or pink tones. Freshwater cultured pearls are grown in freshwater, lakes, ponds and commercial vats.
Peridot –  The gemstone for August (with Spinel) and the 15th anniversary with a hardness of 6.5. Peridot is yellowish-green to bright green.
Spinel – The gemstone for August (with Peridot) and a hardness of 8. Red Spinel's are often mistaken for Rubies. The colour ranges from red/pink/orange/purple/blue/black/grey
Tanzanite – The gemstone for December, (with Zircon & Turquoise) and the 24th anniversary with a hardness of 6. Tanzanite is violet blue to violet. Tanzanite is only found in Tanzania and was first discovered in 1967.
Topaz – The gemstone for November and celebrates the 4th and 23rd anniversary with a hardness of 8. Topaz comes in the following colour Yellow, Orange, Blue, and Green. Imperial Topaz is reddish orange and the most expensive.
Tourmaline – The gemstone for October (with Opal) celebrates the 8th anniversary with a hardness of 7.5. Tourmalines come in all colours, the most sought after are Paraiba which are intense greenish blue from Brazil.
Zircon – The birthstone for December (along with Tanzanite and Turquoise) and hardness from 6 to 7.5. Zircon is the oldest known gemstone (4.4 billion years old).  Colourless Zircon is often confused with Diamond, however, it is found in every imaginable colour.
Anniversary Gemstones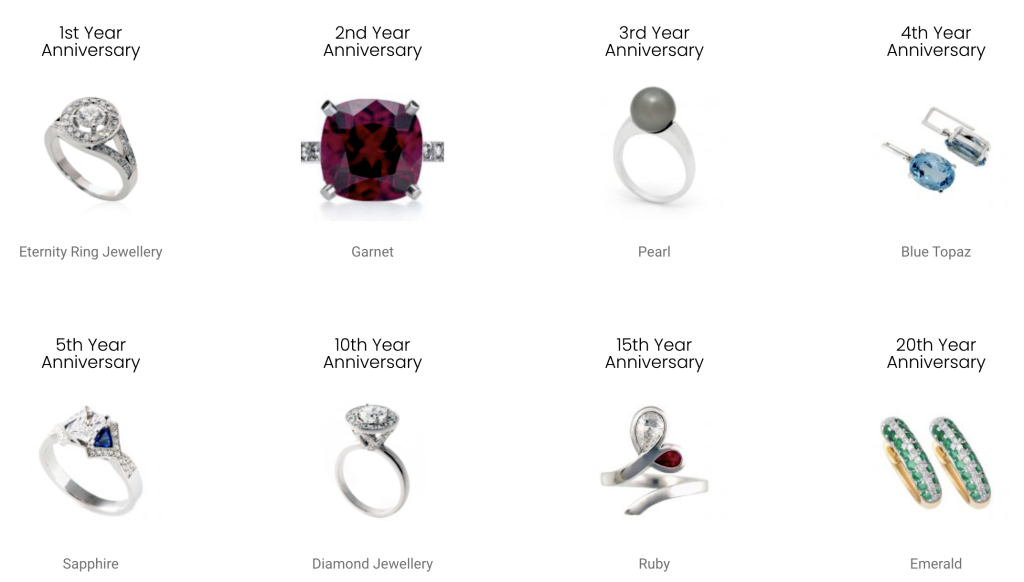 Gemstone Jewellery makes a statement. Gemstones represent different milestones and months of the year. We can custom make milestone Jewellery celebrating anniversary's, and graduations, combing different gemstones in rings, pendants, earrings, bracelets, and bangles.
Gemstones have different hardnesses which require a bit of understanding of the wearer and how often and when they would be worn. That just comes down to having a chat and getting to know you.
Different anniversaries/birthdays also have a gemstone associated.
See below for some handy ideas:
5 years – Sapphire
10 years – Diamond
20 years – Emerald
30 years – Pearl
40 years – Ruby
50 years – Gold
60 years – Diamond