Planning a proposal?
Here's what you need to know. When choosing the perfect engagement ring, educating yourself on a few key aspects of this important purchase will help you find the right one.
An engagement ring is a once-in-a-lifetime investment, and like all investments, you want to be knowledgeable so that you are confident in your decision.
Because picking an engagement ring can be overwhelming, Anania is here to guide you through the experience. You don't need much to get started. All you'll need to know before you start ring shopping is your favourite setting style, the 4C's of diamonds and the wearer's ring size.
For proposal ideas, click here.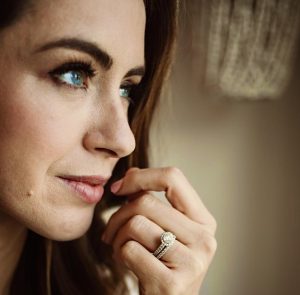 Determine Your Ring Size
When a proposal occurs, the ring should slide on easily. Finding the correct ring size is easy if the couple is shopping together, but can be more difficult when the proposal is a surprise. Choosing the right ring size is easy if you follow a ring size chart. All you'll need to do is measure your finger or that of your spouse-to-be and match the measurement to the correct ring size listed on the chart.
Helpful tip:
Get help from your partner's friends and family
If you ask someone close to your partner that knows them well, you may be lucky enough that they already know the answer.
Measure it while they sleep
This one can be tricky if they're a light sleeper but if you're feeling stealthy, try wrapping a piece of string around their finger while they rest and then use the above measurements to get their size.

Choose Your Ring Setting Style
A great place to start your search is by picking your ring setting. A ring's setting determines how your centre diamond is mounted and gives your ring its personality. From traditional to alternative, your setting should reflect your personal style and the options are endless.
Helpful tip: If you don't know the ring style you or your soon-to-be fiancé is hoping for, but want to keep your proposal a surprise, we recommend selecting a diamond and having it mounted in a simple solitaire setting. Solitaires hold a variety of diamond shapes and accommodate any budget. Then after the proposal, you can shop for something that tells the story of your love, together.

Select Your Ring's Precious Metal
Our setting can be made of a variety of metal types and colours. A ring's metal not only adds to the personality of the design but can even enhance the look of the gems it's supporting. 
Platinum – The strongest jewellery metal and 30 times more rare than gold making it more expensive as well. It is 90 to 95% pure and does not cause allergic reactions.
18k Gold – Gold is one of the most precious metals in the world. Because pure 24k gold is too soft for everyday wear, 18k gold is a better option for engagement rings. This metal is 75% gold and 25% other alloys that determine its colour. Naturally yellow and rich in colour, this precious metal is more soft than platinum but also more affordable.
14k Gold – Considered the most wearable, it is comprised of 58.3% gold and 41.7% other pure alloys, making it the most durable but also more moderate in colour and price.

What Are The Diamond Four Cs?
You might have heard of the Four Cs. These refer to the different characteristics of diamonds, which are used to grade their quality and rarity. Premium colour and clarity grades are more important in styles such as solitaires, three stones, or halo rings with a larger centre stone, where these qualities will be more noticeable. 
Here's a quick run-down on each:
Cut
This refers to the shape of the diamond (such as round brilliant, pear cut, emerald cut, and so on); how expertly your diamond has been cut and to maximise the light it reflects. A well-proportioned and cut stone will give you optimal sparkle.

Colour
This refers to the traces of colour present in a white diamond. Colour is graded from D – Z, with D being completely colourless. Traces of colour in stones graded 'near colourless' (G – J) are difficult to see, making them a beautiful and great value choice.

Clarity 
Clarity is affected by imperfections that naturally occur as a diamond forms. Almost all diamonds have these 'birthmarks' and it's part of what makes each diamond unique. 

Carat
Usually associated with size, a diamond's carat is actually its weight. A solitaire diamond ring will have a carat weight that refers to the single diamond. Multi-stone rings will have a total diamond weight and this refers to the combined carat weight of all the stones in the ring. 

Consider Working Directly With A Jeweller
'Don't just give a piece of jewellery make a statement & customise a piece to know how much you really care'  — Daniel Anania
 Generally speaking, a lot of people now want something that walks the line between vintage and modern. It's not so much about a big diamond anymore—they want quality over size, or a unique shape, like a rose cut. And a lot of people are ditching diamonds altogether.
Don't Get Caught In A Trend
An engagement ring should be a timeless, classic symbol of your love that will last forever. The goal should be to find the stone that is the perfect match for your future fiancé. Look at their current jewellery to see what would best suit his or her style. Are they gold or a platinum person? Do they wear statement jewellery or instead opt for minimal pieces?
Take inspiration from their current style to inform how you pick the piece they'll want to wear every day for the rest of their lives.
How Much Should I Spend On An Engagement Ring?
There is no set rule on how much to spend on an engagement ring as this largely depends on personal budget and style preferences. Cultivating an understanding of what factors into a ring's price can help you get the most out of your budget.
If you need help picking out the perfect engagement ring, one of the engagement experts at Anania Jewellers would be happy to assist you. Stop into our store or call (02) 9299 4251