Since you're planning on wearing that rock around your finger for the rest of your life, it only makes sense to choose something you will still love when you're celebrating your 50th wedding anniversary. Pick from the heart. Find a ring that you love and speaks to you. Don't get too caught up in the specifics of a centre stone only.
Trends come and go, but nothing has the staying power of Art Deco design in jewellery. Modern, refined and timeless, it encapsulates everything most brides want in a ring today. So it shouldn't come as a surprise that more and more contemporary designers are turning to the glamorous Art Deco period for inspiration for their newest diamond ring styles.
The Art Deco movement emerged in post-war Paris and exploded in the Roaring Twenties when people were feeling optimistic, liberated and embracing change. That enthusiastic spirit, combined with the evolution of modern machinery and easier travel to faraway destinations, fuelled an unprecedented creative transformation that influenced everything from architecture and art to style and jewellery.
Coloured engagement rings encompass both fancy colour diamond rings and vivid gemstone rings such as rubies and sapphires. Essentially, any design that brings in colour can be a striking pick for an engagement ring and thanks to designers both classic and contemporary, there's a slew of beautiful pieces to choose from.
Modern Art Deco
Art-deco pieces are the next big trend for this year and is still going strong, unsurprisingly, given their timeless elegance. It's such an extensive style that offers something for every taste. Whether a five-stone ring with all-emerald cut diamonds or an antique old mine cut surrounded by a modern baguette halo, the design vocabulary that Art-Deco offers is so rich.
Simply put, these designs are perfect for couples who prefer unique styles mixed with timeless and elegant touches. There is something for everyone, and I can't see the appeal of Art-Deco-inspired pieces slowing down anytime soon.
1). Baguette Diamond Halo Ring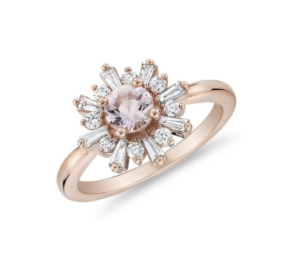 We really heart this morganite ring that exudes vintage charm (rose gold!), and features art deco-inspired artistic elements like alternating round and baguette-cut diamonds encircling a pretty, pink stone.
2). Opal, Diamond & Rose Gold Ring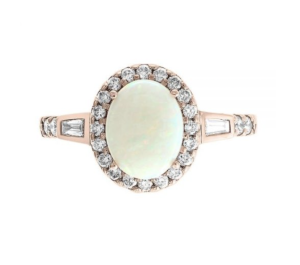 Consider this opal find that features a round diamond halo, flanked by baguette-cut sparklers, and is set in rose gold. Because, fact, charming and symmetrical is a winning combo.
3). Heirloom Petite Migraine Engagement Ring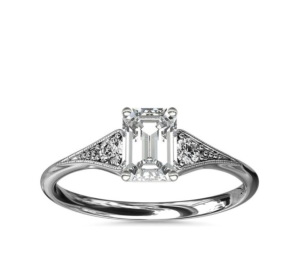 We were hypnotised by the beautiful symmetry and sparkle of this dainty, emerald-cut diamond ring with Milgrain.
4). Two Toned Teardrop Cluster Ring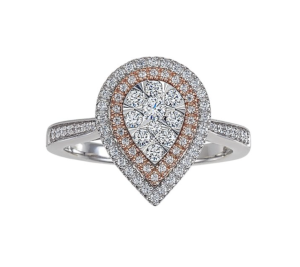 Pleasing symmetry and contrasting rose and white gold will make you fall in love with this pear-shaped ring. Plus, diamonds!
Coloured Stones
Diamonds will be forever be an engagement ring staple, many couples are veering from tradition and opting for pieces that feature coloured gemstones. One of the main appeals of coloured gemstones is that each stone will have its own distinctive character. Because no two coloured gemstones are alike, these are wonderful choices for meaningful, personal jewellery. There is so much scope for the personality of the wearer to come through and to have a piece that is really unique to them. We especially love this style as it adds a bit of versatility and excitement to even the most pared-back engagement ring designs.
1). Light Blue Sapphire Ring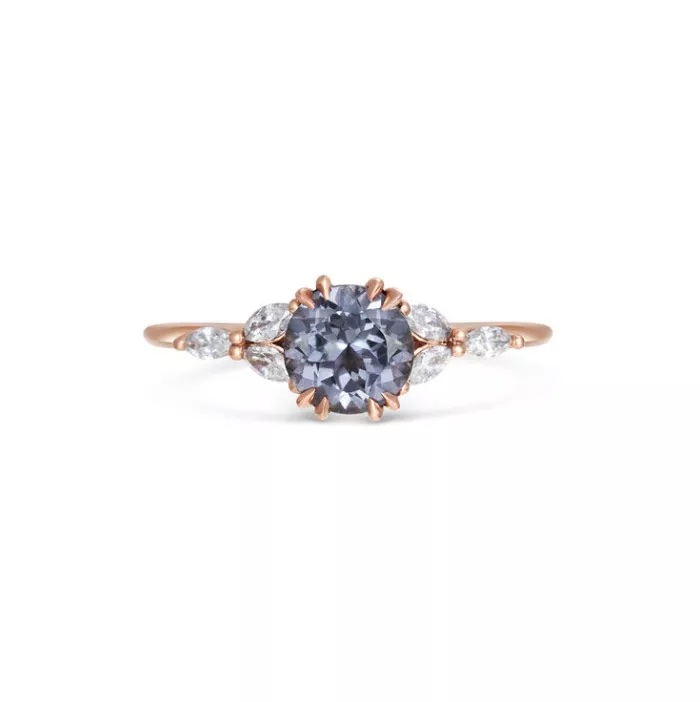 A round brilliant cut light blue sapphire steals the show with this romantic engagement ring. To finish, a floral cluster of marquise diamonds circles the delicate band.
2). Green Amethyst Ring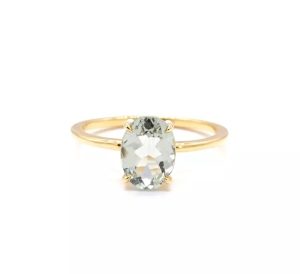 A desaturated green hue takes centre stage with this beautiful oval amethyst ring. It's at once simple and striking.
3). Pale Blue Ring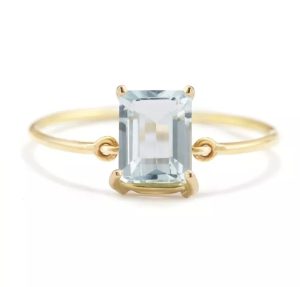 Mirror your love for the sea and the sky with this icy aquamarine engagement ring. The simple gold band (we love the knot details!) and prominently-featured centre stone is a fantastic design choice.
4). Ruby & Diamond Cluster Ring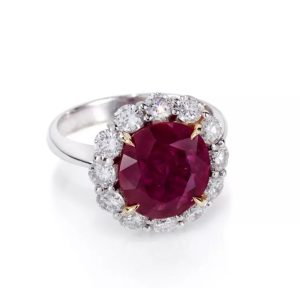 This ruby and diamond cluster engagement ring is a glorious amalgamation of precious gemstones and quality craftsmanship. It's a timeless look that will never go out of style.
Lab Grown Diamonds
There has been a huge push toward sustainability practices over the past few years, and the demand for lab-grown diamonds has continued to spike with no sign of it slowing down. I believe there's a massive trend going on due to inflation of prices. It's also means no one has to die to give you your diamond. In 2023, we expect to see even more couples embrace this trend, and purchase sparklers that are 100 percent conflict-free.
Additionally, lab-created stones are great options for those looking for quality and long-lasting rings at an affordable price.
1). The Floating Split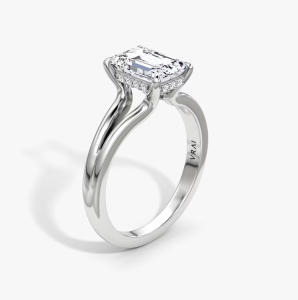 The Classic, The Signature Solitaire, and The Signature 6-Prong are designs perfect for those with a more minimal, yet timelessly elegant style. This is a wonderful setting for those who prefer lab-grown Oval cut engagement rings or Round Brilliant cut engagement rings.
2). The Toi Et Moi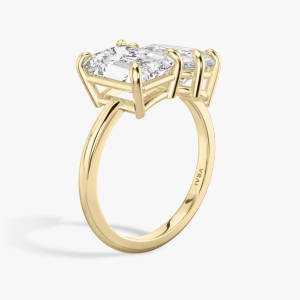 A vintage-inspired lab-grown diamond ring brings together the best of two worlds. The settings with a classically romantic twist. Each setting is a modern interpretation of timeless styles, the vintage touch is beloved by those looking for an heirloom-like ring.
3). The Halo Dome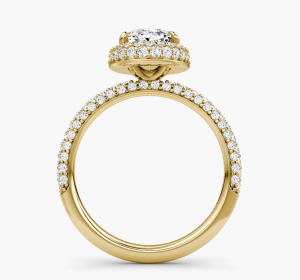 Halo engagement rings are perfect for those who want an elegant engagement ring with maximum brilliance. Halo settings feature pavé set diamonds circling the centre stone. For those who want to enhance the vintage feel of this setting, opt for a lab-grown Emerald engagement ring, Pear diamond, or Cushion cut diamond.
4). The Signature Bezel Pear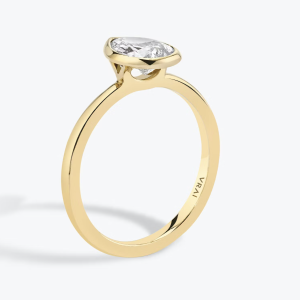 Bezel engagement rings are considered the most secure engagement ring setting, perfect for those with an active lifestyle. A bezel setting surrounds the entire diamond for a sleek, modern look that holds the diamond in place and highlights its size. Bezel settings highlight the clean, linear look of a lab-grown Radiant cut engagement ring while Oval diamonds will add timeless elegance.
East West Setting
While not a new trend, Anania expects to see this unique setting gain more momentum in 2023, given the emphasis on individuality in the wedding space. East-west settings make for a playful but still endlessly elegant solitaire. We find that there is currently a real demand for pieces that are full of character but have an air of timelessness to them, investment pieces that will become chic future heirlooms.
1). Pear White Sapphire ring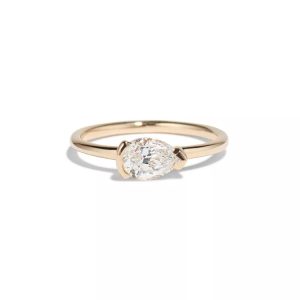 This pear-shaped white sapphire comes from Sri Lanka and is set on a 14k yellow gold band with a polish finish.
2). Diamond YS Ring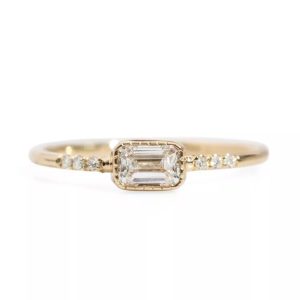 Milgrain detailing surrounds this emerald-cut diamond flanked by smaller diamonds. The stones are set on a 14k yellow gold band.
3). Pear Shaped Diamond Ring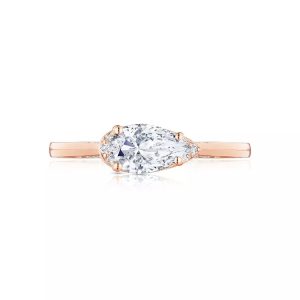 For a simple east-west design, consider this diamond centre stone with a unique diamond-tipped frame, set in 14k rose gold.
4). Single Stone Ring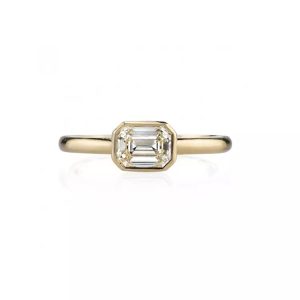 Handcrafted in Los Angeles, this east-west ring holds an emerald cut diamond on an 18K yellow gold mounting.
Multiple Larger Stones
1). Alexandra Gemstones Ring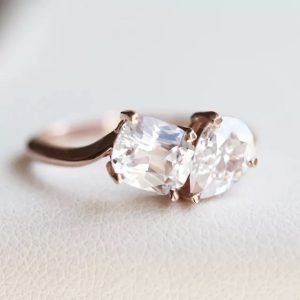 A ring like this is truly a unique treasure to symbolise your forever love. This customisable piece exudes a vintage charm that features an exquisite pear and cushion-cut stone.
2). Two Stone Diamond Ring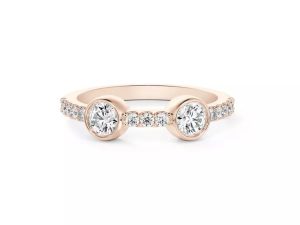 An 18k rose gold half-eternity band is brought to the next level of beauty with two brilliant-cut diamonds bezel-set into place. The engagement ring can also come in 18k white or yellow gold and looks stunning paired up in a ring stack.
3). Freshwater Pearl & Tilted Marquise Diamond 2-Stone Grande Engagement ring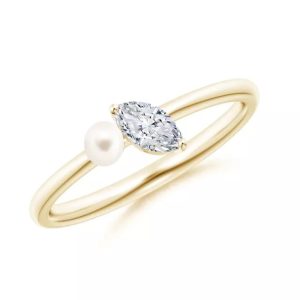 The distinct contrast between the 18k yellow gold, marquise diamond, and freshwater pearl is oh-so-striking! It's not everyday you see a piece as delicate yet captivating and unexpected as this.
4) Princess & Round Cut Two Stone Engagement Ring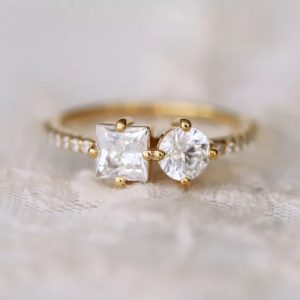 We can't get enough of this princess and round-cut Moissanite engagement ring. The way in which these two opposite shaped stones complement one another is such a fresh take on the classic solitaire with a pavé band.
Sure, we love a trend-driven sparkler, but nothing says "I'm engaged" quite like a classic engagement ring. Defined by simplicity and sophistication, these rings are classics for a reason: A traditional diamond cut with a no-frills design never goes out of style.
This year, skip the solitaire setting and the classic diamond ring and opt for designs that feature multiple large stones. For instance, Anania anticipates that we'll see this trend everywhere in the form of Toi et Moi rings. (Toi et Moi (French for 'you and me') refers to a two-stone engagement ring. It's a romantic option cemented throughout by some of history's most famous couples—think Napoleon and Josephine and John F Kennedy and Jackie O. Other variations of this trend can also include three-stone rings, á la Meghan Markle, or pieces that feature clusters of multiple diamonds and gemstones.
According to Forbes, gemstones are coming back stronger than ever. While white diamond is the classic choice for engagement rings, coloured gemstones are perfect for those who like to stand out. And pink diamonds are particularly elegant, feminine, and undeniably romantic. For future brides that love the prettier things in life, it's certainly worth the investment. 
Pink diamonds are incredibly rare and, according to the Gemological Institute of America, make up only about one percent of diamond production worldwide. This rarity probably explains why they're something of a celebrity favourite: Pink diamond engagement rings have been spotted on the fingers of stars like Blake Lively, Victoria Beckham, and Mariah Carey.
Of course, the most obvious difference between pink and white diamonds is the colour. Pink diamonds can come in a range of saturations, from a light, subtle pink to a bright hot pink. It's 20 times more expensive than white diamonds of the same size because of their rarity and limited supply demand.
Like white diamonds, pink diamonds are extremely durable, making them an excellent engagement ring stone. They are the hardest known natural substance, and only another diamond can scratch your diamond.  Diamonds are known for their high dispersion and brilliance, which cause the scintillating flashes of colour and light that everyone loves. Basically, you get the durability and strength of a white diamond in a pretty hue. 
In conclusion, the top engagement ring trends of 2023 reflect how brides-to-be are expressing themselves this year: coloured gemstones add flair, unique details elevate the classics, unisex styles break with tradition, and vintage-inspired motifs make modern designs timeless heirlooms.