From style to budget, there are plenty of factors to consider when deciding on the metal for your engagement ring. With an unsurpassed collection of wedding rings it is clear why we are quickly becoming Australia's leading engagement ring destination for both men and women. With so much choice your main challenge will be to narrow it down to your favourite.
The most popular engagement ring metals are yellow gold, white gold, rose gold, platinum, and sterling silver. We're going to break down each one for you to help you choose the ring that best fits you.
That is why we have created this ring metals guide, providing an insightful overview of the general characteristics of all the ring metals we offer. We hope this guide provides you with some useful information and showcases our unrivalled range in terms of styles and metals, which goes far beyond any jewellery store offering! 
Before we break down the most common ring metal types, understand that various factors can influence which is right for you. Here's what to know before you start shopping.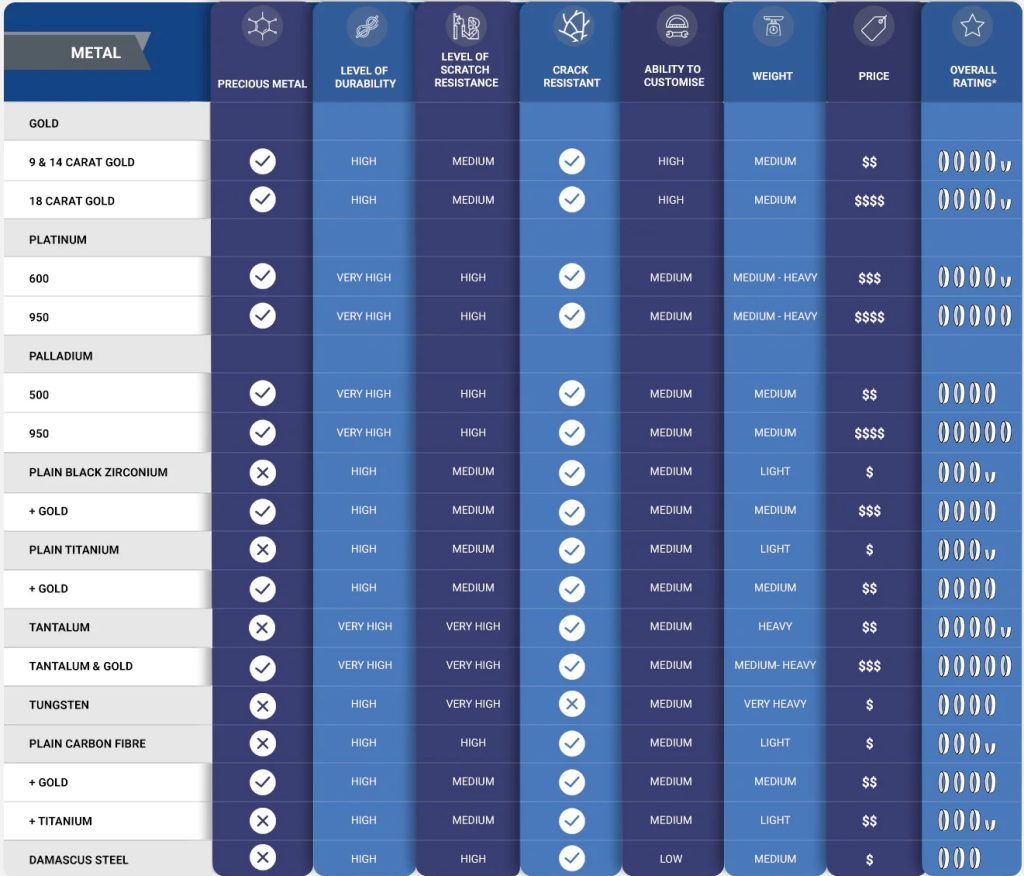 Best Metal For Engagement Rings—Why It Matters
It's important to find the best metals for engagement rings, ones that are best for the skin, that are most durable, hypoallergenic, etc.
Wedding rings, which were made of metal, go all the way back to the time of Christ to the ancient Egyptians.
The Pharaohs pioneered the use of wedding bands made of the best metals available to symbolise eternity.
Consider the Cost
Not all ring metal types are created equally, which means that some have a higher price tag. If you're shopping on a budget, you'll need to take the price of certain metals into consideration. The purity of a metal tends to influence how much it costs. For example, platinum is a pure white metal and rarer than others, so it can be a bit more expensive.
However keep in mind, though, that an engagement ring or wedding band isn't necessarily a one-time-only cost. If you do opt for a more affordable metal type, like white gold or rose gold, it'll likely require re-plating as the colour wears down or changes over time. White gold, for example, is made from mixing yellow gold with alloys, which is then plated with rhodium. The rhodium is a very thin layer and will need to be reapplied over time. Plus, due to the copper alloy in rose gold, it can actually oxidise and become darker, making this another factor to keep in mind as you shop. While it's perfectly okay to opt for a budget-friendly alternative, it might require more costly upkeep throughout your marriage.
Keep the Center Stone in Mind
The centre stone can also influence the best metal for an engagement ring. If you already have a diamond shape or colour in mind, work with your jeweller to find a metal that will complement it. Or if you know your loved one has their heart set on a gold band, for example, an expert can guide you toward a centre stone that will look great with that colour. If you're considering a diamond with some warmth these tend to look best in yellow or rose gold. The surrounding vivid colour of the metal tones down the warmth of the diamond and compliments it beautifully.
The ring metal colour can sometimes appear through the diamond centre stone. If you set a colourless diamond in rose or yellow gold, some of the metal colour will reflect within the diamond at certain angles. This can make the diamond look less brilliant and sparkly than it actually is.
Take Your Lifestyle Into Account
Your lifestyle can also impact which ring metal type is best for you. Those that frequently work with their hands will benefit from a pure metal that does not tarnish and is less malleable than others. White gold is durable, for example, but its colour can wear over time, especially if it's rubbing against another ring. It requires more maintenance to keep the white colour. So, for someone who washes their hands frequently or often uses chemicals or heavy creams and lotions, the colour change may occur more quickly. All of these components come hand in hand and it's important to tell your jeweller every bit of details of your life.
There are some metals you may also want to avoid if you have sensitive skin or alloy allergies. Various alloys are used to create a white gold or rose gold colour. A platinum metal, on the other hand, may offer less irritation to the skin. Platinum is hypoallergenic and long-lasting, so it's great for active wearers. The same is true of tungsten and palladium too—so if platinum is out of your budget, you can consider either of these as a safer, more affordable alternative.
With these tips in mind, read on to learn more about all of the different ring metal types for your engagement ring or wedding band
Gold Rings 
For thousands of years Gold sill remains a very popular choice for a wedding or engagement band. The range features yellow, white and rose gold, with either 9, 14 or 18 carats. 18 carat gold is 75% pure gold, 14 carat gold is 58% of pure, while 9 carats is 37.5% pure. We take our gold rings seriously and offer some of Australia's best gold ring designs across classic, patterned, two-tone and diamonds set rings. No matter which Gold ring catches your eye; you'll be making a dignified style statement.
Yellow Gold Wedding Bands: Appearance
Angelic, giving off a soft but potent light-yellow glow
Purity
24k gold is 100% pure; 14K gold is 14 parts pure gold, 10 parts alloys
Care
You can do self-care with a soft cloth; it requires maintenance but you shouldn't experience tarnishing.
Suitable For Sensitive Skin
Be careful. 24K is just fine, because it's pure gold, and yellow gold isn't the problem.
If you are prone to metal allergies, and are getting a lower-karat yellow gold, find out if the alloys are brass, copper, or silver, and it may be a good idea to pick one of the other great metals out there.
Cost
Not bad. You'll find wedding bands of yellow gold in the $400-$700 range.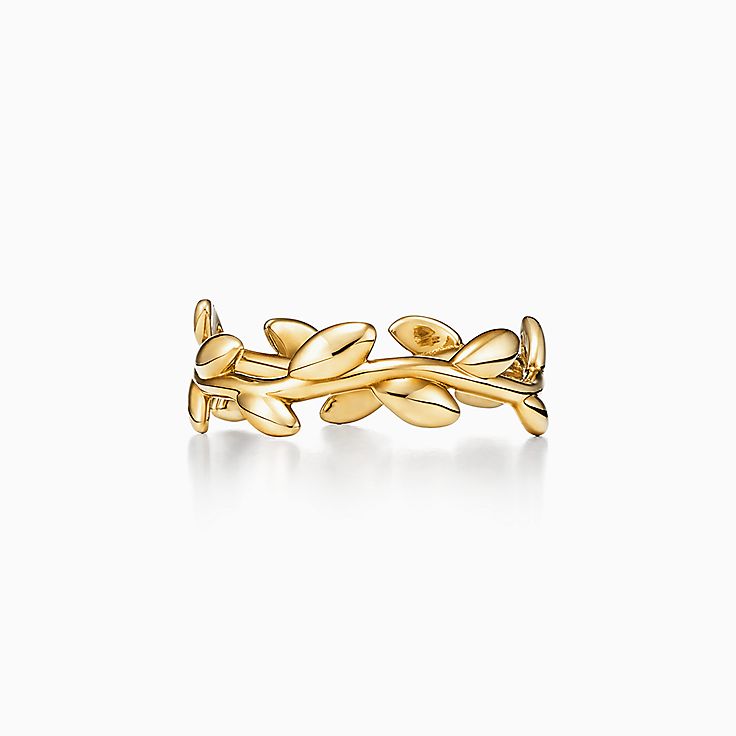 Rose Gold
The latest darling of engagement rings is definitely rose gold. With its pretty blush hue, this metal goes well with both diamonds and lightly coloured gemstones. Just as with 18k yellow gold, rose gold is a mix of pure gold and other metal alloys. To get that blush shade, these alloys are mainly copper. Whenever anything is the hot trend in weddings, we advise that you really evaluate how much you love the look of it and how much it reflects your style. Rose gold is stunning, but also a little unconventional, so try wearing rose gold fashion jewellery first if you've never worn this rosy hue before.
Rose gold is the best metal for engagement ring for folks who are looking for something different, looking to stand out.
It looks different from most metals you'll see used in jewellery, since it has a very blush-like, reddish hue, rather than having that metallic look of either a straight gold or silver tone.
It is good for lovely men or women with any skin tone. Not a lot of metals can say that.
Purity
24K gold is 100% pure. A 14K band would be an alloy of—differing from shop to shop—something along the lines of 60% gold, 33% copper, and 7% silver.
Be sure to get the specifications from your jeweller, who should have them readily available.
Care
Wash in a solution of soapy, warm water. However, please keep in mind that you may have to take rose gold into a jewellers for a professional cleaning every few months.
Safe For Sensitive Skin?
Usually, no. The culprit might be the copper.
Copper is a metal used in jewellery that quiet a few folks are allergic to. If you are allergic to copper, rose gold might not be the best metal for your wedding band.
Rose Gold Wedding Bands Cost
There's always a give and take. If you don't have copper allergy, the presence of that metal is a plus for you because it keeps the price down.
Generally, these beautiful, unique rings are roughly in the $200-$300 range.
Is Rose Gold The Best Metal For Engagement Rings?
The affordability and durability combination of rose gold is through the roof.
If you like the colour and special glow of it, there's no real substitute.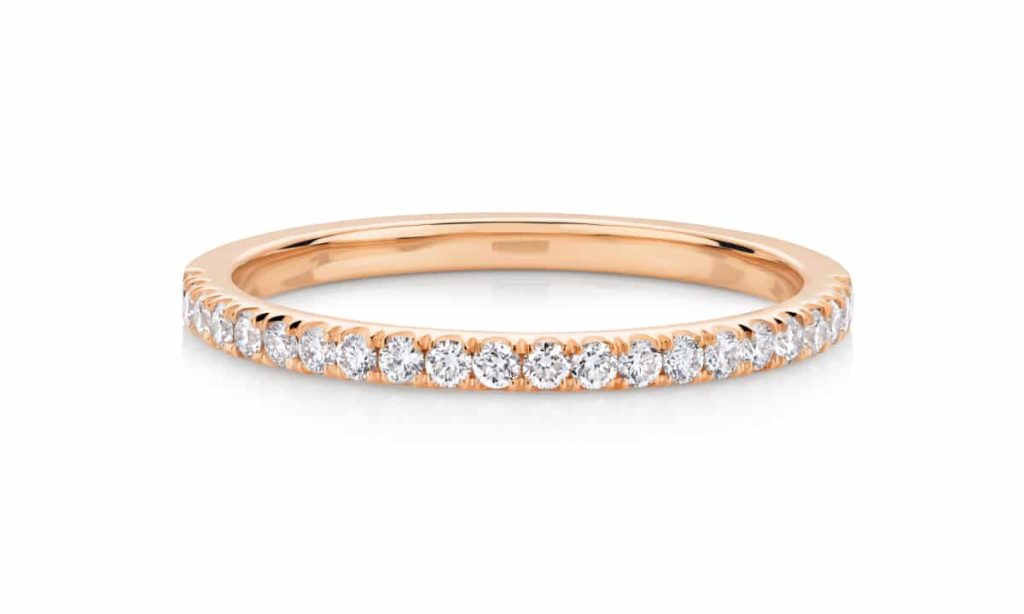 White Gold
You wear a lot of silver jewellery and prefer the look of silver to gold. You want something stronger than sterling silver, but are hesitant to shell out the cash for platinum. White gold is an excellent compromise. Even though it isn't quite as dense as platinum, it is still fine for all diamond settings and won't knick or age as easily as sterling silver. There is some variation in colour for white gold, so if you prefer a slightly warmer or cooler tint, that can be easily found.
Appearance
Cool and nearly icy
Purity
24k gold is 100% pure; 14K gold is 14 parts pure gold, 10 parts alloys
Care
Because of the alloys involved, white gold takes a bit more care than yellow.
Owners of white gold bands of any kind have to care for them on a regular basis.
A quick fix is to soak the metal ring in warm, sudsy water for about half an hour and then rub it clean with a soft cloth.
If need be, use a tiny amount of ammonia to the mixture, but be sure to use a light touch.
Are White Gold Wedding Rings Suitable For Sensitive Skin?
Not for people with sensitivity to nickel and most white gold bands will include some nickel. So white gold that might not be among the best metals for your engagement ring!
If you can find out from your jeweller that there isn't any nickel in your white gold ring, you should be in the clear.
Cost
It depends on the kind of alloys used. Some white gold rings involve a metal called rhodium, and that metal that is used in rings can be expensive and drive up the price.
Rhodium is one of the top metals for rings. Yet you can get white gold wedding bands or other rings without rhodium.
Its cost falls between that of yellow gold and platinum.
Why Would You Choose A White Gold Engagement Ring?
The first reason to choose white gold for wedding bands is its beauty.
A lot of wearers really appreciate the understated and classy look of this variety of gold.
Another really good reason is its durability. It's not expensive at all for its level of durability.
White gold is as good a choice as any for wedding bands and other rings that require a look of refinement and specialness.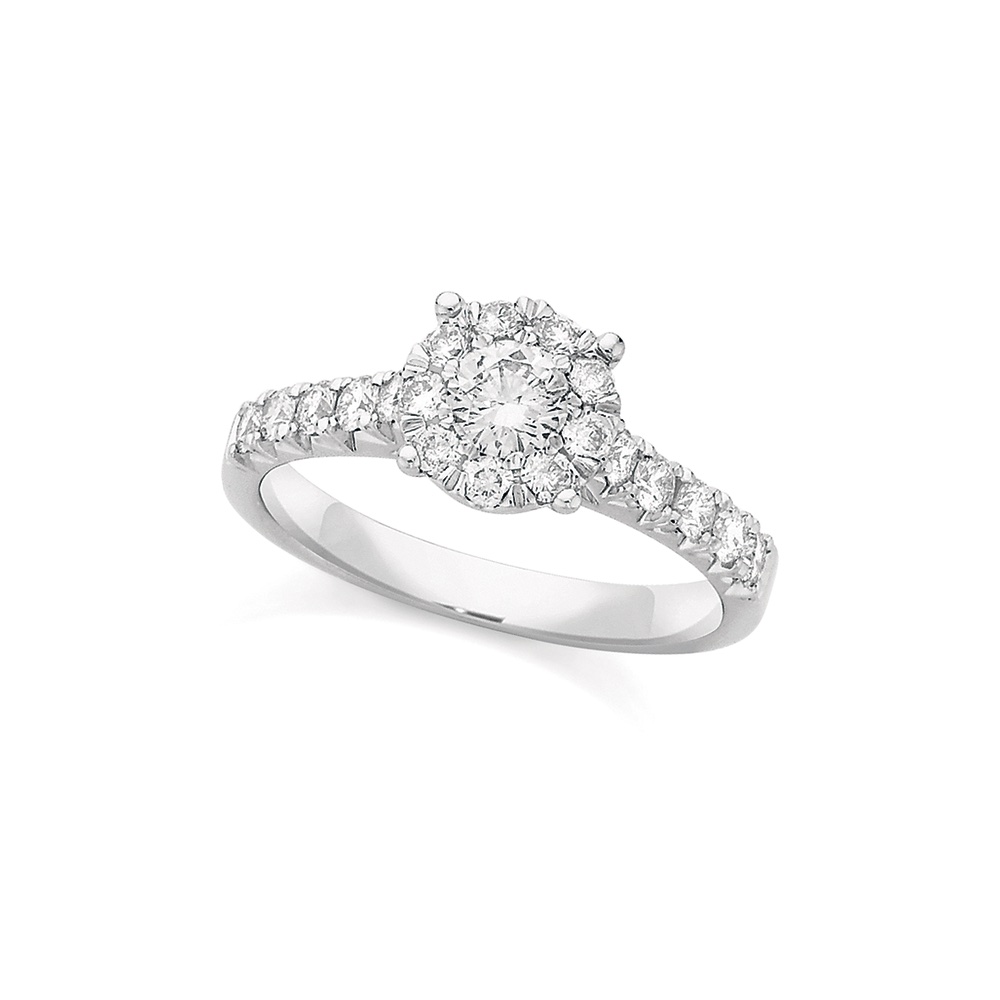 Platinum Rings
The range includes both 950 (95% pure) and 600 (60% pure). Platinum is the second strongest precious metal in existence. It is highly scratch resistant and hypoallergenic. It's a rare, special metal which places it in a higher price range but, if you're seeking a premium wedding ring, Platinum is a great choice of wedding ring for those that want a precious and durable metal that is much harder than gold and will scratch less easily. 
Platinum: Appearance
Natural white sheen, developing a soft glow as it ages
Platinum: Purity
95%, making it the purest of all precious metals! This is why it is the best metal for engagement rings! Get some, girl!
Platinum Engagement Rings: Care
Have a jeweller gently polish your platinum wedding band or other ring to remove any scratches
Is Platinum Suitable For Sensitive Skin?
Yes. Platinum is a hypoallergenic metal
Cost: Platinum Is Among The Most Expensive Material For Engagement Rings
Among metals for rings, Platinum is among the more expensive.
It's definitely one of the best metals for wedding rings, but that doesn't make it any easier on the pocketbook. Platinum rings can also be resized.
3 mm women's wedding bands in platinum generally run from $300 to $700, though there can always be exceptions.
Men's 5 mm platinum bands run from $500 to $1,000, and these are simple bands, within inlays or any settings in the band.
Why Choose Platinum For Your Engagement Ring?
Platinum delivers an excellent durability, a great reputation, and a lovely, understated beauty.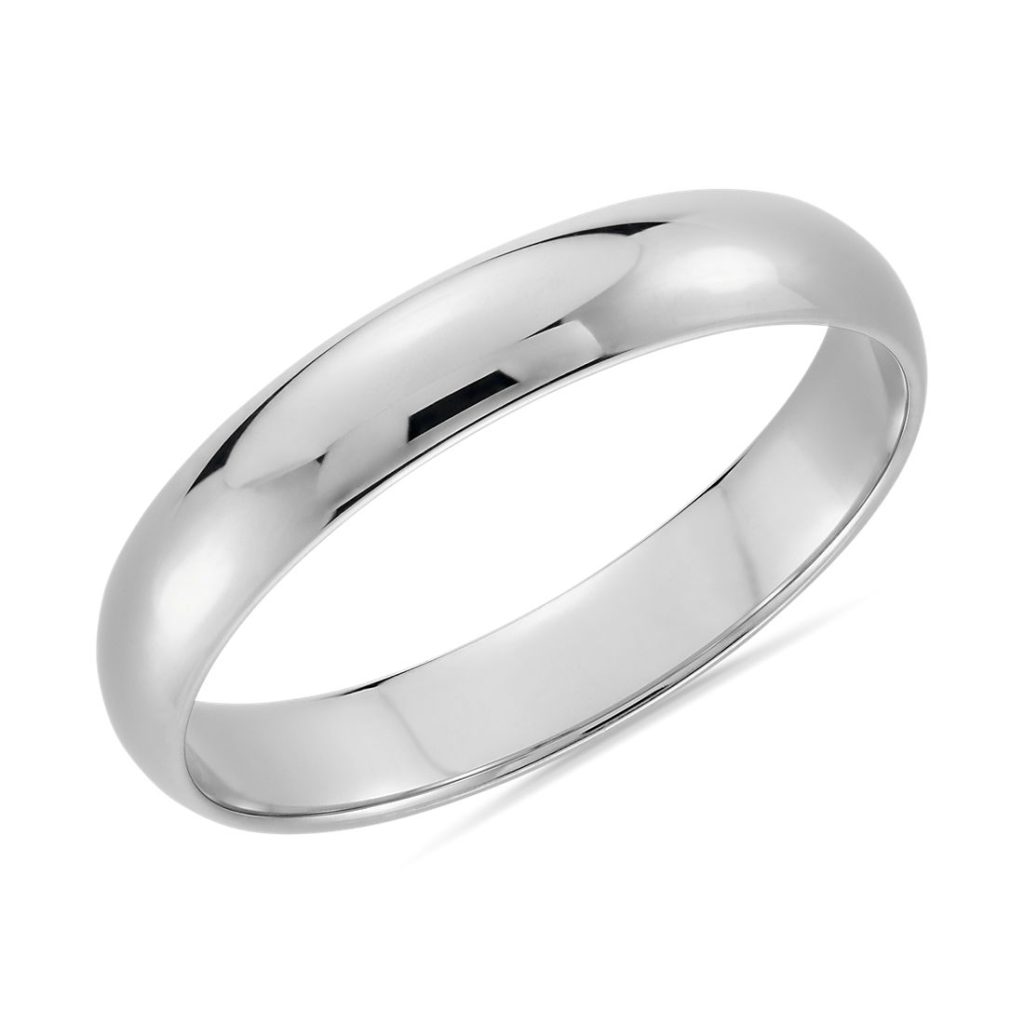 Palladium Rings 
Palladium is an exceptional choice in wedding ring and like Platinum it is a very hard wearing and durable metal. Palladium has a lustrous silvery-white finish similar to platinum but has a less heavy feel to it. Our Palladium rings are come in palladium 950 (95% pure Palladium) and Palladium 500 (50% pure Palladium). If you are after a wedding ring with a high level of scratch resistance then Palladium is a great option. 
Appearance
Cool and nearly icy
Purity
24k gold is 100% pure; 14K gold is 14 parts pure gold, 10 parts alloys
Care
Because of the alloys involved, white gold takes a bit more care than yellow.
Owners of white gold bands of any kind have to care for them on a regular basis.
A quick fix is to soak the metal ring in warm, sudsy water for about half an hour and then rub it clean with a soft cloth.
If need be, use a tiny amount of ammonia to the mixture, but be sure to use a light touch.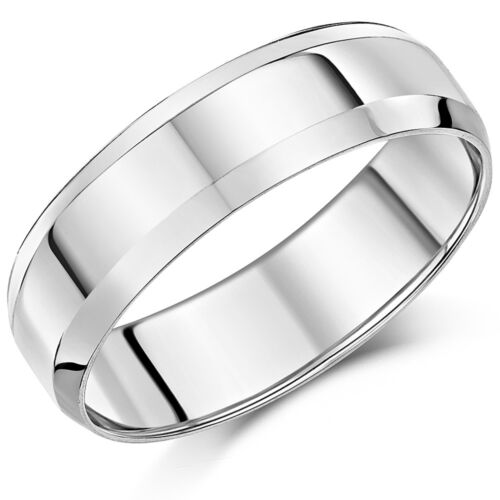 Tantalum Rings
As a rare earth metal Tantalum is an exceptional metal choice that is fast becoming a popular wedding ring option due to its fantastic metal characteristics. Extremely durable, tantalum is unique bluish grey metal that gives its that distinctive look compared to other metals. Tantalum is the most precious of all alternative & contemporary metals making it the ultimate choice for those looking for a rugged, strong and masculine looking ring. This cutting edge metal is a balance of style, strength and durability.
Appearance: Dark, blue-grey.
Purity: Tantalum is an awesome jewellery metal because it's heat resistant and shatter-proof.
Care: Casual—it does not tarnish
Why Choose Tantalum for your Wedding Band?: Tantalum is tantalising and hypoallergenic. It's easy to care for and easy on the pocketbook.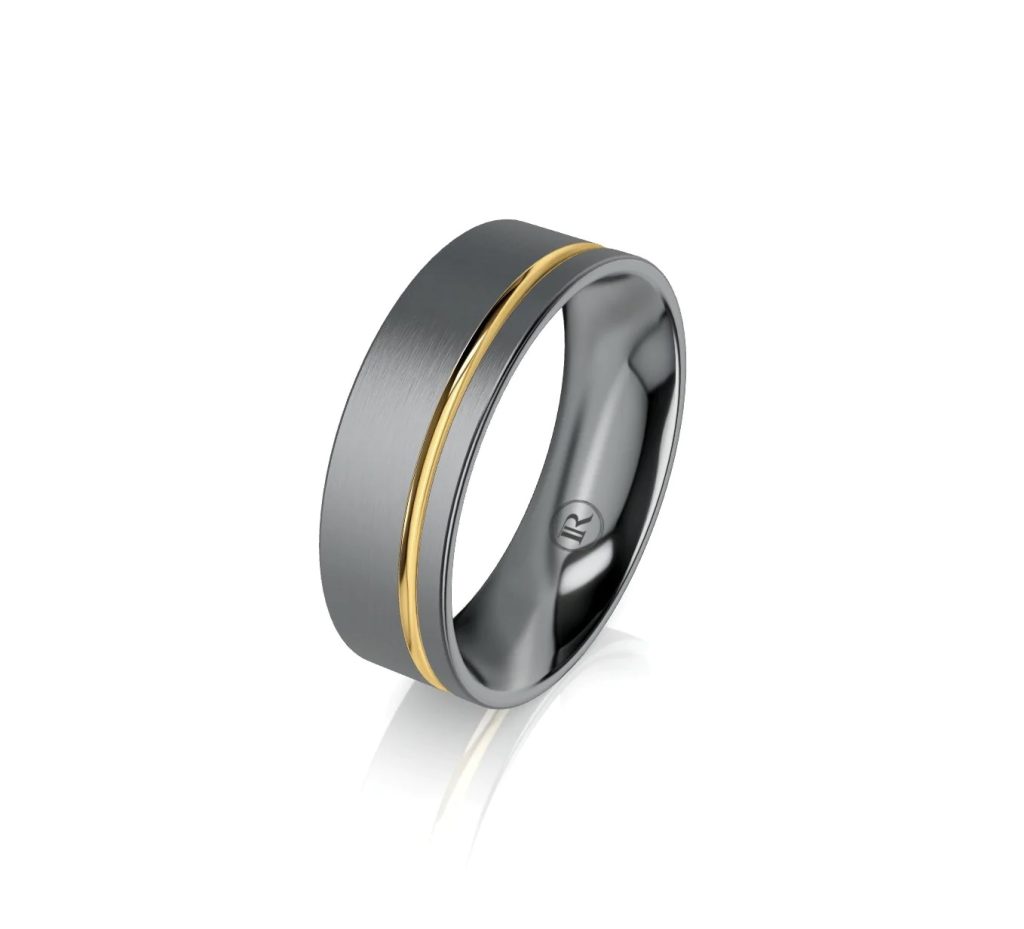 Black Zirconium Rings
Black Zirconium is a stunning, dark metal that is highly cost-effective. A classic Black Zirconium ring is one of our most affordable and stylish choices. It's super durable, hypoallergenic and only a medium weight. Zirconium starts its life as a silver metal but during the heating process it oxidises and turns black. This allows us to create two-tone rings by cutting into the metal to reveal the silver underneath. If you'd like a more exclusive ring, we also have a range of Black Zirconium and Gold styles. It's a modern ring choice for the daring, contemporary man.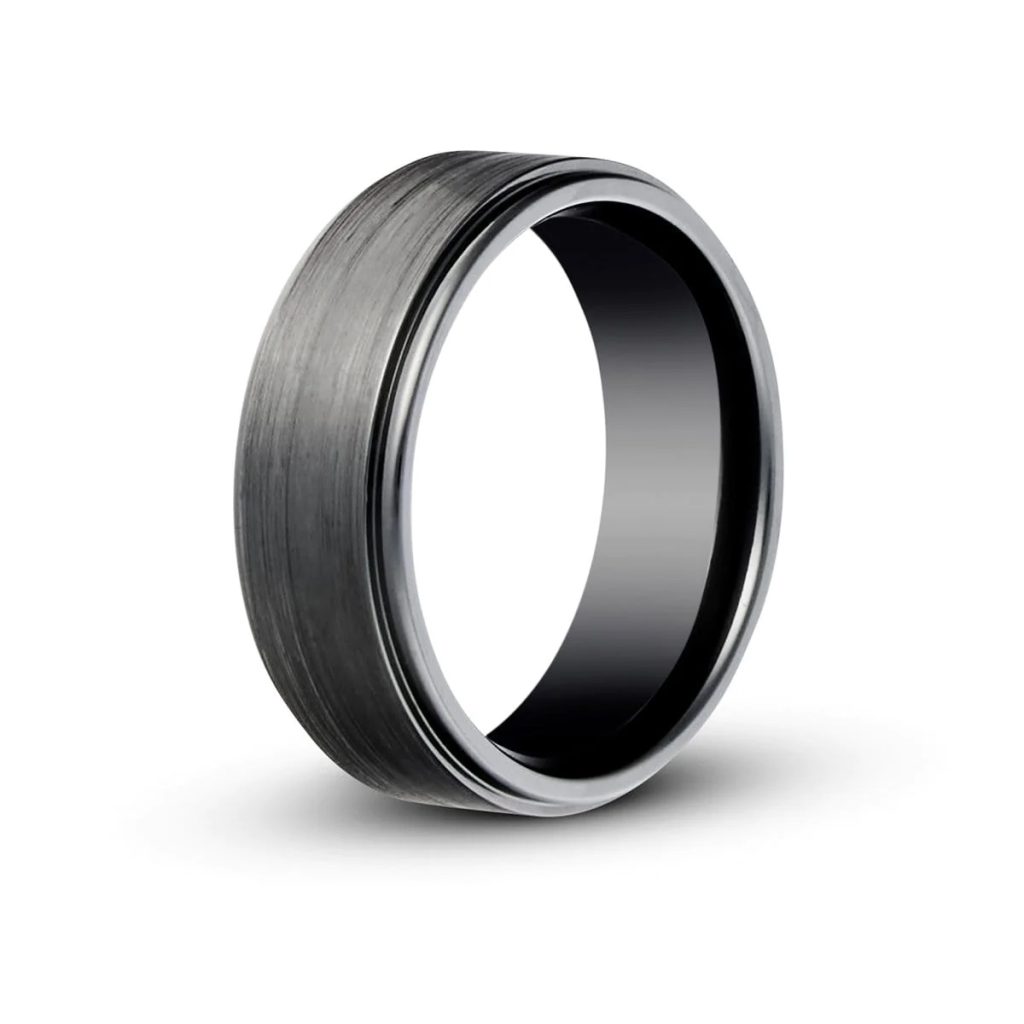 Tungsten Rings
Tungsten is one of the most versatile materials. Your ring may feature black, silver, gold, rose gold, metallic blue or even wood. With so many styles available at a wide range of price points; Tungsten is a hardy, low maintenance yet still distinguished ring. Other benefits of Tungsten are that it's hypoallergenic, incredibly strong and scratch resistant. It is a heavy ring, compared to the other metals, but can also be made into a wide ring to suit large, masculine hands.
Tungsten Appearance
The metal itself usually has a moderate shine, with a low refractive index.
But it's a metal that is often brushed when used with jewellery, turned black or a variety of colours.
Its versatility is key.
Care
The hardness of Tungsten keeps it very well protected, and it needs little care.
Is Tungsten Suitable For Sensitive Skin?
Yes, Tungsten is totally hypoallergenic
Why Choose Tungsten For Your Wedding Ring?
You'd probably have to hold hardness as one of your top priorities to go for Tungsten.
Another high priority would be price, since rings of this interesting metal ten to run under $250.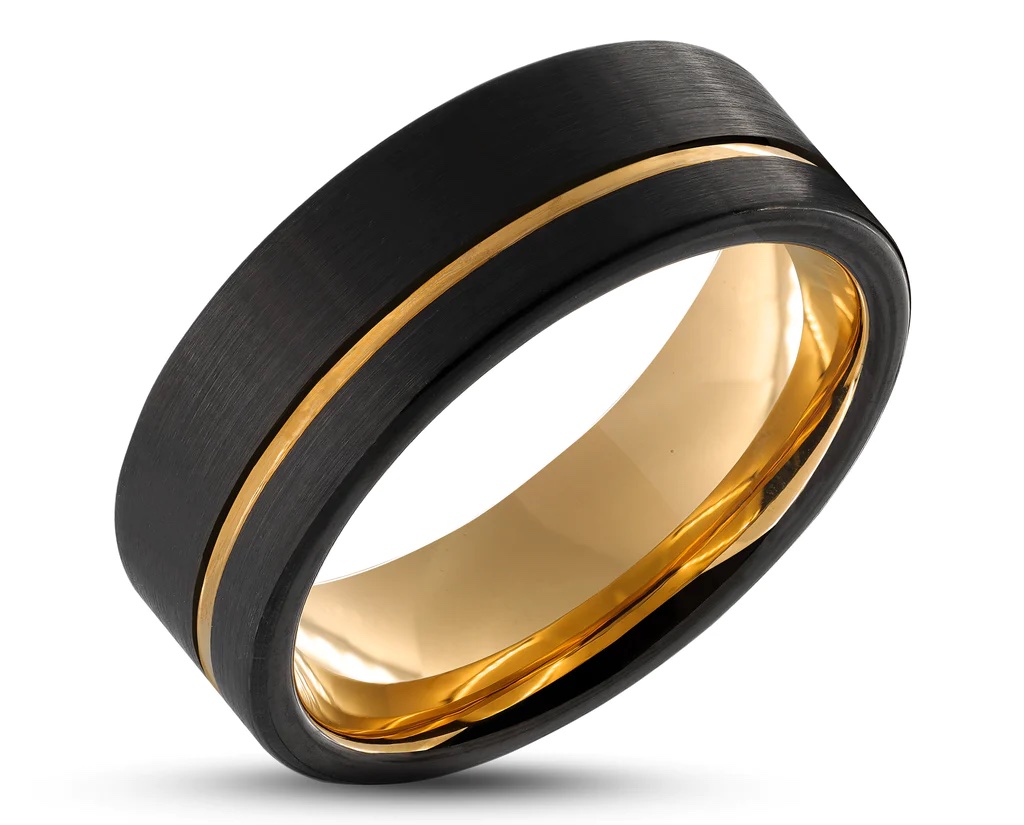 Titanium Rings
Titanium rings have a high strength to weight ratio; being incredibly durable but still very light and comfortable to wear. It is a hypoallergenic metal and is in a low-mid price range compared to our other styles. The range of Titanium rings are available in classic metal, patterned and two-tone – combined with either Gold or Carbon Fibre.
Titanium Appearance
It can come in silver, grey, or black. Because titanium comes with inlays of various alloys, and those metals are what give Titanium its soft sheen.
Care
It requires only moderate home cleaning with a soft cloth.
Suitable For Sensitive Skin?
Yes. Both Titanium and its alloys are hypoallergenic, so wear it in confidence.
Why Choose Titanium For Your Wedding Band?
Titanium is durable and not very expensive. Wedding bands tend to run about $400-$600 unless they involve expensive inlays or other additional features.
Those two things are the main draws for this metal in rings and other jewellery.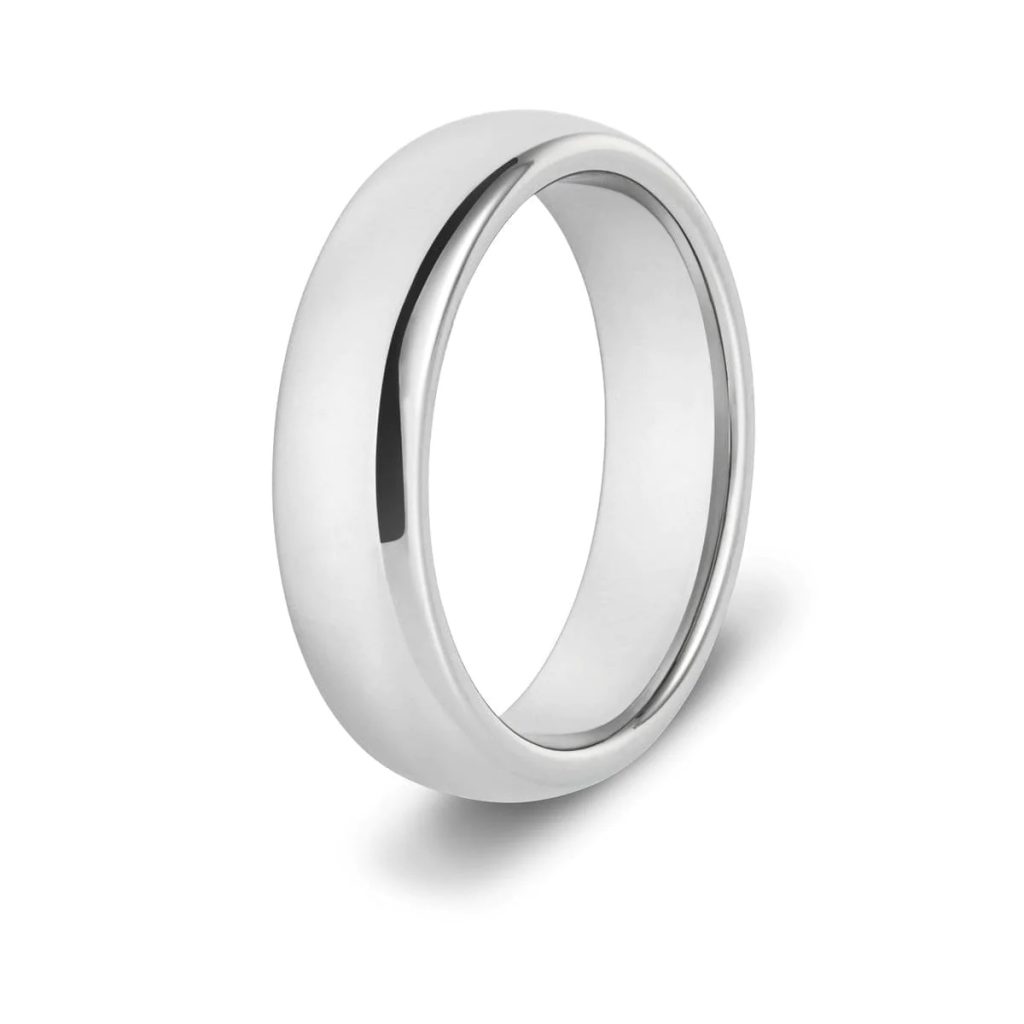 Carbon Fibre Rings
Carbon Fibre is a stunning black colour that when mixed with other metals makes for a daring and bold ring choice. The range of Carbon Fibre rings are combined with titanium, yellow gold, white gold and rose gold. Carbon Fibre itself is hypoallergenic however, this characteristic may be altered by any other metals you mix it with. It is a nice lightweight, scratch resistant material which makes for an attractive, comfortable and empowering ring.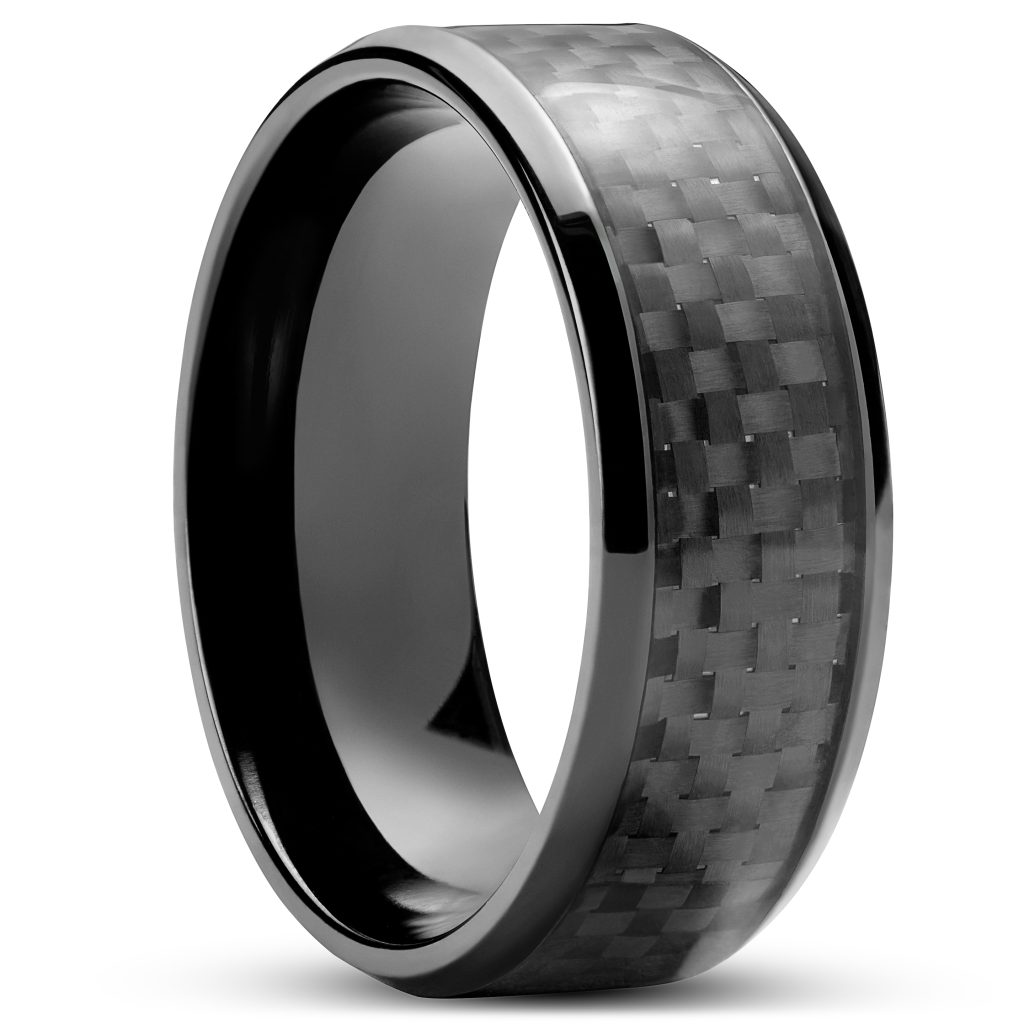 Damascus Steel Rings
This is one of the most unique materials that we use for our rings. The wavy patterns found on our Damascus Steel rings are actually a feature of the metal itself. Dating back to ancient steelmaking techniques; Damascus Steel was commonly used for making swords. It's an amazingly strong material, low cost and a noble choice for your ring.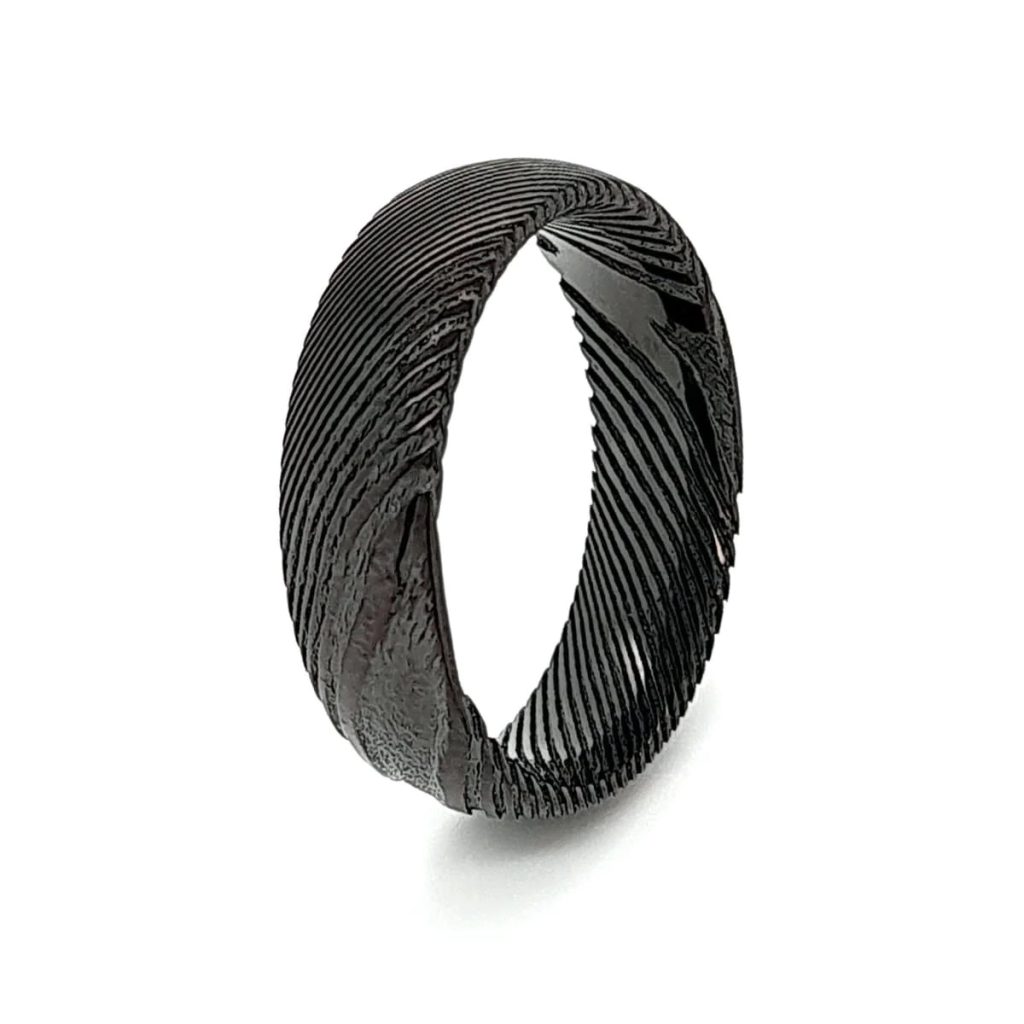 What Is The Best Metal For Engagement Rings FAQ
Q. What Is The Most Durable Metal For Wedding Rings?
A. Platinum. If you choose to use Tungsten for a wedding band, that metal would get the nod
Q. What Is The Best Metal For Sensitive Skins?
A. Palladium
Q. What Is The Best Metal For A Men's Wedding Band?
A. When cost is no issue, Platinum. On more of a budget, sterling silver, and on an even smaller budget, and looking for something more masculine, tungsten.
Q. Which Metal Ring Is Good For Health?
A. Silver, since it helps prevent ageing and can help with coughing and other common cold symptoms
Q. Is Titanium A Good Metal For Wedding Bands?
A. Yes and no. It doesn't have the refined look of gold or silver, and certainly not of palladium or platinum.
It can be better for a man than a woman, but because it is very durable and also easy on the debit card, it's always going to be in the running when someone is deciding on a wedding band.
Q. Do Titanium Rings Turn Your Finger Green?
A. No. You're thinking of brass.
Q. Does Stainless Steel Make A Good Wedding Band?
A. It's awesome. It has a beautiful, refined look; it's not hard to clean and is durable.
Other Materials to Consider
Of course, the metal is just the starting point. For engagement rings, which tend to be flashier than wedding bands, the real star of the show is the gemstone.
photo
The Stone

Your first consideration for a gemstone is the shape. Broadly speaking, there are three basic gem cutting styles: brilliant, step, and mixed.
Brilliant cut gems consist of triangular and kite-shaped facets spreading out from the centre of the gem. It gets its name from, well, the brilliance–this style gives off the most scintillation of any cut.
Step cut gems consist of rectangular facets that ascend the crown and descend the pavilion in steps. Emerald and baguette cuts are classic examples of step cuts.
Mixed cuts bring together elements of brilliant and step cutting to create unique shapes. This is where you would see shapes like ceylon (a step-cut pavilion and a brilliant-cut crown) or barion (a round brilliant pavilion in a fancy gem shape).
Once you think about the shape of the gemstone, you can start to think about the types of gemstones you're interested in. And trust us, you have so many more options than diamonds (even if they are forever).
If you're up for coloured gemstones, why not sapphires, the gemstone of royalty? Or emeralds, supposedly Cleopatra's gemstone of choice? Or maybe a ruby, with its brilliant red hue that's sure to draw eyes? And if you're not sure where to begin, you can narrow the race with birthstones, the wearer's favourite hue, the date of the wedding, and other ideas.
Other Benefits of Personalising Your Engagement Ring
We've talked a lot about how you can personalise your engagement ring. But it still begs the question–why personalise your engagement ring?
Pros
For one thing, choosing and personalising your engagement ring ensures that you pick the perfect ring. After all, if the wearer picked out every detail, you already know they're going to love it.
This can also be a deeply rewarding experience. Instead of springing into the engagement, buying an engagement ring together becomes the first step in wedding planning. You both have time to explore your wants and needs in a wedding, as well as ironing out practical details like a budget. Many couples love this additional shared element of their wedding.
Cons
On the other hand, personalising your engagement ring does remove the classic element of surprise in a proposal, insofar as the recipient knows you're going to propose and already knows what the ring looks like.
That said, if you want to preserve the element of surprise, there are plenty of ways to bring it back into your proposal story. While the ring itself isn't a mystery, the proposal itself can still be a special surprise.
With so many materials available, picking the best metal for your engagement ring and wedding band comes down to your personal preference. We don't believe in following any rule or standard on what metal you need to use or what ring you need to have, as long as you also think about how that piece was made and how that affects the world.