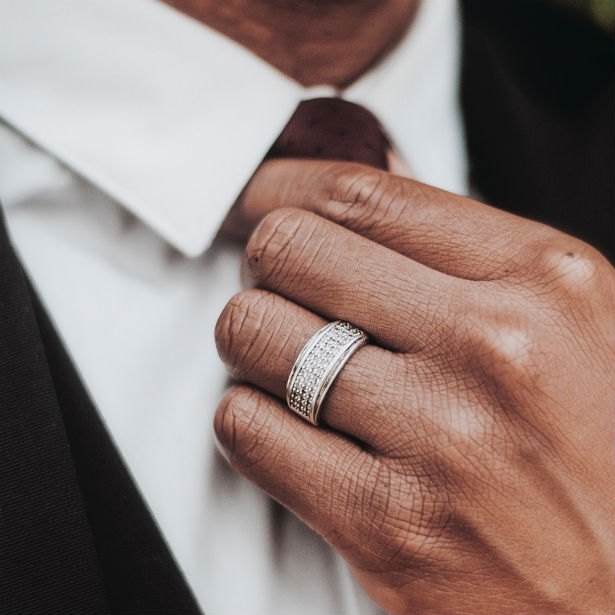 Engagement rings tend to get all the glory when it comes to wedding jewellery, however men's wedding bands should be equally considered. After all, this is the symbol of a beautiful partnership he'll be wearing forever.
Men should shop for a band that reflects their unique ethos and style. A band is a daily reminder of your relationship and individuality. It should echo them accordingly.
When it comes to finding the perfect men's wedding band, the options are just as vast as women's bands. Gold, platinum, or silver men's wedding bands are total classics, but there are also plenty of options for finishes, such as matte or polished styles and hammered or brushed. There's no need to shy away from diamonds, either–Char DeFrancesco is proof of this with his 17-carat emerald-cut eternity band symbolising his union with fashion designer Marc Jacobs.
Example : If plain gold or platinum feels too simple, don't be afraid to make a bold choice. Check with your jeweller to see if coloured gemstones or other materials can be incorporated into your band.
There is definitely no harm in thinking outside of the box when it comes to selecting a beautiful band. With so many options for metals, styles, and engravings, the choices may seem endless. In the end, it's all about finding the perfect fit for that left ring finger. "We encourage our customers to find a ring that speaks to them—a token not only of their love but of their individual spirit," says Daniel Anania. A band should be as unique as the relationship they celebrate.
Example Of Different Rings
Brushed and Polished Comfort Fit Wedding Ring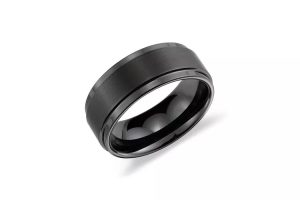 Switch things up from the traditional gold band and go for tungsten. This band is available in black or white tungsten and pairs polished edges with a brushed center finish for a modern and unique look.
Rose Gold and Black Diamond Men's Wedding Band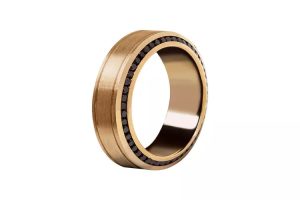 Featuring channel-set black diamonds, this is such a beautiful option for a bold groom with elevated style. The brushed rose gold contrasts perfectly with the black diamonds for a unique look that's sure to stun for years to come.
Milla Square Rims Band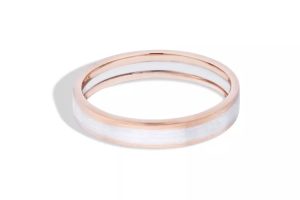 Mixing metals is such a great way to incorporate a unique look into an otherwise classic ring style. This band features 14k yellow gold, paired with a platinum center, with a matte finish.
Stone and Strand Gold Cigar Band

This is a classic gold option but with a twist. If a heavy band isn't your thing, opting for a cigar band might be a perfect choice. This 10k solid gold band is quite a bit lighter than other options providing a simple, comfortable fit.
Wedding Band in Palladium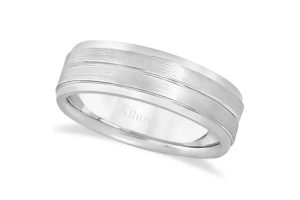 This palladium ring is classic but with a twist, which is why it earned a spot on our list. The band is polished and stylish with a unique textured look that will look effortlessly cool on your ring finger for years to come.
Morse Code Men's Diamond Ring

This band is available in platinum, yellow gold, rose gold, or white gold, leaving you with plenty of options to suit your personal style. But what truly makes it unique is the way round and baguette diamonds are incorporated to spell "I love you" in Morse code.
Rose Gold and Black Diamond Ring

With beautifully contrasting black diamonds incorporated into the design, this design offers something totally different for modern grooms. Choose from yellow, white, or rose gold for this band. Plus, a custom engraving can be added to make this band extra special.
Brush Finish Wedding Band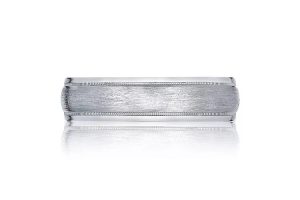 We love this gorgeous style crafted in chic and classic platinum. The band features a brushed inlay, mil-grain detailing, and it is even designed with a vented interior for breathability. So it's both comfortable and stylish.
What to Look for When Choosing a Unique Men's Wedding Band

Metal

There are a variety of metals to choose from, including gold, platinum, silver, and more. Gold is the strongest and most requested seller in men's bands, according to Anania, with almost a 50/50 split between white and yellow gold.
Platinum and 14k gold are our most popular choices, and you can get a unique ring by going classic with the metal but with more unique design elements, such as diamonds, gemstones, or textures.

Band
The first decision after metal is usually around width and fit, which is based on your preference and what feels comfortable to you. If you have larger knuckles, look for 'comfort fit' rings, which are rounded on the inside. That helps them slip over your knuckles and forget you're wearing a ring except for the weight.
Style
Speaking of the band width, there's also consistent demand for thicker, flatter men's bands when it comes to style. A thicker band may come at a higher price point (thanks to using more metal), so be sure it's something that can be comfortably worn on a daily basis. A unique wedding band should be chosen based not only on style but on fit. A daily band should be as comfortable as it is momentous.
Other unique style options include marrying two metals together, incorporating hammering or finishing textures, or including hidden stones or engravings. Unique bands come in a range of styles. A band can be designed as differently as the wearer desires. There really are no rules except for designing with an eye to longevity.
Not sure where to start? Simply consider the basics of your personal style, and decide how you want your ring to stand out. The first thing to consider with style is what element you want to use to differentiate your ring: colour and metal, texture and design, or diamonds and gemstones.
Three-Stone Men's Wedding Bands
Three-stone or trilogy men's diamond wedding bands are said to represent the past, present and future of a relationship.
Friendship, love and fidelity is another interpretation of 3-stone diamond men's wedding rings, which can be paired with a women's three-stone engagement ring to create a matching couple's wedding ring set.
Available in 18kt white gold, yellow gold, rose gold, two-tone and platinum, the hammer-set displays of Round Brilliant Cut diamonds in men's 3-stone wedding rings create a low profile providing excellent protection from everyday wear and tear.
Complete with either polished or bevelled edges on a sturdy, thick-width band, these masculine diamond ring designs are a marriage of master craftsmanship and world-class diamonds graded 3-4 levels above industry standards and 7-8 grades above most chain retailers.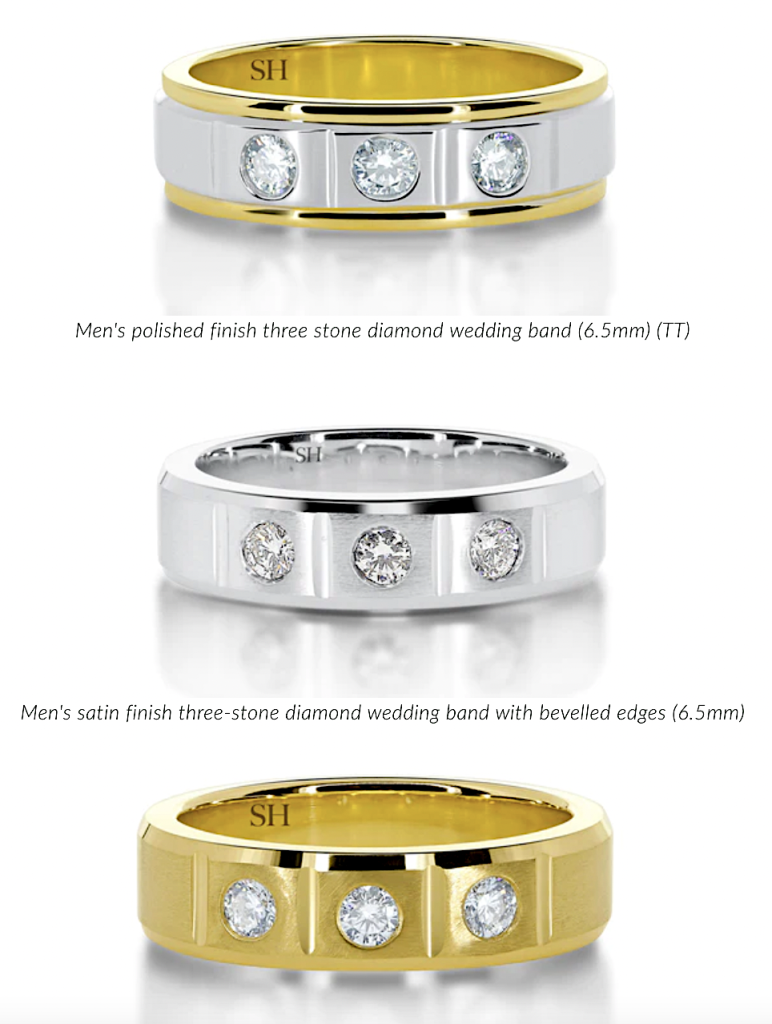 Unique Men's Diamond Dress Rings
You don't have to be engaged or tying the knot to enjoy the splendour and prestige of men's diamond rings. Here's a list of excuses to pop on your glad rags and break out the diamonds…
A day at the races

Engagement parties & weddings

Awards ceremonies

Opening nights

Birthdays

Graduations

Family reunions

Vacations

Galas

Art shows

Movie premieres

Balls

Cocktail events

Romantic dinners

Christmas parties

Launch parties

A night at the theatre
Men's Wedding Band FAQs
What kinds of unique wedding bands are available?
While white gold, yellow gold, and platinum are the most chosen metals, today's grooms are shifting to trendy and creative choices such as titanium, tungsten, and even exotic inlays like meteorite.
What is the best width for a man's wedding ring?
Most men choose bands that are at least 4mm wide. Generally, you will feel most comfortable with a 6 or 8 mm if you have a longer or larger ring finger. Try on a couple of different width options, or even wear a ring for a few days to ensure it is comfortable.
How do I find the correct ring size?
Please come in and we measure you correctly.
How far in advance should I order a men's wedding band?
We recommend shopping for a men's wedding band at least two to three months before the wedding date to allow enough time for sizing, customisation, and potential alterations.
Can men's wedding bands be customised?
A unique men's wedding band can be customised or modified in countless ways, such as selecting distinctive finishes, engraving meaningful phrases, or adding striking gemstones to create a truly personalised and one-of-a-kind piece. Please speak with one of our experts to get professional guidance.
Can men's wedding bands be resized?
Resizing men's wedding bands depends on the material. Some metals, like gold and platinum, can be resized easily, while others, like tungsten and titanium, may be more challenging. It's best to consult a professional jeweller to determine if resizing is possible.