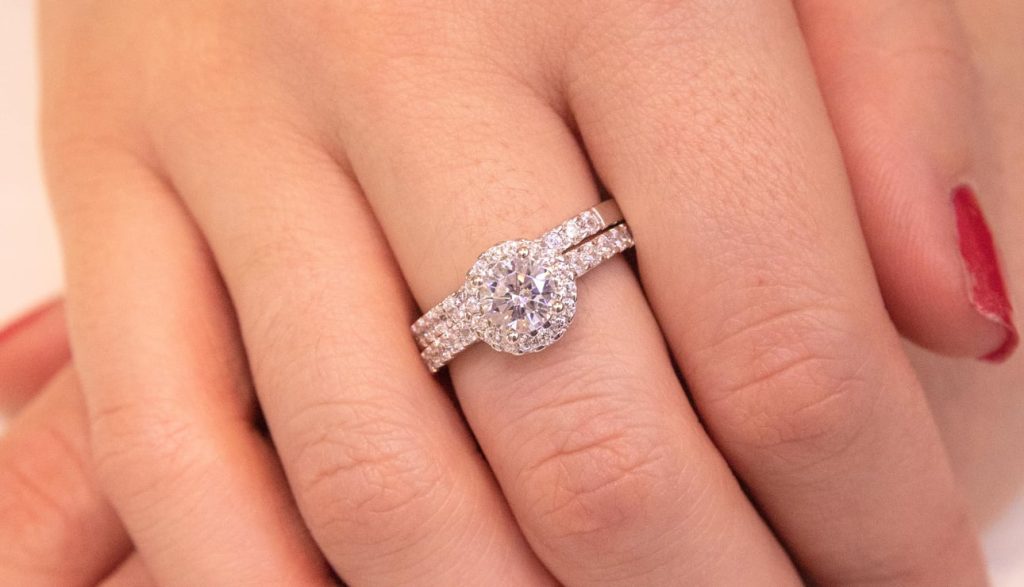 If your partner surprised you with the perfect engagement ring, you might be wondering if you really need to add another ring to your fourth finger once you're married. What's the difference between an engagement ring and a wedding ring? And, as you're likely wondering, if you love your engagement ring so much, do you really need to add a wedding band, or can you simply continue to wear your engagement ring solo after you're married? Let's get these engagement ring versus wedding ring etiquette questions answered once and for all.
An Engagement Ring Versus a Wedding Ring
Traditional engagement rings typically have one dominant stone, which either stands alone or is surrounded by smaller stones. An engagement ring is usually given as part of the proposal or, if not, at an early point in the engagement.
By contrast, a wedding ring is traditionally a plain metal band or a diamond-encrusted eternity band that you receive when you exchange your vows during the wedding ceremony. Typically, there's also a fairly significant price difference between engagement rings and wedding rings. Even if the wedding band has inlaid diamonds or other gemstones, its total carat weight is generally less than that of the engagement ring.
Brides are having more of a say in the choice and design of their rings. And not only are they breaking with tradition, but they're also opting to diversify their engagement and wedding ring selections. People are doing whatever they want, and wedding bands offer the opportunity to have more flair.
How to Wear Your Engagement and Wedding Rings
Traditionally, you wear your engagement ring and wedding ring together on the fourth finger of your left hand. As far as how to stack them, tradition holds that you'll wear the wedding band inside the engagement ring so that it's closer to your heart.
That being said, some brides opt to wear their engagement ring on one hand and their wedding band on the other, especially if they're diverse rings that can't be easily stacked.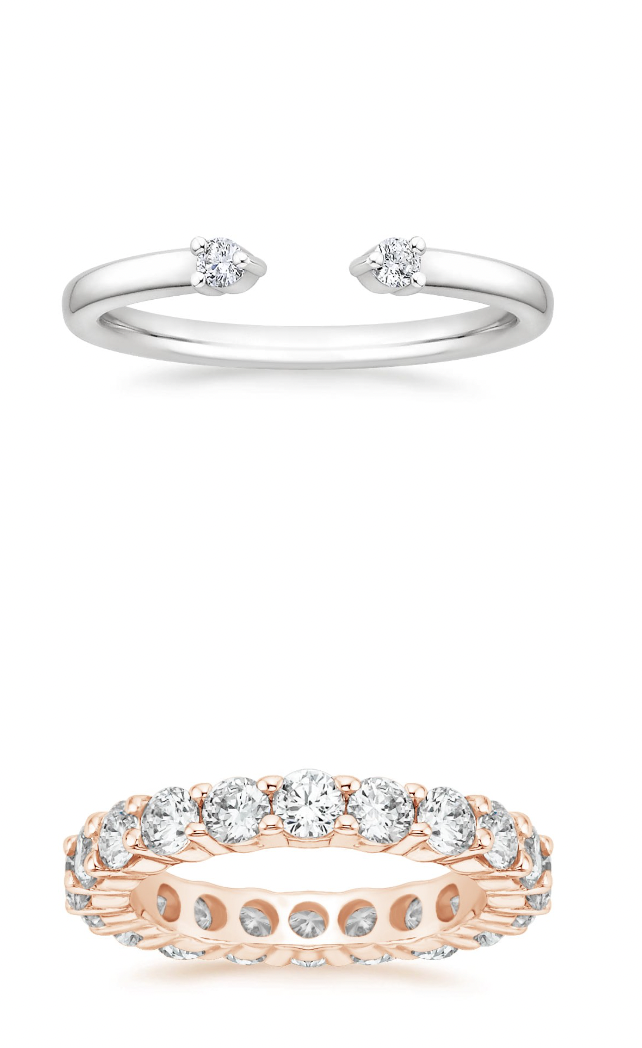 When to Pick Out Wedding Bands
Anania suggests that couples pick out wedding bands at least two months before the wedding. That way, you can account for any last-minute wedding planning details that might pop up, and your rings are already in production.
If you're unsure about the kind of band you want, wear your engagement ring for a few months before you choose the wedding ring. Your preferences might change, so take your engagement ring for a spin to get a better grasp of the band your envisioning closer to the big day.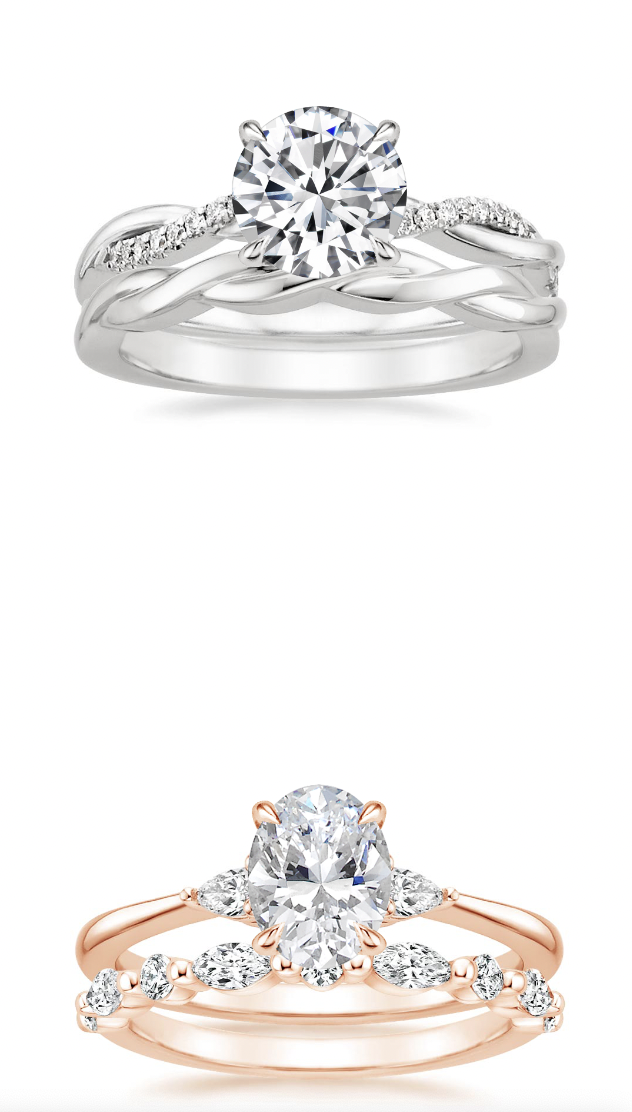 Do You Need Both?
Ultimately, this really comes down to personal preference. If you like the traditional look, then yes, of course. Whether you're adding an eternity band set with pavé diamonds or a plain metal band, a wedding ring and engagement ring pairing is a timeless and beautiful look. And a recent trend that shows no sign of waning is building a ring stack of three (or more!) bands, often with mixed metals and styles.
Of course, it's perfectly fine if you'd rather wear just one ring to symbolise both your engagement and your (future) married status. Here are a few sensible reasons why some brides opt to wear just one ring:
Single rings can be more comfortable and less obtrusive than a wedding band and engagement ring combination, and they can look absolutely stunning on their own. 

It's one less ring to worry about losing, which is especially important if you're a bit scatterbrained.

You also don't have to be concerned about two rings perfectly matching. It can sometimes be tricky to find a wedding band that pairs with your engagement ring if they're not purchased as a set.

The funds that would typically be allocated for both an engagement ring and a wedding band can be invested in a single, standout ring.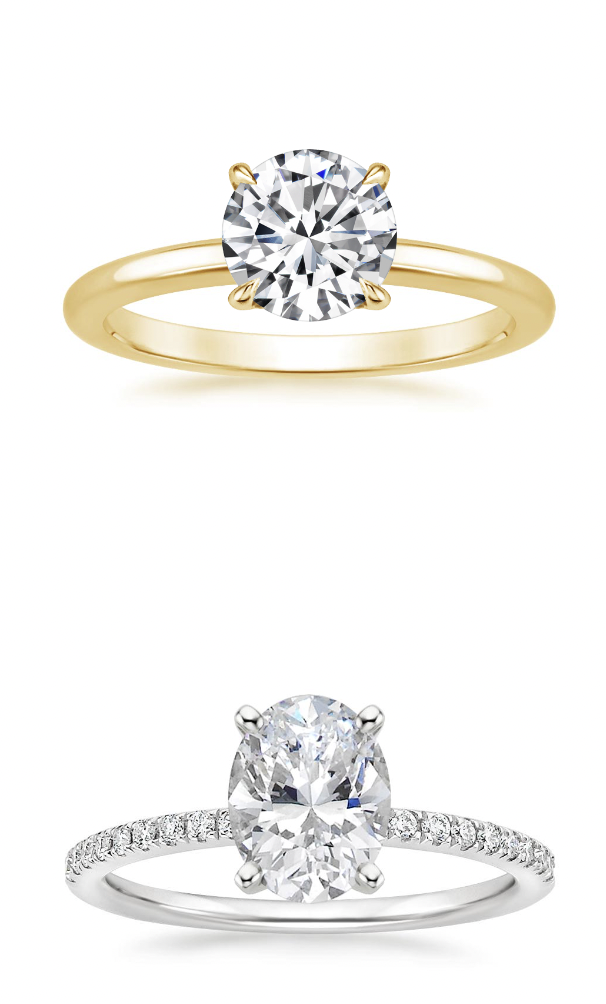 The bottom line? There's no right or wrong answer when it comes to choosing, designing, or wearing engagement and wedding rings. Whatever you choose, just make sure it will have enduring meaning for you for many years to come.
The Basics: Engagement And Wedding Rings 101
What Is The Ring Finger?
The ring finger is the finger between your pinky and middle finger on both your left and right hand. In most western cultures, "ring finger" often refers to this finger on the left hand, specifically.
What Is The History And Meaning Behind The Ring Finger?
While rings have been worn on all fingers from pinkies to thumbs since the dawn of time, the idea of a "ring finger" dates back to Ancient Rome. The Romans believed this finger had a vein that ran directly to a person's heart called "Vena Amoris," meaning "vein of love." It became popular to wear a ring that signified commitment to a spouse or lover on this finger because of its romantic and passionate symbolism.
Can I Wear Rings On My Ring Finger If I'm Not Engaged Or Married?
There are no rules saying that you cannot wear a ring on your ring finger if you are not engaged or married! However, if you choose to wear a ring on this finger – especially if it is a gold band or a diamond ring – be prepared for some people to assume that you are married or partnered. There are many styles of fashion rings or stacking rings that will not be mistaken for a wedding band, especially if you wear stacks or multiple rings across your hands.
Which Finger Does A Promise Ring Go On?
A promise ring is a ring purchased as a promise for a future deeper commitment such as a marriage proposal. Not every couple who gets married will give a promise ring before an engagement ring, but the trend is becoming increasingly popular. When styling a promise ring, you can choose to wear it on any finger you would like. However, the two most common choices are on the left ring finger, as a placeholder for a future engagement ring, or on the right ring finger. Many couples who give promise rings and wear them on the left ring finger will move the promise ring to their right hand when they get engaged or married.
Which Finger Does An Engagement Ring Go On?
In western cultures, engagement rings are worn on the ring (or fourth) finger of the left hand. In some countries, however, including Russia, Spain, India, Greece, and Poland, the engagement ring is more frequently worn on the ring finger of the right hand. Ultimately which finger you choose to wear each ring on is up to you, but people will typically look for a ring worn on the left ring finger as a sign of engagement or marriage.
Which Finger Does A Wedding Ring Go On?
A wedding ring is usually worn on the same finger that you choose to wear your engagement ring – most commonly on the left ring finger. For practical reasons, such as a job where you work regularly with your hands, people may choose to wear a simple wedding band every day and only wear their engagement ring for special occasions. This is also a common practice when traveling, or in other situations where a person might be afraid of losing or damaging a diamond ring. Ultimately, however you wear your rings is up to you!
What's The Difference Between An Engagement Ring And A Wedding Ring?
Despite the terms being used somewhat interchangeably, each ring signifies different milestones. There are a few differences between an engagement ring and a wedding ring, including design, placement and price-point, but the main difference between the two is when each ring is given. An engagement ring is typically given at the time of a proposal and a wedding ring is commonly given when a couple exchanges marriage vows. Couples will frequently buy matching wedding ring sets so they can have similar ring styles to signify their union. However, it's becoming more and more common for couples to buy wedding bands that reflect their own individual styles without worrying about coordinating with their spouse.
Do I Need To Wear An Engagement Ring Or Wedding Ring?
Wedding and engagement rings are traditional symbols used to signify your lifelong commitment to your partner, but they are not required. Throughout history, some notable figures exchanged other tokens to seal engagements or marriages. For example, iconic actress Elizabeth Taylor received a diamond tennis bracelet in one famous proposal and an emerald brooch for another. Some modern couples opt for symbols like finger tattoos instead of bands. Cultural or religious garments can also be worn to indicate that you are married, such as specific head coverings.
Can Men Wear Engagement Rings?
Of course! Although men don't traditionally receive engagement rings in western cultures, the practice is not unheard of. Ed Sheeran, for example, wore a silver band on his left ring finger while engaged to his now wife, Cherry Seaborn. When asked about it he said, "I never saw why men didn't wear engagement rings. It's the same commitment either way." Other celebrities who sported men's engagement rings including Skylar Astin, Michael Bublé, and professional wrestler David Otunga.
How Should I Wear My Engagement Ring During The Wedding Ceremony?
Many brides-to-be will switch their engagement ring to their right hand before walking down the aisle, so the wedding band can be slipped on to the left hand first. Brides will then move their engagement ring on top of the wedding band during or after the ceremony. Some people choose to get their engagement and wedding rings soldered together after the ceremony to make their bridal set one unified piece.
Which Hand Does A Wedding Ring Go On?
People typically wear their wedding ring on the same hand and finger as their engagement ring. In Western cultures, this is traditionally the ring finger on the left hand for both men and women.
What Does It Mean To Wear A Wedding Ring On Your Right Hand?
In some cultures, including many Eastern European, Middle Eastern, South East Asian, and Latin American countries, it is more traditional to wear a wedding ring on your right hand. LGBTQ+ couples will also sometimes choose to wear their rings on their right hands as a way to avoid heterosexual norms. However, this is a personal choice, and there is no rule stating that same-sex couples have to wear their rings on a certain finger!
Which Finger Do Men Wear Their Wedding Rings On?
There is no difference between the finger men and women wear wedding rings on. Most couples will typically choose to wear their rings on the same finger and hand as each other. In the United States and many other Western cultures, men's rings will be the worn on the left ring finger.
What Order Do I Wear My Engagement Ring And Wedding Ring In?
Conventionally, couples wear the wedding band "closest to their heart", meaning the wedding band is stacked below the engagement ring on the left ring finger. However, some people like to wear their wedding band on top of their engagement ring as a way to secure it on the finger.
What Are Other Ways I Can Wear My Promise Ring, Engagement Ring, And Wedding Ring?
It truly is your choice! When not on the left ring finger, people most commonly move their engagement rings or promise rings to their right hands. Some couples who don't like wearing rings but still like the idea of having an engagement or wedding ring will wear their ring on a necklace chain instead of on their fingers.
What About Anniversary Rings? Which Finger Do I Wear Anniversary Rings On?
Diamond eternity bands or other rings are popular gifts to mark milestone anniversaries such as 5, 10, 15, and 20 years. Anniversary rings are very versatile, and couples should feel free to try mixing metals or styles with their wedding and engagement rings for a unique look!
What About Stacking Rings? Which Finger Do I Wear Stacking Rings On?
Stacking rings are versatile fashion rings, often featuring diamonds or gemstones, that can add extra sparkle to your bridal set or decorate your other fingers to give a more luxe look to your overall style. When designing your ring stack, take into account your existing engagement or wedding rings and look for bands that will complement or contrast the rings you already own. Curved or contoured bands are beautiful rings that nest around your engagement ring or bridal set. These rings are a great option for those who want to ensure that their wedding or stacking ring will fit flush nestled against an engagement ring with a large or elongated center gem.
The Best Wedding Ring Styles
Experts recommend that you don't just buy a wedding ring simply because it's currently trendy. These are rings you'll be wearing every day for the rest of your life, so it's important that the design and style reflect your personality.
Say 'I do' and begin yours forever with a distinctively beautiful James Allen wedding ring. Choose from our large selection of gorgeous ring styles, including classic wedding rings, diamond wedding rings, and eternity rings. 
Classic Wedding Rings
Classic wedding rings complement any engagement ring. The simplicity of a classic metal band directs all the attention to your engagement ring. So if you're struggling to find a matching wedding ring or simply want to highlight your engagement ring, then a classic wedding ring could be the perfect style for you.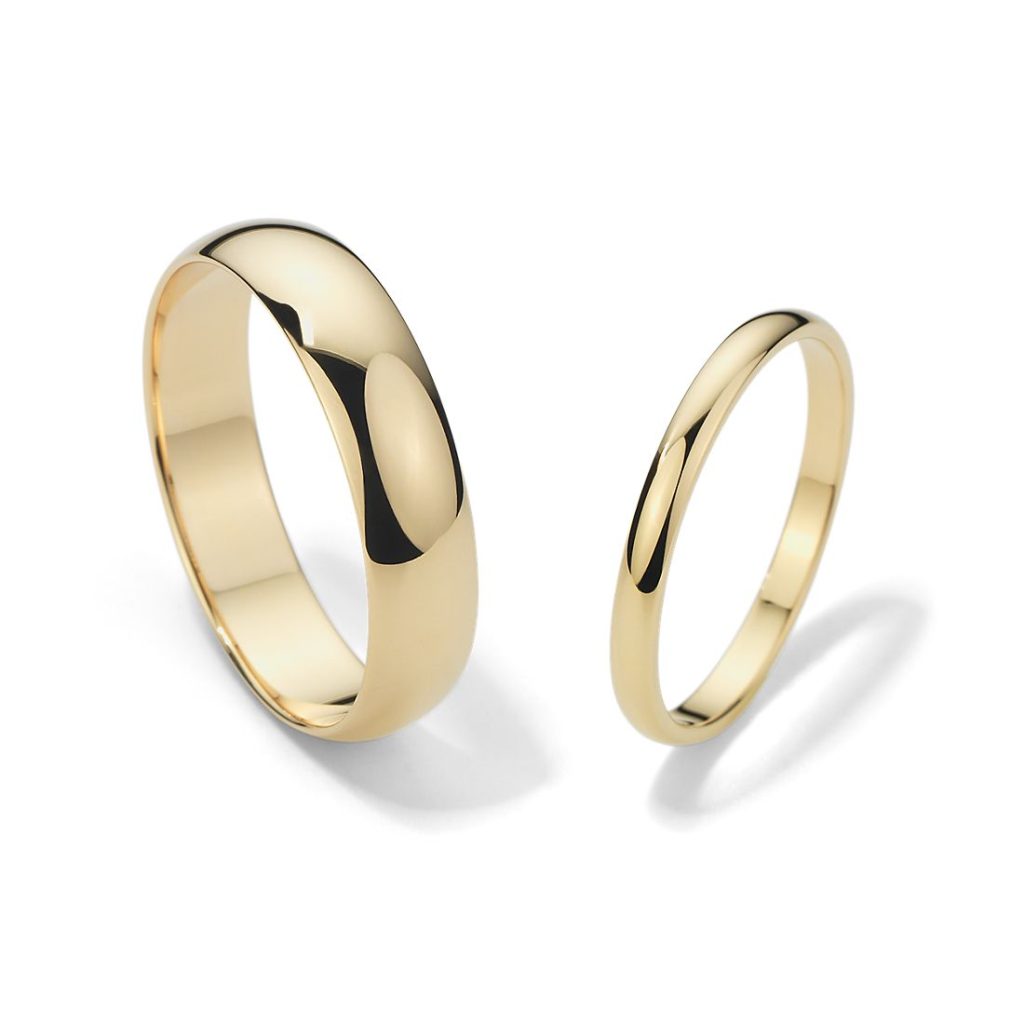 Curved Wedding Rings
If your engagement ring has a distinct shape, your wedding ring can curve to accommodate your center stone. This gives your wedding set a unique interlocking quality. As an added bonus, a curved wedding ring's complimentary shape reduces friction on your skin by preventing unnecessary slippage.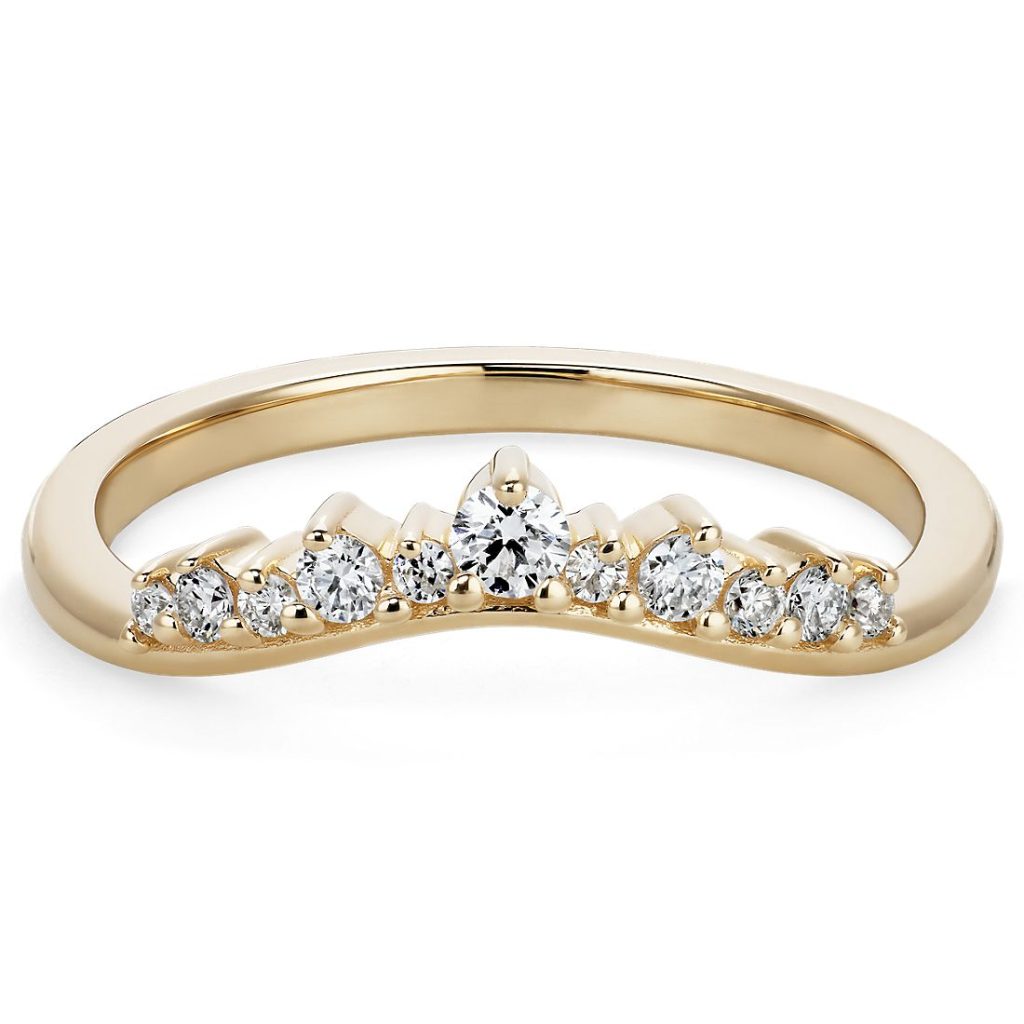 Eternity Rings
In some cultures, it's a custom to wear circular eternity rings. In this case, eternity rings are considered to symbolise eternal love. A meaningful expression between a couple on their journey of everlasting love – a promise of lifelong commitment. Even though traditionally, eternity rings are gifted to mark a special milestone within a relationship, nowadays, they are often worn as wedding rings as they pair so beautifully with many different engagement ring designs.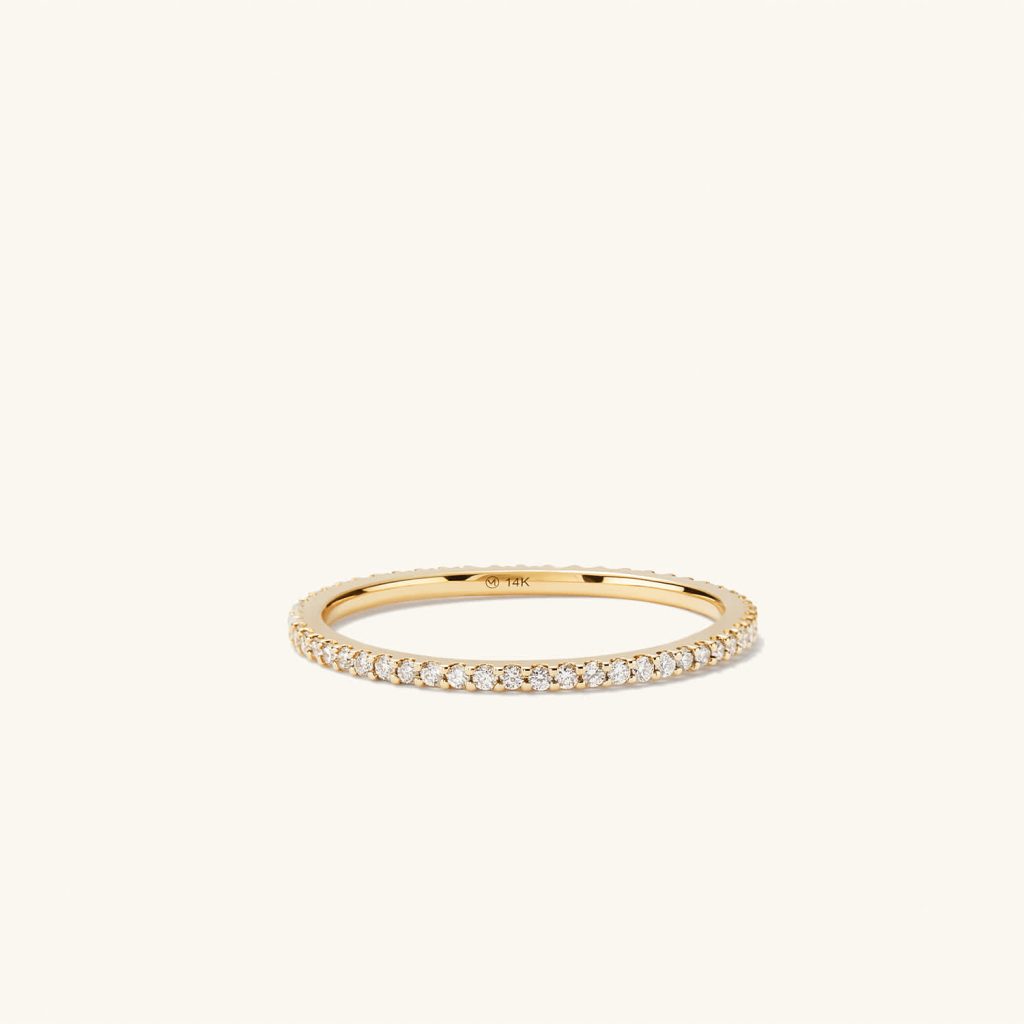 Final Thoughts
At the end of the day, your wedding jewellery symbolises your personal commitment to and love for your partner, and how you choose to wear it is up to you! Interested in learning more about wedding and engagement rings? Our jewellery specialists would be happy to help! You can reach them through the live chat on our site. Share your bridal sets with us on our Instagram, Facebook, and TikTok!