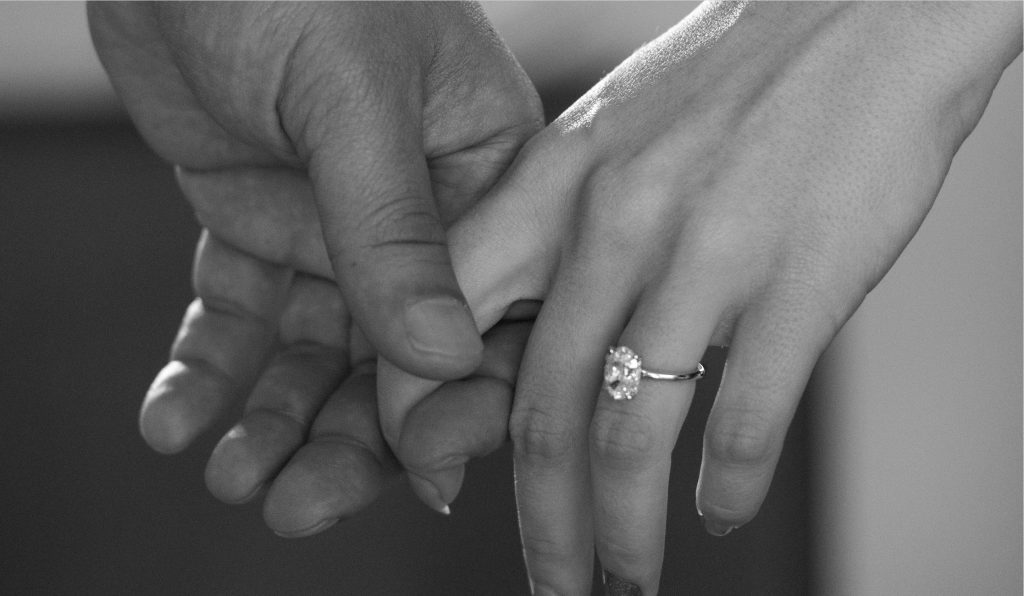 Choosing the right jewellery, such as an engagement ring, a pair of earrings or a necklace, is no easy matter. Today you can choose from a variety of precious metals, diamond cuts and diamond settings. As this last is often overlooked, we have outlined the various diamond settings here. 
We use the term "style" to refer to the overall look and feel of a ring – is it a sleek modern ring, with a simple band and a step cut diamond, or is it an ornate vintage-inspired ring with hand engraved details and a pavé setting?
An engagement ring's "setting" refers to the entire ring – and in particular how the ring's gemstones are mounted, or held in place. A ring is made up of both a "head" which is the top of the ring that includes the gemstones, and the "shank" which is the part of the ring that encircles the finger.
What is a diamond setting?
There are many ways a diamond can be mounted onto a ring's precious metal band. We call this the diamond setting. Each diamond setting has its own effect on how the jewellery ultimately looks. But each diamond setting also carries advantages and disadvantages with regard to the protection of the precious stone, and how easy it is to look after. When choosing a ring, you do not have to limit yourself to solitaire rings, those with just a single diamond. You could also go for a Toi et Moi ring, having two gemstones, or a trilogy ring, having three. When there is more than one diamond or gemstone set closely together in a band, this is known as a diamond set. The setting is also very important for other jewellery. We can give you an introduction.
Types of diamond setting
Different diamond settings mean different looks. A tension setting, for instance, has a unique look because the diamond appears to float. The prong setting, on the other hand, is a classic version which is mainly used in solitaire rings, to make the diamond sparkle in the best possible way. The style of cut will also influence the type of setting. A pear-shaped diamond, for instance, suits a bezel or prong setting better.
There are plenty of diamond settings to choose from, but these are the most important:
Type Of Styles
Nature Inspired Rings
We love being in nature, and we think there is no better design than the natural world. For those who share in this sentiment, and want a miniaturised keepsake to remind them of our beautiful world. We can create an engagement rings inspired by elements of the earth – leaf detailing, bark texture, and organically twisted bands and sculptural forms are just some of the ideas that we can incorporated into your ring.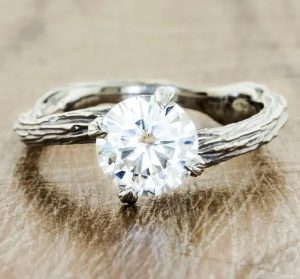 Romantic & Whimsical Rings
Every engagement ring is imbued with a certain sense of romance, but in looking for the perfect ring you will certainly find that the designs of some rings will convey the sentiments they stand for more strongly than others.
Rings with a more romantic feel will often feature stones with softer, warmer colouring, such as a lusciously pink morganite, or a stone that compliments the warmer hue of rose gold.
A ring meant to capture and convey lasting romance will highlight the softer lines and heightened scintillation of certain cuts of stones, often featuring the ever sensuous pear shape diamond, or the overtly romantic heart shape cut.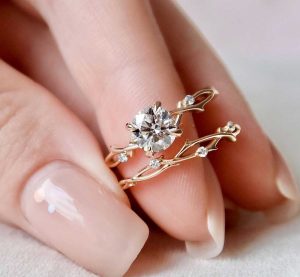 Vintage Inspired Rings
A vintage inspired ring is a wonderful option for anyone who loves intricacy and detail, and there is no better inspiration than looking into the past when craftsmen use old tools and techniques to create embellishments for literally every square millimetre of a piece of jewellery.
We love history and we are in awe of handmade jewellery of the past. For clients who share our passion in vintage inspired designs, we will take ideas from the past, and recreate them.  Sometimes we might add in a modern twist, or just to update the look but keeping the old world charm. Also, a common concern with actual vintage jewellery is that many are not in good shape because metal can lose structure and thin out over many years of wear. Although recreating vintage inspired jewellery can be extremely laborious, we think it is worth every ounce of effort because of how truly special and beautiful it is.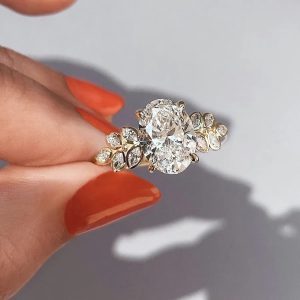 Modern Rings
Modern rings borrow in equal measure from the chic, strong lines of modern architecture and the kinetic dynamism of contemporary art. They take on a sculptural quality that transforms the stone they feature from a single sparkling accent to the centrepiece of a mesmerising and ultra-sleek, entirely complete and strikingly wearable design.
Modern rings may feature simple solitaires, bezel or other minimal settings, knife edge and tapered bands, and an off-kilter stone orientation.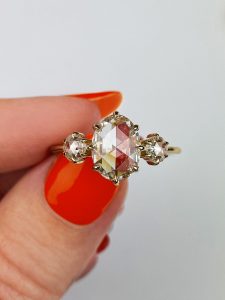 Classic Rings
Classic engagement rings feature timeless designs and traditional cuts for the bride who wants simplicity and a tried-and-tested look.
Clean lines on the band, tight or subtle pavé accents, and diamond solitaires, sometimes flanked to create three stone look, are most typically associated with classic designs.  
Emerald and other step cut diamonds when paired with simple bands lend traditional flair to classic engagement rings.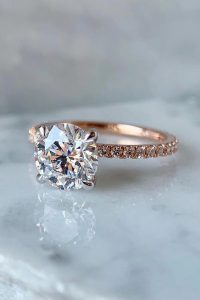 Engagement Ring Settings
An engagement ring's "setting" refers to the entire ring – and in particular how the ring's gemstones are mounted, or held in place. A ring is made up of both a "head" which is the top of the ring that includes the gemstones, and the "shank" which is the part of the ring that encircles the finger.  
Prong Setting
Prong settings are the most common and popular settings for diamond engagement rings. They act like small claws, rising up to grasp the diamond. They can hold any size stone in place, but are typically used to hold a larger centre stone (or multiple featured stones).
Prong settings vary based on the shape of the diamond. With round brilliant diamonds, you most often see four or six prongs boosting a diamond upward. Both ring settings are considered to be safe, and the four-prong setting allows you to see more of the stone. For fancy-shaped diamonds such as a princess-cut or pear shape, prongs can take on "V" shapes to protect the sharply angled corners.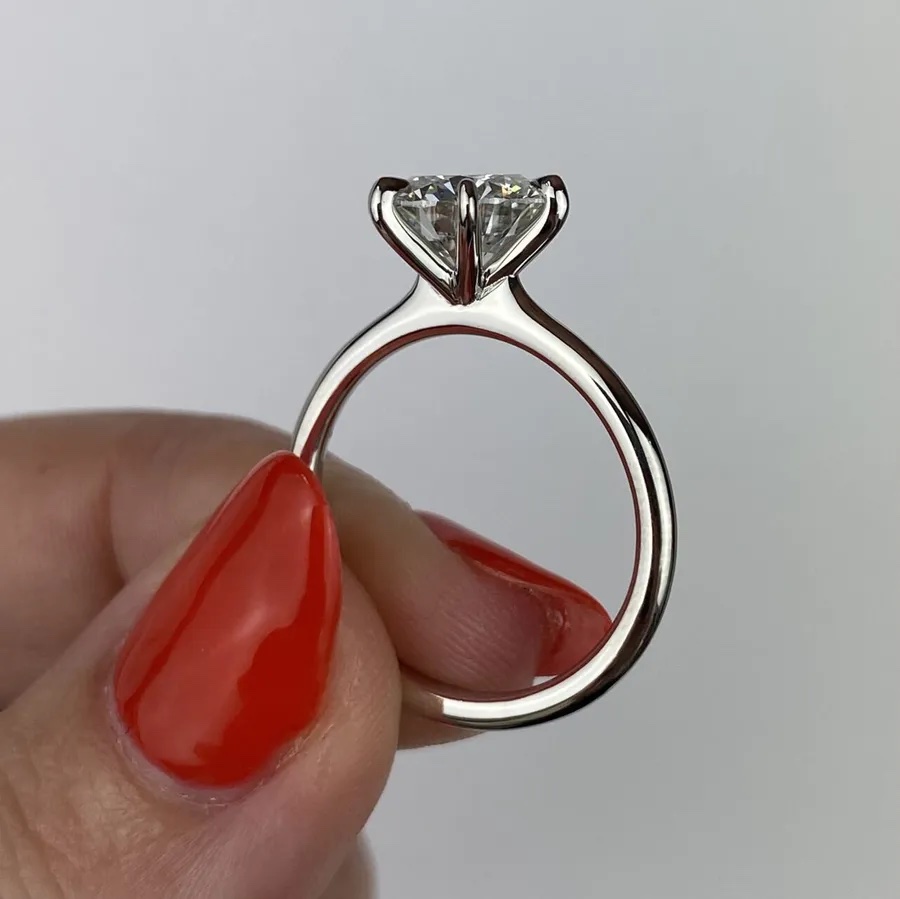 PROS:
These settings put diamonds on a pedestal, quite literally. Raised up and unhindered by a lot of metal, a diamond can disperse light more easily, creating the flash and display of rainbow colours that make a diamond so uniquely beautiful.
CONS:
While prong settings are extremely safe — especially platinum prongs — some people feel safer with a setting that tucks the diamond down below the metal more securely. You'll want to have your ring examined periodically to make sure the prongs are still tight and your diamond is secure. Also, for people whose work or hobbies require them to use their hands a lot, prong settings might snag, scratch or potentially even put the diamond at risk of loss or damage.
Halo setting
The halo setting secures the ring's centre stone underneath a rim adorned with pavé, invisible-set or channel-set diamonds. Popular with celebrities, the halo setting creates a spectacular diamond look that is feminine and delicate. Halo settings can be round or squared off on the sides.
PROS:
The halo setting combines the security of a prong and the allure of multiple diamonds. The diamond-encrusted collar that holds the centre diamond in place keeps the centre diamond from knocking or scratching against surfaces and gives wearers peace of mind without compromising the dazzling diamond radiance. The multiple-diamond setting can make the prong-set centre diamond look larger.
CONS:
Because many halo settings use pavé or micro-pavé diamonds around the perimeter of the centre stone, there can sometimes be problems with diamonds coming loose.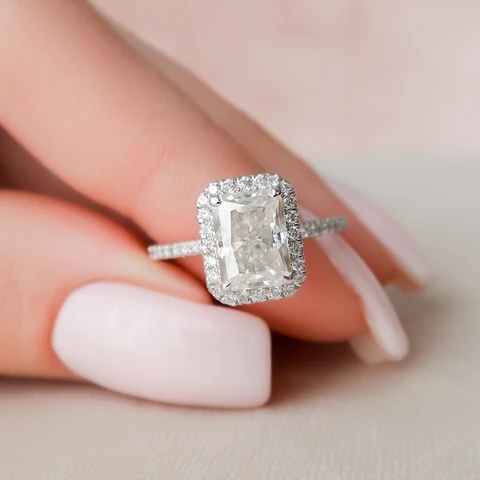 Invisible Setting
Imagine a palace floor made entirely of diamonds. That's the impression created by the invisible setting, which assembles a grid of princess-cut, or square diamonds set side by side to appear as an all-diamond surface.
Invisible-set diamonds have special channels cut into them which allow them to be set from underneath, and typically set flush to metal surrounding the diamond's grid pattern, thus giving the illusion nothing is holding them together.
PROS:
Invisible settings create a big diamond look, and a unique, contemporary style.
CONS:
These settings are riskier than most, because it's harder to keep the diamonds in place. It is also difficult and expensive to find jewellery-repair people who can fix them if the diamonds do come loose. Be sure to only buy your invisible-set diamond ring from a reputable jeweller, and to insure the ring in case the diamonds get damaged or fall out.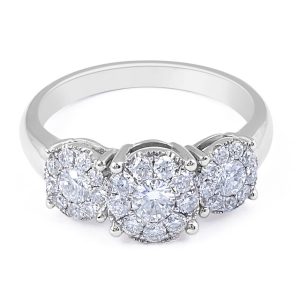 Pavé Setting
Hollywood glamour. Sophisticated Italian elegance. Pavé diamond rings call up so many romantic images, and can be a perfect choice for a woman who's in love — with her fiancé and with timeless fashion.
Literally "paving" a ring's surface with tiny diamonds, a pavé ring sparkles but still allows the design to be subtle, avoiding large diamonds that some women may see as gaudy. The technique involves creating tiny beads or prongs from the surrounding metal to hold the diamonds in place. Designs that use many very small diamonds or gemstones are known as "micro-pavé."
PROS:
Pavé diamonds create a lot of flair and flash. Because they're smaller, the overall total weight of the diamonds used in the ring is lower, thus bringing down cost. Pavé creates a smooth surface that works with active lifestyles. The design is unique and contemporary but can also offer a vintage look.
CONS:
Pavé and micro-pavé settings, because they use tiny diamonds set on the surface of a ring, carry the risk of diamonds falling out. As with invisible and channel settings, be sure you work with a reputable jeweller to ensure your pavé settings are well done, so you won't have to replace any diamonds.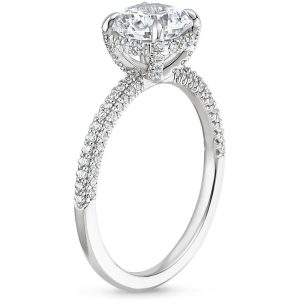 Bezel Setting
In a bezel-set ring, metal is formed around the shape of the diamond, and the top of the stone sits flush to the perimeter of the setting. While this setting is the old-fashioned way of setting a gemstone, popular until the late 19th century, the bezel setting reemerged in the 1990s as a popular choice for admirers of simple, contemporary jewellery.
There are two options for bezel settings: a full bezel (which encircles the entire stone) and a partial bezel (which holds two sides of the stone but leaves openings on the other two). A full bezel covers about 10% of the diamond, though most people only see the top of the diamond when a woman is wearing the ring.
PROS:
For people who work directly with other people, play sports or use their hands a lot, the bezel keeps diamonds snug and prevents them from snagging on things, knocking against surfaces or scratching other people. Many people also value the bezel setting for its unique and clean, modern look.
CONS:
Some people believe the bezel setting doesn't allow as much light into the diamond because so much metal surrounds it. Others argue a well-cut diamond's light primarily enters and exits through the top of the diamond and the diamond's hidden underside shouldn't matter. The  fact that the bezel setting hides some of the diamond might not appeal to everyone. A bezel-set ring may also be more expensive because of the extra metal and labor involved in creating the bezel.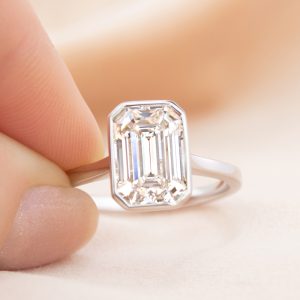 Look at your bride-to-be's overall style and taste when thinking about the right diamond setting for the engagement ring you buy, and make sure you're comfortable with the costs and risks of a setting before you invest in it.